If you are like me, you get really excited in the Spring and go crazy with planting all sorts of seeds. My husband grew up eating lots of chard, and so I always plant a lot of it to appease the inner child in him. But there is only so much an inner child can eat, which means I have to get creative in using chard.
Some of you may be thinking 'What in the world is chard'? Chard (aka Swiss chard) is a leafy green vegetable – well the leaves are always green, but you can get different colored stalks. I have seen some beautiful red, orange and I think even purple stalked chard. It always freaks me out a bit to eat odd colored things like that – I'm more of a purist when it comes to chard. Chard is an incredibly healthy vegetable – packed with Chard is high in vitamins A, C, and K, fiber and minerals. It is mild tasting and can be used much like spinach.
If you have never used Swiss Chard, here is a tutorial on what to do:
How to Cook Swiss Chard:
First rinse the leaves well in water. Then cut the last half-inch or so off from the ends of each stem – just like you would for celery.
Then, put 2-3 inches of water into the bottom of a 4 or 5 quart sauce pan, and put on the stove on high heat.
If you have a lot of chard (which I almost always do) lay the full stack of leaves (with stems still attached) into one big pile on your cutting board and cut them into bite size pieces. You can definitely eat the stems too – they are almost like celery, but milder tasting and when you steam them they soften right up.
Tip: always prep more chard than you think you need. The greens will cook down quite a bit in the pan.
Then, once the water is boiling well, pack the chopped greens into the pan and cover with a lid. Reduce heat to medium and let the greens steam for 10-11 minutes. Swiss chard is definitely more sturdy than spinach, so you'll want to give it a few more minutes of cooking time than other leafy greens. And voila – you are done! We like to sprinkle lemon pepper on our chard and then eat it up.
If you aren't feeling so brave about eating chard plain, and feel like you need more of a transitional food to start your chard indulgence with, this recipe is for you!
Swiss Chard and Sweet Pea Lasagna
8 ounces lasagna noodles
12 ounces Swiss chard
1 Tbsp olive oil
1 medium onion, chopped
1 clove garlic, minced
1 (15-ounce) container ricotta cheese, part-skim milk
3/4 cup green peas
1 cup shredded mozzarella
3/4 cup grated Parmesan
1/4 cup chopped fresh basil leaves
Salt and Pepper to taste
1/2 cup low-fat milk
1/4 cup half and half
2 cups (4 ounces) fontina cheese, grated
2 tablespoons grated Parmesan
2 tablespoons chopped fresh basil leaves
Extra mozzarella to sprinkle on top
1)Preheat the oven to 400 degrees F. Spray a 13 by 9-inch glass baking dish with cooking spray.
2)Remove the stems from the chard. Course chop the leaves.
3)In a large nonstick skillet, heat the oil over medium-high heat. Add the onion and cook until soft, about 5 to 7 minutes. Add the garlic and cook for 1 minute longer. Add the chard and cook, stirring constantly, until wilted, about 2 minutes. Allow the mixture to cool slightly.
4)Place the ricotta cheese, peas, mozzarella cheese, Parmesan cheese, basil, salt, and pepper in the bowl of a food processor. Add the cooled chard mixture and blend until smooth.
5)Layer lasagna noodles and cheesy chard mixture in your baking dish until both are gone.
Cheese Sauce:
In a medium saucepan, bring milk and half and half to a simmer, over medium heat. Reduce heat to low. Add the fontina cheese and cook, stirring constantly, until the cheese is melted and the mixture is smooth. Remove the pan from the heat. Sauce will be thin, but will thicken as it bakes and cools. Stir in the Parmesan cheese and basil.
Pour the sauce over lasagna noodles and sprinkle with the mozzarella cheese. Bake for 30 to 35 minutes until the top is golden. Cool for 5 minutes before serving.
I obviously used a Colby blend cheese which worked well also.
We loved this recipe.  Even my 3 and 1 year old ate this up.  We used as many fresh ingredients from our garden as we could – Swiss Chard, peas and basil.  For more healthy and delicious meal ideas, visit our healthy meal planner.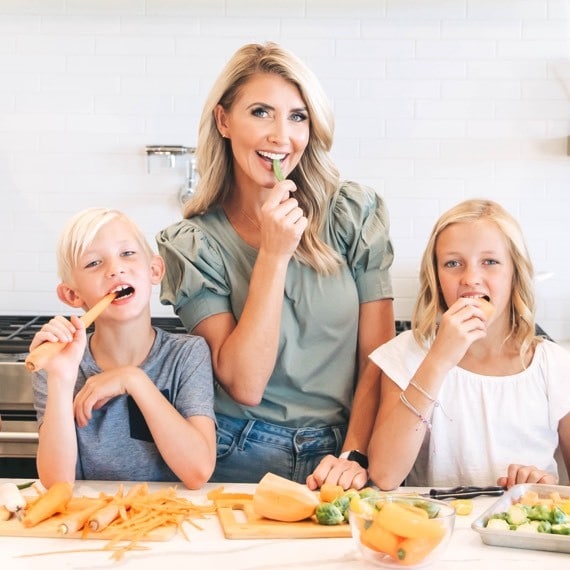 Natalie Monson
I'm a registered dietitian, mom of 4, avid lover of food and strong promoter of healthy habits. Here you will find lots of delicious recipes full of fruits and veggies, tips for getting your kids to eat better and become intuitive eaters and lots of resources for feeding your family.
Learn More about Natalie