Lightened Spinach Artichoke Chicken Alfredo Recipe
This one pot meal is quick and delicious! Think creamy chicken fettuccine Alfredo plus spinach artichoke dip. A creamy chicken alfredo pasta lightened up by using milk instead of cream and adding some spinach and artichoke.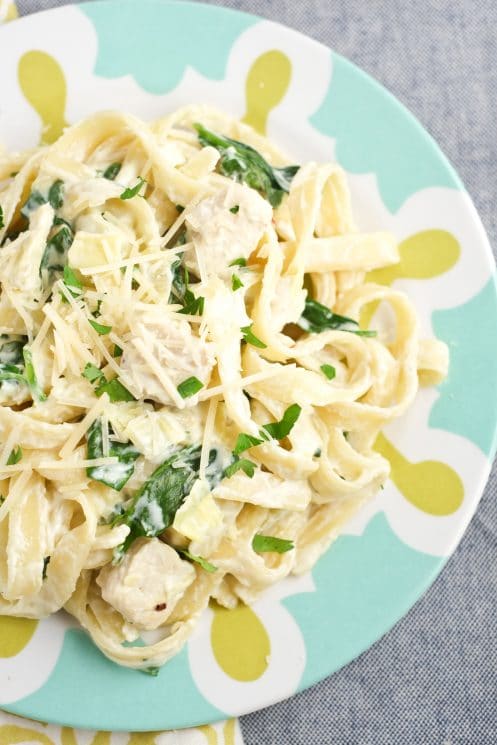 What a hit! This meal is a winner on every level!
It's quick and easy (one pot and less than 30 minutes).
Creamy and delicious (pasta + creamy spinach artichoke = yum!).
It's a healthier creamy pasta option (we've used milk and a teeny bit of light cream cheese instead of butter and cream).
A balanced meal (protein + veggies + pasta + dairy — just add a fruit side!).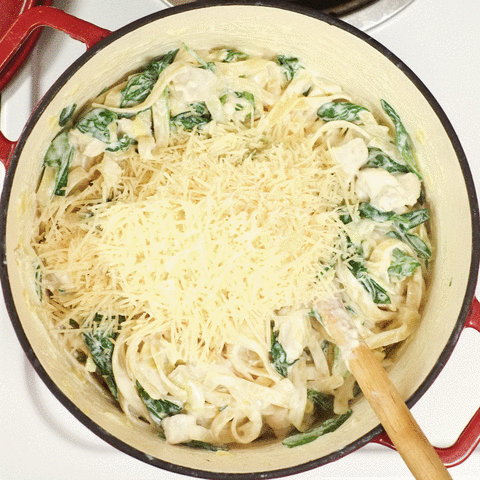 I'm definitely putting this on our regular dinner rotation. Plus, it saves well for freezer lunches or future dinners.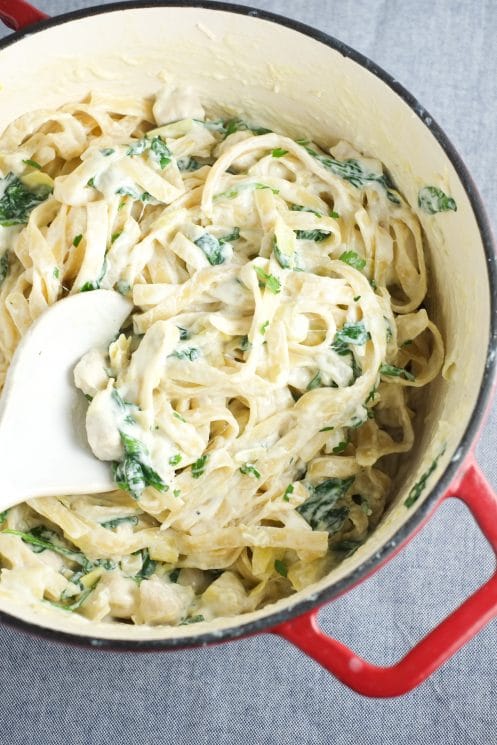 How to make spinach artichoke chicken fettuccine alfredo
Get ready for this – all you need is one pot, a cutting board, and a small bowl!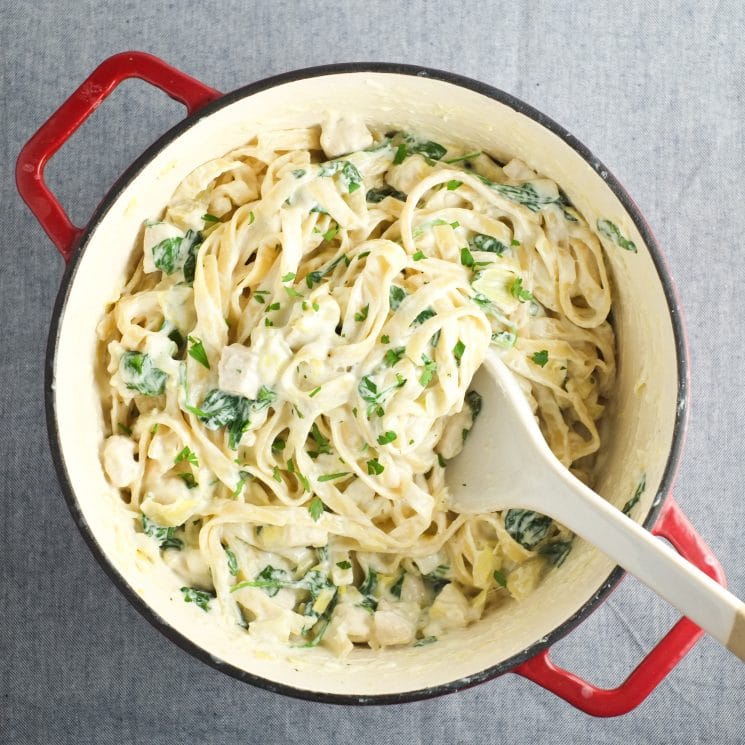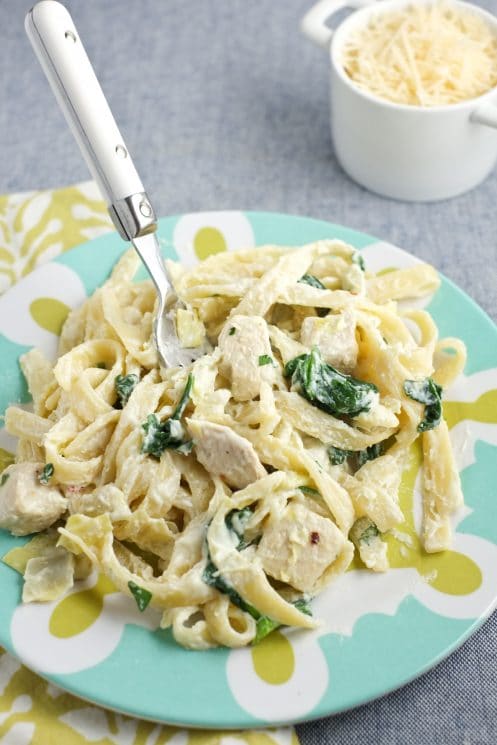 In a large pot, saute the chicken pieces and three minced garlic cloves in a tablespoon of olive oil until the chicken is cooked.  Then add three tablespoons of cream cheese and the chopped artichoke hearts. Stir until the cream cheese is melted. Scoop everything into the small bowl and set aside.
A note on cream cheese: lately I've been using Greek yogurt cream cheese and I really like it. It's lower in fat and higher in protein so I highly recommend it if you can find it. If not, reduced-fat or regular cream cheese will work well too.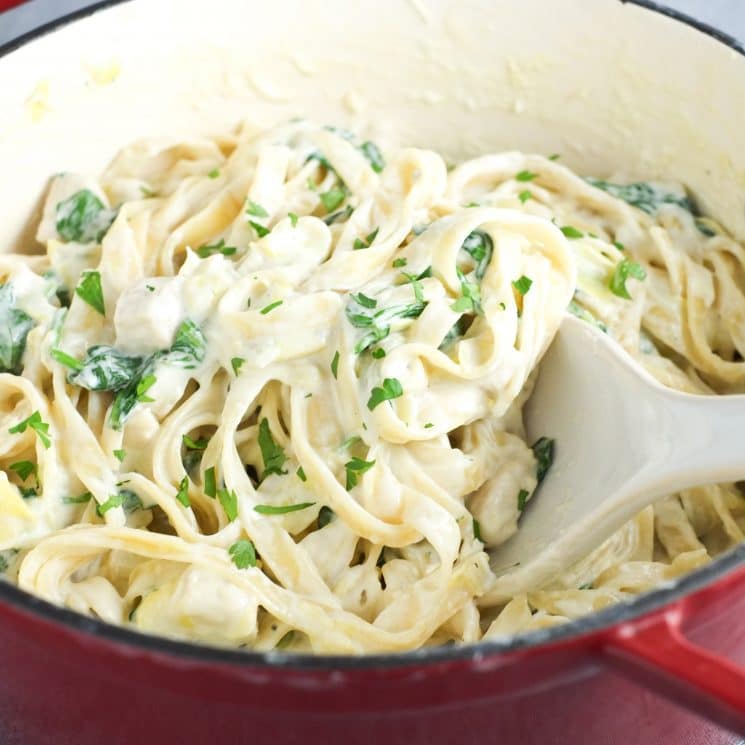 Pour in 5 1/2 cups of milk (I used 2% but any should work) into the empty pot and bring to a boil, stirring occasionally to prevent scalding. Once boiling add 1 pound of noodles and a tablespoon of oil. If you can find whole wheat and your family will eat them, they are always a better option!
Cover the noodles and reduce heat so that the noodles cook at a low boil. Cook the noodles until al dente. This will take around 10 minutes, give or take depending on the noodles (see package directions for guideance). There may seem to be a little extra milk, but this will all get absorbed over time.
Now add back the chicken mixture as well as 6 cups of spinach (I used bagged baby spinach). Add 1 teaspoon of salt. Over a medium heat, stir occasionally and cover until the spinach mostly wilts. Now add in 1 cup of parmesan cheese and stir again until everything is combined.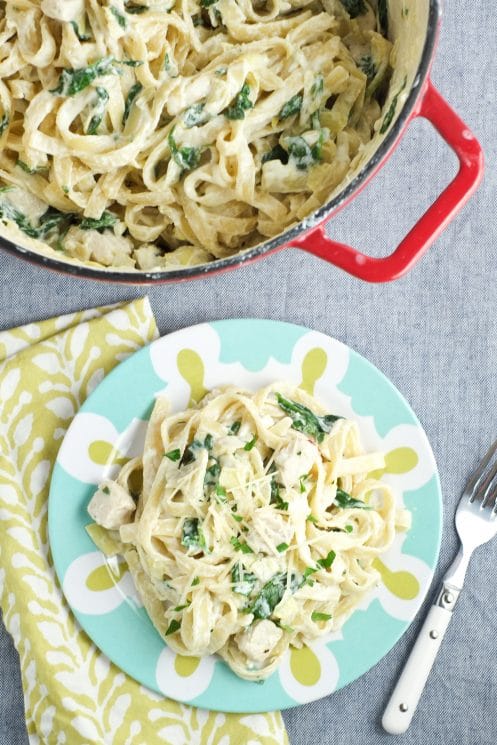 What are you waiting for? Make this some spinach artichoke chicken fettuccine alfredo tonight!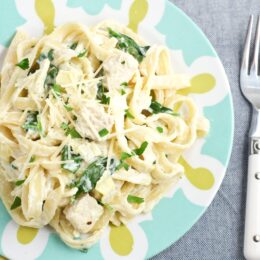 Ingredients
14

ounce

artichoke hearts, jarred

3

clove

garlic

1

pound

chicken breast

2

tablespoon

olive oil

3

ounce

cream cheese, low fat

5 1/2

cup

milk

16

ounce

fettuccine pasta, dry

1

teaspoon

salt

6

cup

spinach

1

cup

Parmesan cheese, grated
Instructions
Rinse and drain artichoke hearts, then chop into small pieces. Set aside in a small bowl. Mince 3 cloves garlic. Cut chicken into bite-sized pieces.

In a large pot over medium-high heat, saute chicken (salt and peppered to taste) and garlic in 1 tablespoon of oil until the chicken is cooked. Add artichoke hearts and cream cheese and stir until creamy. Spoon the mixture out into the small bowl used for the artichoke hearts.

Pour 5 1/2 cups of milk into the pot and bring to a boil, stirring occasionally to prevent scalding. Once boiling, add 1 tablespoon of olive oil and 1 pound of noodles, bending or breaking to make sure they submerge. Cover and reduce heat to maintain a low boil, stirring occasionally, until the noodles are cooked to al dente (done but still a little tough).

Add the chicken mixture back in, sprinkle in 1 teaspoon of salt, and toss in 6 cups of spinach. Stir and cover until the leaves are mostly wilted, keeping the heat low. Now add 1 cup of parmesan and mix until everything is well combined. (Serving size: 1 cup)