Slow Cooker Chicken Tortilla Soup (Instant Pot Recipe Too!)
Cold weather is here and that means soup! This Slow Cooker Chicken Tortilla Soup is just what the doctor ordered and we have the Instant Pot recipe too!
Slow Cooker Goodness
Slow Cooker recipes are some of my favorite! I love how they make the whole house smell so good and most importantly, I love how easy they are! Just set it and forget it! Well, forget it until the beeper goes off and you're hungry. This is a true slow cooker meal too, no extra cooking or fussing before your get the slow cooker going.
How to make Chicken Tortilla Soup in your Instant Pot
We love our Instant Pots at Super Healthy Kids! We even wrote a whole post on how to make any Slow Cooker recipe into an Instant Pot recipe! For this recipe, it is almost exactly the same in the InstantPot as in the Slow Cooker, just a LOT faster! Instead of cooking for 6 hours, you cook this in the Instantpot for about 15 minutes. Holy moly! It takes a lot less planning ahead if you make this is the Instantpot. It is one of those throw-it-all-in-and-press-a-button recipes that is totally hands off. My favorite kind of recipe! See below for both the Slow Cooker and InstantPot directions.
The add-ins are tasty and healthy
One of our favorite things about chicken tortilla soup is the add-ins! Some of our favorites are plain Greek yogurt, diced avocado, diced red onion, salsa or pico de gallo, shredded cheese, tortilla strips, and cilantro. With this Slow Cooker Chicken Tortilla Soup you can control how healthy it is based on what you want to serve with it! You can add so many colors, flavors and textures to expose your kids to different foods. They can choose which toppings they want for their individual soup bowl and it makes them feel like you customized it just for them!
We love this soup when it is chilly outside, but it is also a great soup for a Summer night when you want something comforting. The flavors can be light and summery – especially with a little extra squeeze of lime! We hope you enjoy this easy weeknight meal with your family!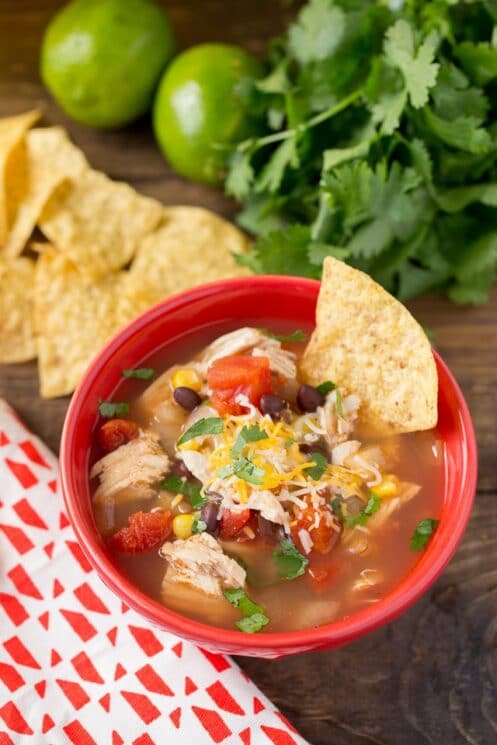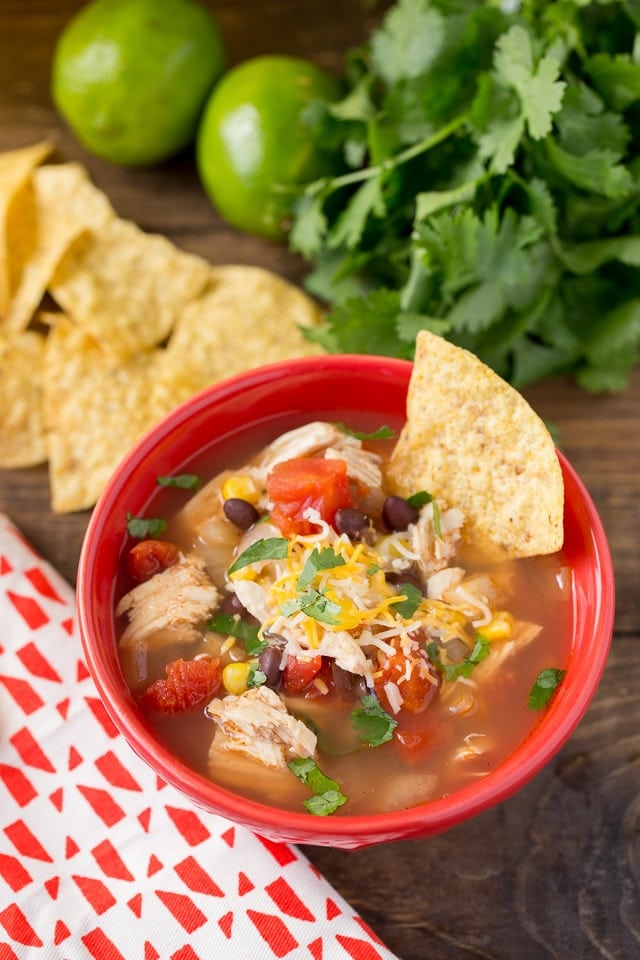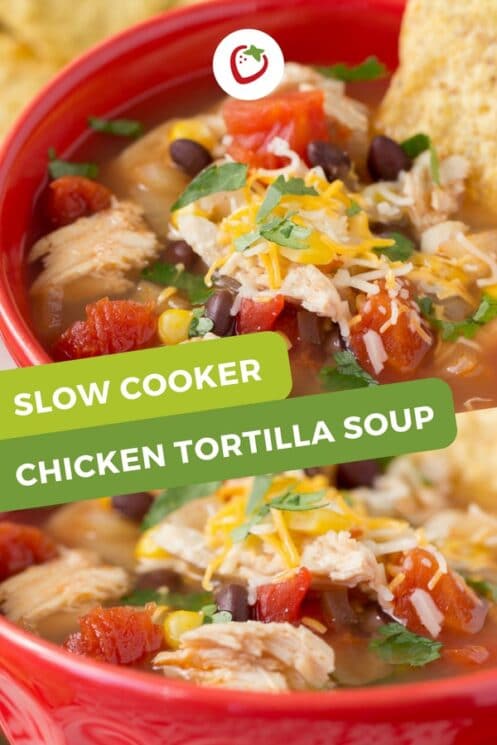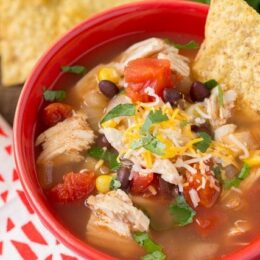 Ingredients
4 1/2

cup

chicken broth, low-sodium

14 1/2

ounce

diced tomatoes, canned

1

cup, chopped

onion

3

cloves

garlic

2

teaspoon

chili powder

2

teaspoon

cumin, ground

3/4

teaspoon

paprika

1 1/2

lb

chicken breast

1

can

black beans, canned

1 1/2

cup

corn, frozen

1

tablespoon

lime juice
Instructions
Add chicken broth, tomatoes, diced onion, minced garlic, chili powder, cumin, and paprika to your slow cooker.  Salt and pepper your chicken breast(s) and add to slow cooker.  Cook on low for 6 hours.

Remove chicken and shred. Add back to slow cooker.

Add black beans and frozen corn and let cook until heated.

Stir in lime juice.  Garnish with: Plain Greek yogurt, diced avocado, diced red onion, pico de gallo, shredded cheese, cilantro

Add chicken broth, tomatoes, diced onion, minced garlic, chili powder, cumin, and paprika to your Insantpot.

Salt and pepper your chicken breasts and add to the top of your pot.

Place the lid on, lock it, and cook the mixture on manual high pressure for 5 minutes.

Let the pressure release naturally for about 10 minutes (do not use the quick lever for 10 minutes). Then quick release the rest, using the release lever.

When the pot has depressurized, remove the chicken and shred it with two forks.

Return the chicken to the pot, and set to saute mode. Add black beans and frozen corn and let cook until heated.

Turn Instanpot off and add lime juice and cilantro for additional flavor.

Garnish with: Plain Greek yogurt, diced avocado, diced red onion, pico de gallo, shredded cheese, cilantro