Raspberry Chia Vampire Bites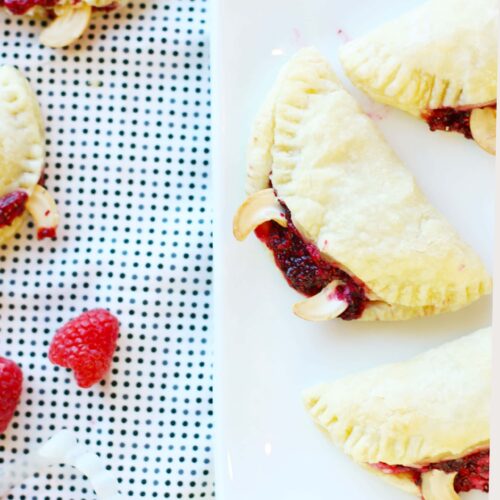 Ingredients
3

cup

raspberries

2

tablespoon

honey

2

tablespoon

chia seeds

1/2

teaspoon

vanilla extract

2

shell

puff pastry, frozen, ready-to-bake

2

tablespoon

cream cheese, low fat
Instructions
Preheat oven to 400 degrees F.

In a a medium sauce pan, combine raspberries, honey and chia seeds. Over medium heat, bring the mixture to a low boil. Simmer, uncovered, for about 10-15 minutes, stirring frequently, until the raspberries break down and the mixture thickens slightly. Remove from heat and stir in the vanilla.  Set aside.

Roll out puff pastry on a lightly floured surface.  Using a circle dough cutter or press, cut out as many circles as will fit on the dough.

Place 1 tsp of cream cheese in the center of each circle and spread around with the back of a spoon.

Next, place 1 tsp of the raspberry mixture on top of the cream cheese.

Fol circle in half and press edges with a fork, leaving 2 very small openings for the 'teeth'.

Bake at 400 degrees F for 12 minutes, or until golden brown.

Place 2 'teeth' in the edges of each pastry to look like vampire teeth.  Serve warm.