Rainbow Buddha Bowls for Kids!
Buddha bowls, sometimes called macro bowls or nourish bowls, are a super healthy and delicious trend that we love! So we wanted to make a kid-friendly Buddha bowl just for you. A mix of grains, protein, and veggies (both cooked and fresh) allows your kids to have a bowl full of options to explore. Plus, these Buddha bowls help you eat the rainbow!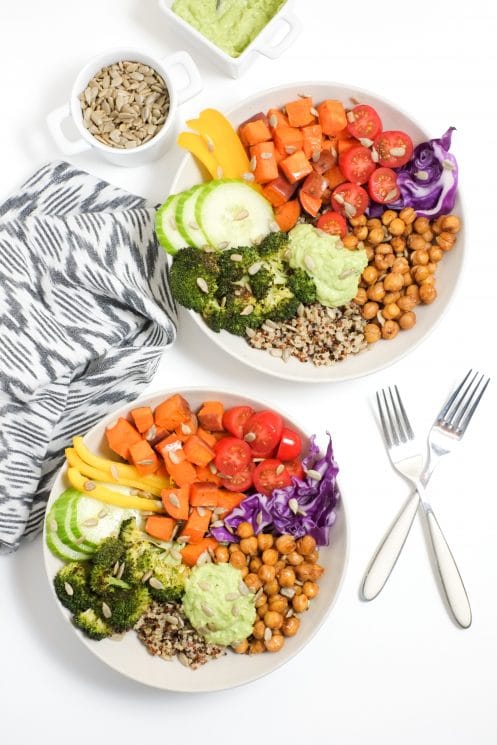 We really can't get enough of this Buddha bowl trend! Not only are they delicious and incredibly nutritious, they are super simple to make. Basically, throw some roasted and fresh veggies on a pile whole grain and top with a tasty sauce and some crunchy seeds or nuts. Piled high, your bowl is brimming – round like a Buddha belly.
A Buddha Bowl Specifically Designed for Kids
This Buddha bowl was designed with families in mind. First, I wanted it to be simple to prepare – no huge pile of dishes and a million things to cook at once. So, this recipe uses just one baking sheet, a bowl, one pot, and a food processor. And of course a cutting board (but when do we not need that?). And it really doesn't take too long (especially if you prep veggies in the morning!).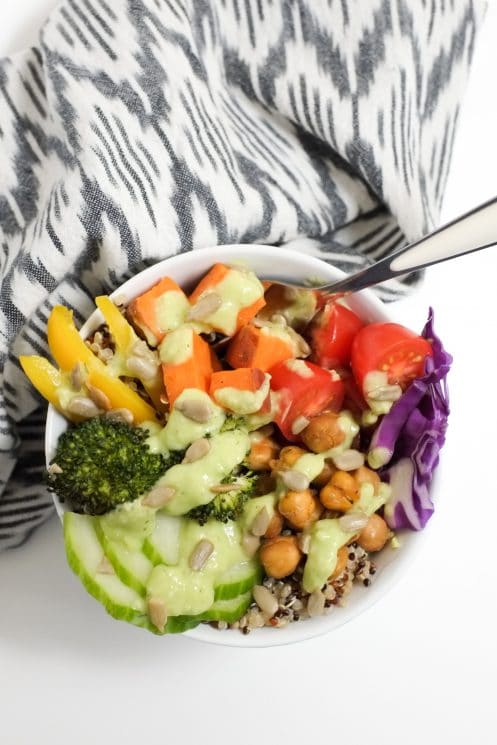 Second, I wanted there to be an array of kid-friendly toppings. This way, kids feel like they have a chance to pick what they eat – and all the options are good ones. Some veggies are roasted, while some are fresh. Again, this helps with variety! The sauce is an avocado dressing, so it's a milder, more child-friendly sauce than the tahini ones I often see (though I do love tahini dressings!). But feel free to sub whatever sauce your family loves!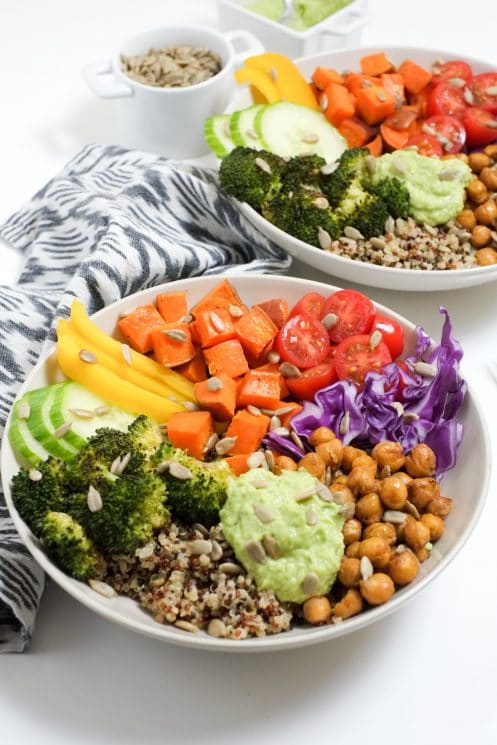 Step 1: Roast the veggies
Let's get started! But before you do anything else, preheat your oven to 425* F.
Begin by rinsing your chickpeas (aka garbanzo beans). Set them aside to dry for a few minutes – they roast better when they're dry. While they dry, wash and chop your sweet potato and broccoli into small-ish bite-sized pieces. You're also welcome to roast the bell peppers here if you like them better that way!
Throw your sweet potatoes and broccoli onto a large baking sheet, drizzle with a teaspoon of olive oil and a little salt and pepper. Mix them around a bit and then make sure to scoot them over a bit to make room for the chickpeas.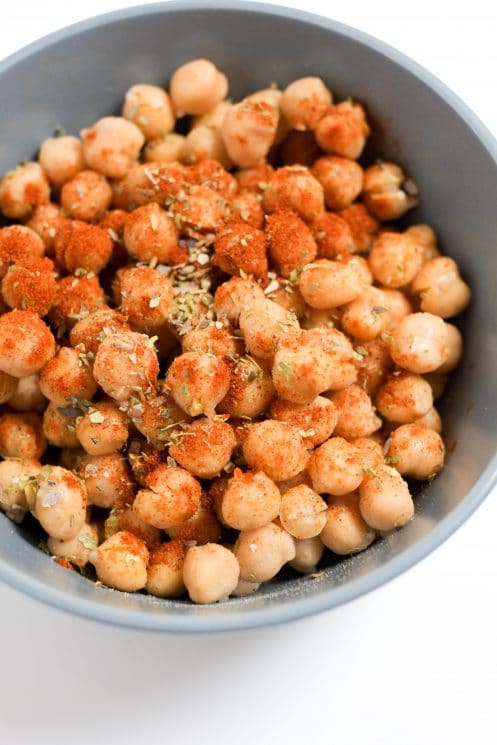 In a small bowl, toss the dry chickpeas with a half teaspoon of olive oil, oregano, garlic powder, and salt. Mix until evenly coated, then spoon them onto the baking sheet. Bake at 425* F for 25-30 minutes, stirring halfway through.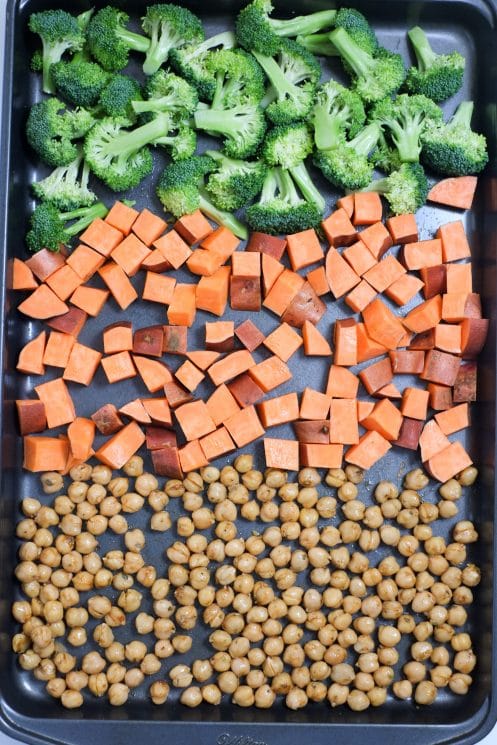 Step 2: Prepare avocado dressing and prep fresh veggies
In a food processor, combine avocados, lemon juice, Parmesan cheese, and spices. Blend until smooth. Feel free to add a little more water if you'd like the sauce runnier. Chill the dressing in the fridge until you're ready for it.
Finally, chop up your cucumber, red cabbage, cherry tomatoes, and yellow peppers.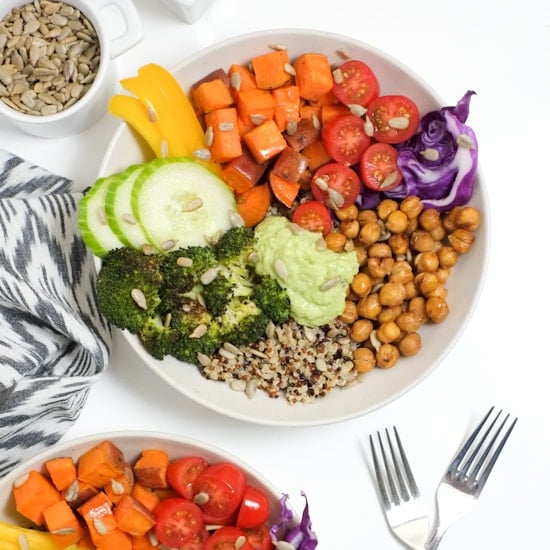 Step 3: Assemble Buddha bowl!
This is the fun part! Make your bowls together before eating. Your kids may be more likely to try all the veggies if they get to use them to make bowl "art." Make rainbows, faces, or who knows what else!
And feel free to make your own version of these Buddha bowls! Try different veggies, prepared in different ways. Throw a new sauce on top or season your veggies with new spices. The sky is the limit for these rainbow bowls!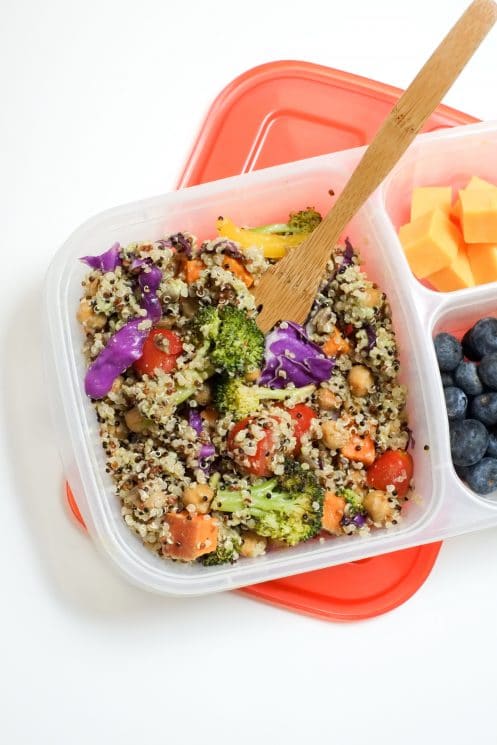 Oh, and I almost forgot to mention – leftover Buddha bowls are great for lunches! I ate mine the next day cold and all mixed up. Delicious! A great thing to prep-ahead for nearly a week of lunches.
What veggies do you think your kids eat in their Buddha bowls?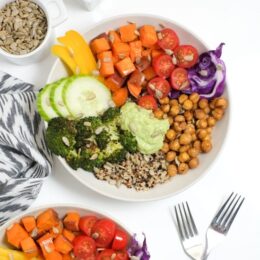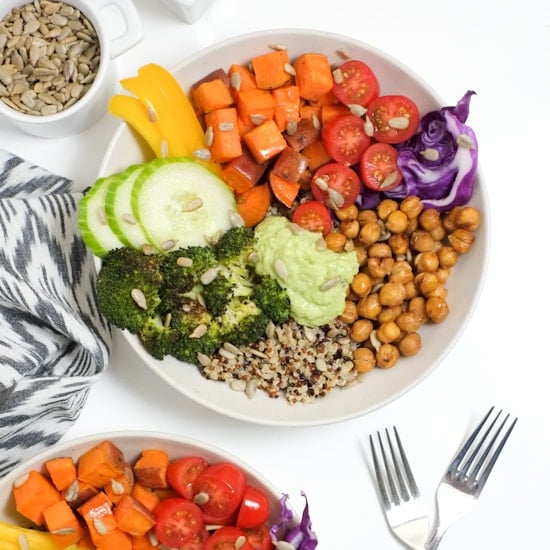 Ingredients
1

large

sweet potato

1

stalk

broccoli

1

teaspoon

olive oil

1

medium

bell pepper, yellow

1

medium

cucumber

1

cup

cherry tomatoes

1

cup chopped

cabbage, red

1

cup

quinoa, uncooked

2

cup

water

1/4

cup

sunflower seeds
Roasted Chickpeas
1

can drained

chickpeas (garbanzo beans), canned

1/2

tablespoon

olive oil

1/2

teaspoon

paprika

1/2

teaspoon

garlic powder

1/2

teaspoon

oregano, dried

1/4

teaspoon

salt
Dressing
1

medium

avocado

1

tablespoon

lemon juice

2

clove

garlic

2

tablespoon

Parmesan cheese, grated

1/4

cup

water
Instructions
Preheat oven to 425* F.

Rinse and drain chickpeas. Set aside chickpeas to dry.

Chop sweet potato into 1/2 inch cubes and broccoli into small florets. Toss onto a large baking sheet with 1 teaspoon of olive oil and sprinkle with a little salt and pepper.

Toss chickpeas with 1/2 teaspoon of olive oil, paprika, oregano, garlic powder, and salt. Pour onto the baking sheet alongside the broccoli and sweet potato. Bake for 25 minutes, stirring halfway through, until veggies are softened to liking.

Meanwhile, boil quinoa with 2 cups of water according to package directions until cooked.

Make avocado dressing by combining avocado, lemon juice, garlic cloves, Parmesan and water in a food processor. Pulse until smooth.

Chop cucumber, pepper, cabbage, and cherry tomatoes into bite-sized pieces.

Assemble bowls: 1 heaping scoop quinoa topped with roasted and fresh veggies, dressed with a dollop of avocado dressing and sunflower seeds.