Quinoa Pizza Bites Recipe
These power packed little Quinoa Pizza Bites are loaded with balanced protein, antioxidant rich veggies, and with a big pizza flavor, the kids will never know!

A number of years ago, I decided that once a week our family would eat meat free to help save our pastured/grassfed meat budget a little. It has become a pretty simple addition to our meal rotation, and, most of the time we barely notice. I like to use quinoa a lot on those meat free days since it is a nice complete protein. It is so versatile as well, taking on whatever the flavors are that you are working with.
That yummy pizza flavor is a big hit with kids and they are the perfect size for little hands, so these have become a popular item in the house. I even made a double batch this week and froze un-cooked bites on a tray, then popped them into a freezer bag to use on a busy school night. These would even make a great healthy snack!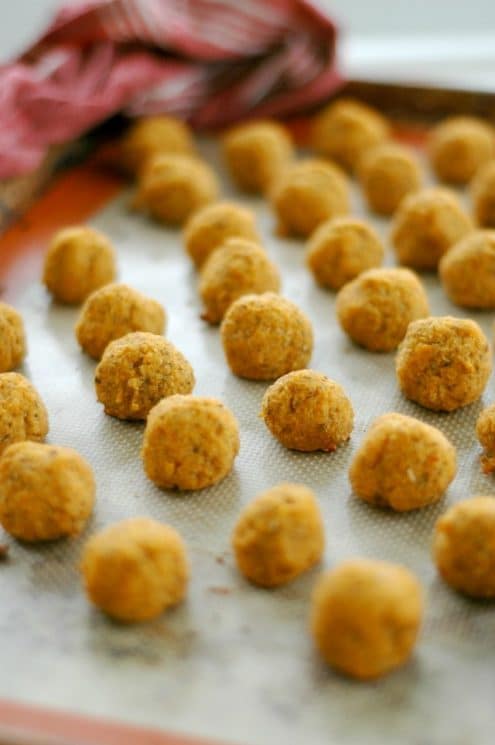 These pizza bites are also loaded with cauliflower! I often forget about that lonely cauliflower sitting at the market, but it has some amazing antioxidant properties and is loaded with vitamin C and cancer fighting power! It's neutral flavor and color make it hide really good in these pizza bites and will give the kids an extra veggie boost for the day.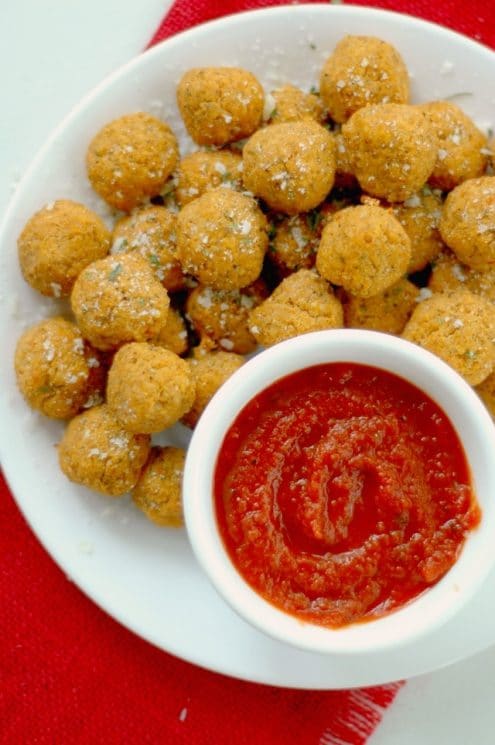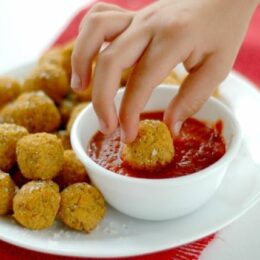 Ingredients
1

cup

cooked and cooled quinoa

you can make this part days in advance or use leftover quinoa from dinner

2

cups

cooked and cooled cauliflower florets, pureed

you will need about half a head of cauliflower. i steamed mine for 15 minutes while my quinoa was cooking. you can make this part days in advance or use leftover cauliflower from dinner

1

egg

if you are egg free, i think a flax egg or gelatin egg would work for the binding

1/4

cup

white rice flour

2

tb coconut flour

2

tb pizza sauce

2

tsp

onion powder

1 1/2

tsp

garlic powder

2

tsp

italian seasoning

1 1/2

tsp

sea salt

1/2

tsp

pepper

extra pizza sauce for dipping

optional freshly grated parmesan cheese and/or basil for garnish
Instructions
Pre-heat the oven to 400 degrees.

Mix all of the ingredients in a small mixing bowl.

Gently roll about 1 inch balls and set them onto a Silpat or parchment paper lined baking sheet.

Bake at 400 degrees for 30 minutes. You can garnish with freshly grated parmesan cheese and basil if you wish and use pizza sauce for dipping!