Quick Honey Sweet Potatoes
Got twenty minutes? Our cooking method puts Quick Honey Sweet Potatoes on the menu.
When you think of sweet potatoes, it's easy to imagine long baking times and Thanksgiving-worthy casseroles. We love serving this traditional fall veggies during the holidays!
But my mother-in-law opened my eyes to the common misperception that sweet potatoes are too time consuming for a weeknight dinner.
I was steaming some sweet potato cubes when she walked into the kitchen and shot me a surprised look. "I didn't know you could cook them like that!" she told me.
She was used to baking them for an hour on the weekends, and she had never thought to chop and steam a sweet potato. I told her it only takes about fifteen minutes to get the veggie soft and tender.
Now that she knows about the steaming trick, she buys and eats sweet potatoes all the time! Which is so awesome.
The Anytime Veggie
We want to spread the word: you don't have to relegate sweet potatoes to special-occasion cooking only.
These nutritious tubers make an exceptional side dish in just twenty minutes from start to finish (try it while your pasta is cooking!)
You can find them in supermarkets year round, and kids learn to love them easily, especially with a little cinnamon, butter and honey, like these Quick Honey Sweet Potatoes.
Orange veggies like sweet potatoes deliver so much great nutrition to your family, including Vitamins A, C and Manganese, and 4 grams of fiber per serving.
This recipe makes a sweet and easy replacement for white potatoes. Try them alongside chicken, steak, or black bean soup.
Ready to get started? Peel your sweet potato….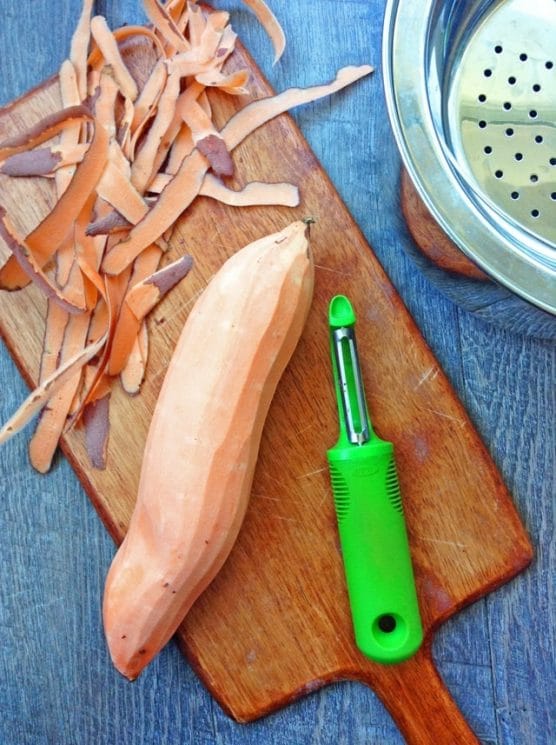 Chop it and place it in a steam basket above 1-2 inches of water. Steam for about 15 minutes, or until the sweet potato is very tender when pricked with a fork.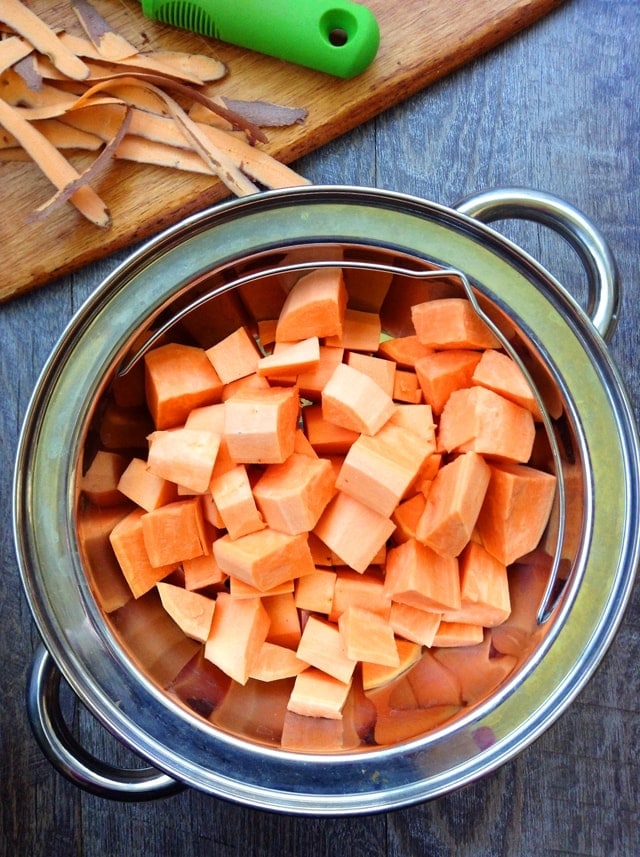 Place the sweet potatoes in a mixing bowl, and mash with a potato masher or a large fork.
Stir in honey, butter, and cinnamon, and serve warm alongside a protein and a grain for a complete meal!
Do you have a favorite sweet potato recipe? Share it in the comments!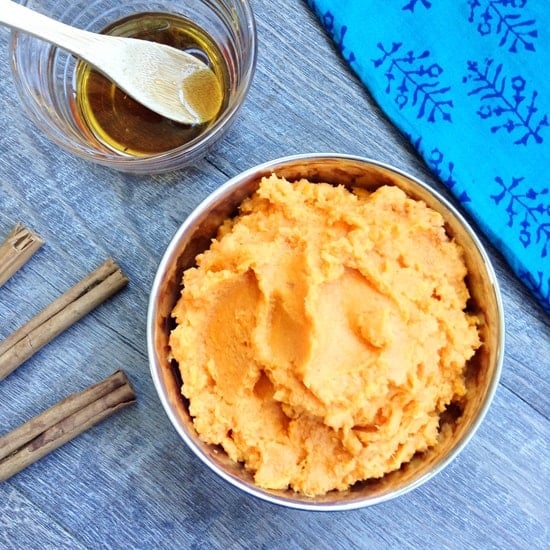 Ingredients
1

medium

sweet potato

1

tablespoon

butter, unsalted

1

tablespoon

honey
Instructions
Peel the sweet potato, then chop it into 1/2 inch cubes, roughly.

Place the sweet potato in a steamer basket above 1-2 inches of water, and steam, covered, for 15-20 minutes, or until very tender.

Transfer the cooked sweet potato to a mixing bowl, then mash with a potato masher or fork.

Stir in butter and honey, then serve.