Pomegranate & Nut Cheese Ball Recipe (with hidden veggie!)
The holidays aren't quite complete without a cheese ball – and this one is extra festive! Red pomegranate seeds adorn this nutty cheese ball, complete with a hidden veggie (hint: it makes the cheese ball green!). So pretty you won't want to start, so delicious you won't won't to stop.
Cheese balls are a must in my husband's family. They've got a family recipe that is made at least once per holiday season, and everyone goes nuts over it. And what's not to go crazy over? A creamy punch of cheese on a crunchy cracker is pretty addictive, if you ask me.
Though I love the family recipe, the idea of a pomegranate cheese ball just had to be tried. And do you know what? I think I like it as well or better than any cheese ball I've ever had! Plus, a few bites of fruit AND veggie along with your cheese isn't a bad deal.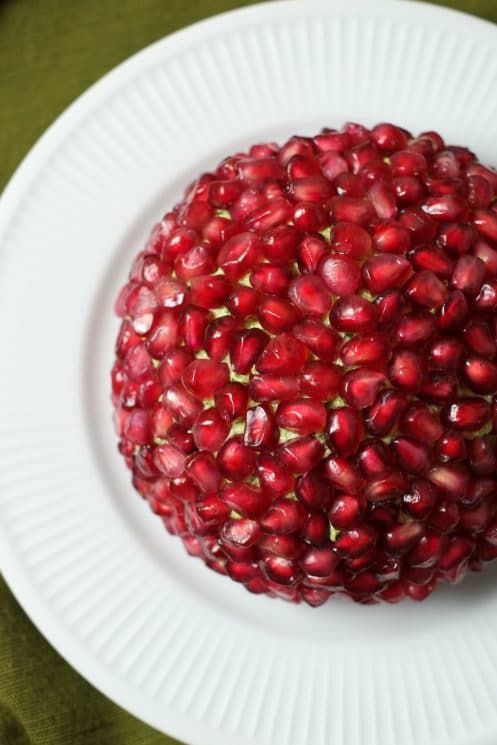 Simple, healthy cheese ball ingredients
Inevitably, this cheese ball is full of cream cheese and cheese – sharp white cheddar to be precise. There's no way around lots of cheese, thank goodness, though you wouldn't want to consume copious amounts of cheese ball too regularly.
The other ingredients are actually surprisingly wholesome – pomegranate, pecans, spices, and – oh yeah – spinach. You heard me. The spinach makes the cheese ball vibrant green, adds some vitamin A and other good stuff, and doesn't really impact flavor. Oh, how I love spinach. It's like magic – just blend it into anything.
How to make a cheese ball
Pulse 1 very packed cup of fresh spinach in a food processor until finely chopped. Add pecans, pulse again. Add spices and cheese and pulse until it looks sort of like a thick pesto.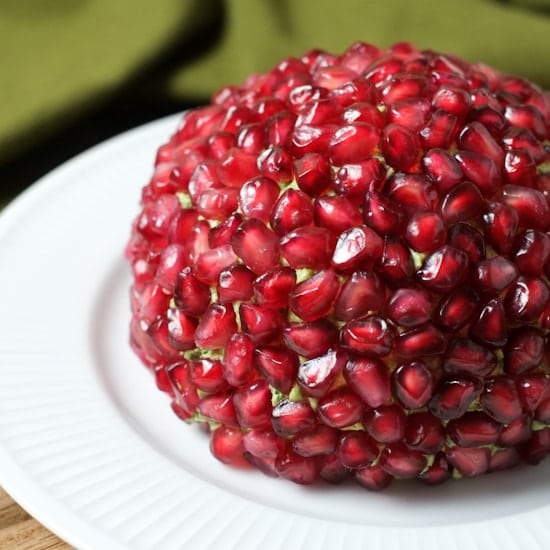 Line a small bowl with plastic wrap, with enough coming above the rim to cover the cheese ball once you shape it in the bowl. Pour the mixture into the lined bowl, shape it into a ball, and cover with plastic wrap. Place in the fridge for 1+ hours, or overnight.
When you're getting ready to serve your cheese ball, de-seed your pomegranate. Here's a post on the quickest way to de-seed a pomegranate.
Take your cheese ball out of the fridge, remove the plastic, place it on the surface you'll serve it on, and cover it in pomegranate arils (that's the name for the seeds). It took me a while to do this, but if you're less perfectionist you could probably just roll your cheese ball on a plate of arils and have a great outcome too! (If you try this, let us know!)
The picture above is about 3 minutes after I told my husband I was done shooting… yeah, we liked it a little. Sharp and sweet all in one, the pomegranate compliments the sharp cheddar perfectly. Yum. We will definitely make this one again next year.
What's your favorite holiday food tradition?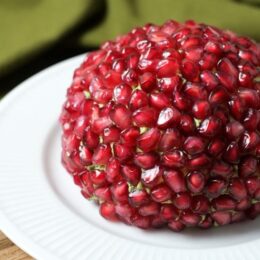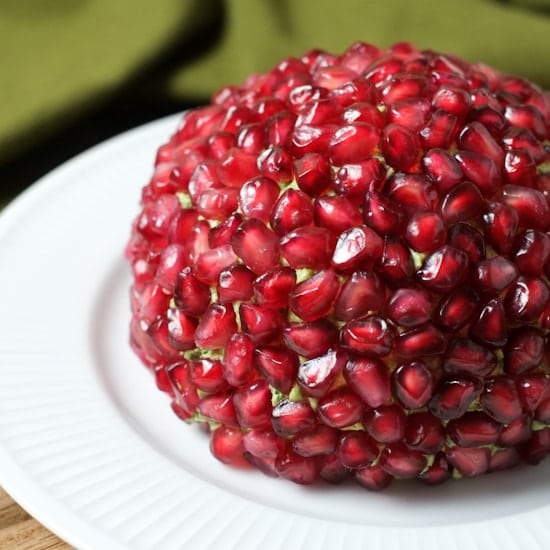 Ingredients
8

ounces

– cream cheese, softened

1

cup

– sharp white cheddar cheese, shredded

1

cup

– spinach, packed

1/2

cup

– pecans

1/2

teaspoon

– garlic powder

1/8

teaspoon

– nutmeg

1/4

teaspoon

– salt

seeds of 1 pomegranate
Instructions
In a food processor, pulse spinach until fine, then pulse in pecans. Pulse in white cheddar, garlic powder, nutmeg, and salt until well blended.

Warm cream cheese until softened enough to mix but not melted. Two 10-second intervals in the microwave should be about right, but check after the first 10 seconds to make sure.

Combine cream cheese with spinach-nut mixture, either in the food processor, a mixer, or mixing in a bowl by hand. Mix until well combined.

Place the mixture into a small, plastic-wrapped bowl. Roughly shape into a ball and cover completely with plastic. Place in the fridge for at least 1 hour, overnight is fine.

De-seed pomegranate. Take the cheese ball from the fridge, remove plastic, and place on a serving dish. Cover in pomegranate arils. Serve with crackers.