Loaded Baked Potato Soup Recipe in Bread Bowls
All summer my 12 year old Erica had been asking for me to make some potato soup for dinner! Hands down, it is her favorite meal. Unfortunately for her, I am too busy making the dinners from our meal planning site (because we photograph every single one), that I never made her potato soup. I kept telling her, "Wait till fall or your birthday!" Our meal plan subscribers don't want soup in the middle of summer! She disagreed, but it was just too hot for me to give in.
But then, we took a trip to Disneyland, where we ate one meal in the park. And luckily for her, in Disney California, they had a restaurant where they offered potato soup in bread bowls! She was so excited she couldn't think about ordering any thing else.
Well, now that fall is officially here, I gave in and made some potato soup in bread bowls for her. She told me I was the best mom in the world!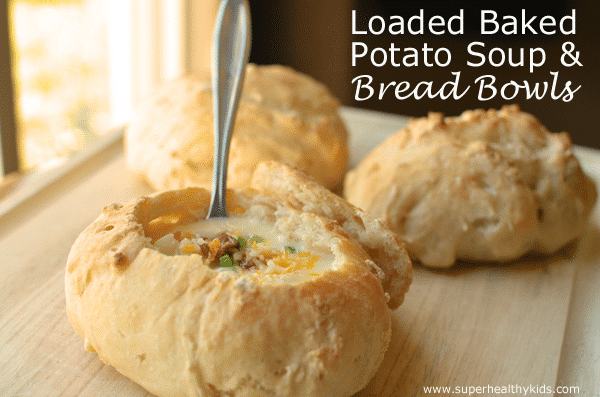 Loaded Baked Potato Soup Recipe in Bread Bowls
To make the bread bowls, we followed the recipe for 5 Minute Artisan Bread. As long as you remember to do this early enough in the day, it will come out perfectly. I mixed up the dough first thing in the morning, and let it sit all day! Then at about 4:00, I divided the dough into grapefruit sized balls, let them rise a little longer, and then baked them.
While the dough was rising, I also peeled and chopped the potatoes for the potato soup. (full recipe below).
The children approved and there were NO leftovers!
Now, lest you think your family should be cutting potatoes out of your diet, think again! Potatoes have:
More potassium than a banana!
More vitamin C than a sweet potato
Fiber- to keep your kids regular.
Vitamin B6 for energy metabolism
6% of the recommended amount of iron.
So, pick up some potatoes at the store today and make some soup!
To make the bread bowls, the recipe is below. we just make mini artisan loaves, and cut the top off, and dig out the inside!
Ingredients
1

stalk

green onion

2

clove

garlic

15

small

russet potato

4

slice

turkey bacon

1/4

cup

butter, unsalted

3

teaspoon

Chicken Bouillon

1/8

teaspoon

salt

1/8

teaspoon

black pepper, ground

1/4

cup

flour, all-purpose

4

cup

milk

1

ounce

cheddar cheese
Serve With
2

cup

spinach

1

medium

apple

1

medium

cucumber
Instructions
Slice green onions and mince garlic.

Peel and cube the potatoes. Boil in a large pot until just underdone- about 15 minutes. Drain potatoes but reserve about 3 cups of the water you boiled it in.

Meanwhile, cook the turkey bacon in a separate pan until crisp. Crumble and set aside.

Add butter and bouillon paste to the empty pot that you boiled the potatoes in. Saute green onions and garlic. Add salt and pepper to taste.  

Add the flour; stir until smooth.

Add milk and reserved water alternately, 1 cup at a time. Stir between each addition, cooking until it's the consistency of a thick white sauce. Gently stir in the potatoes.

Dice the apple and cucumber. Add to a bowl along with the spinach; toss together.

Top the soup with shredded cheese, bacon, and more green onions. Serve with salad on the side.
Nutrition
Calories:
445
kcal
|
Carbohydrates:
72
g
|
Protein:
14
g
|
Fat:
12
g
|
Saturated Fat:
7
g
|
Cholesterol:
37
mg
|
Sodium:
391
mg
|
Fiber:
5
g
|
Sugar:
11
g