Instant Pot Indian Butter Chicken Recipe
Cooking your favorite Indian dish just got so much easier! This Instant Pot Indian butter chicken makes a great weeknight meal. Only 2 spices, 10 minutes of prep, and 10 minutes in the pressure cooker! Plus, we've made a few healthier modifications for your healthy family!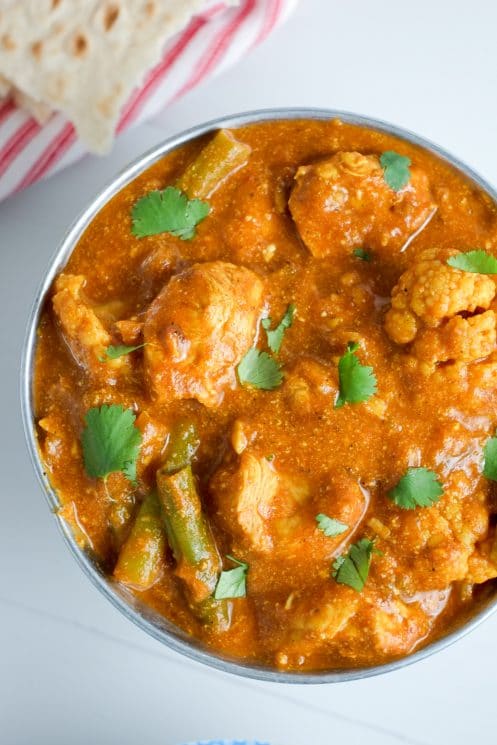 I'm seriously in love with my Instant Pot! I find myself using it almost daily. It just makes cooking and cleanup so much easier for so many meals – and they turn out so well too!
Well, now my love of the Instant Pot has just deepened. I've started experimenting with Indian food in the Instant Pot… and so far it's amazing! Pressure cooking helps everything cook so well and so quickly, and I feel like it helps the flavors come out so well. Maybe that's just me – I have no science to back it up. But I'm pretty smitten.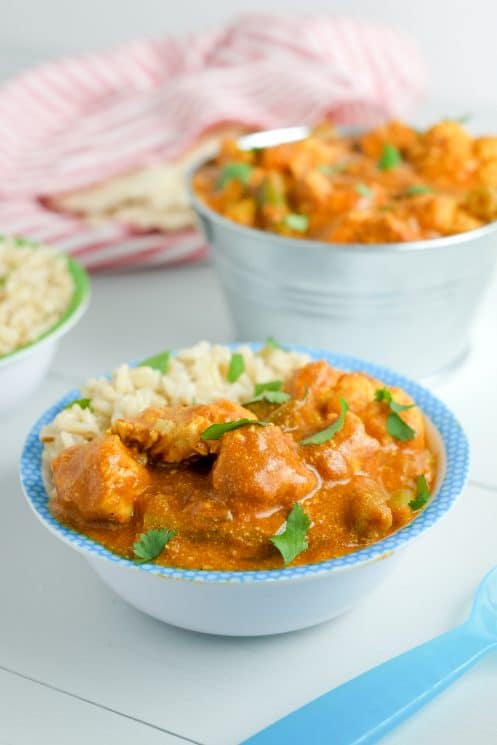 Easy Instant Pot Indian Butter Chicken Recipe Notes
The first Indian meal I have for you in the Instant Pot is butter chicken. It's so incredibly EASY! It's a coconut-tomato paste base with just TWO spices (they're mixes, but still). So often Indian food is intimidating just because of how many spices are called for – so I narrowed it down to garam masala and curry powder (did you know curry really just means mix of spices? Now you do!).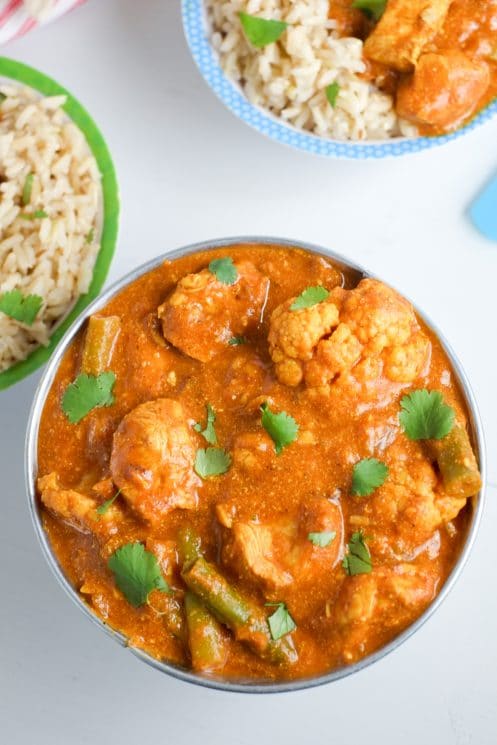 It's also not spicy because I didn't add any hot spices, but you're welcome to if you like heat. I fed this to my ten month old, and she even loves it! So it's flavorful but mild in terms of heat – perfect for kiddos learning to like new flavors.
I used reduced fat coconut milk to cut down on excess fat and I really couldn't taste the difference from when I've made it with full fat. Win! I also add some Greek yogurt at the end for added creaminess and some protein.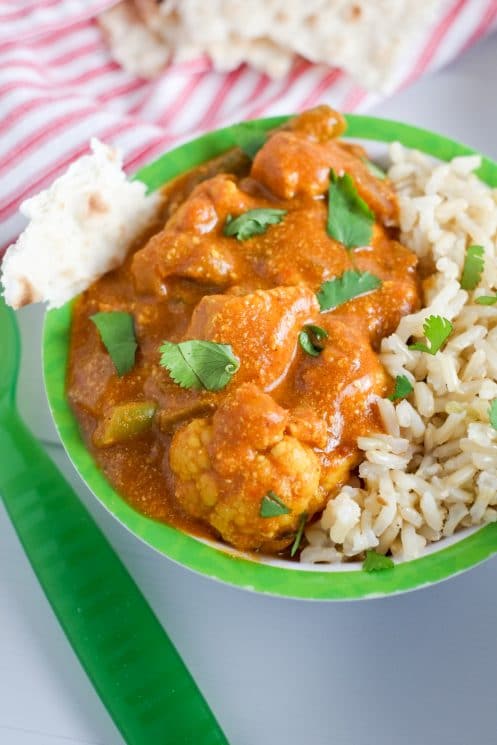 Plus, I have added a few veggies just because I always add veggies (it's literally my job). But if you want pure butter chicken, feel free to add a bit more chicken and omit the veggies. I won't be offended.
How to make Indian butter chicken in the Instant Pot
First, spray the Instant Pot with cooking spray. In a separate bowl, whisk together coconut milk, tomato paste, garam masala, curry powder, ginger, garlic, and salt. I've done this in the pot itself, but I think it partially removes the cooking spray. Since this dish seems to leave some residue on the bottom, keeping cooking spray in place is best, so I mix outside of the pot now.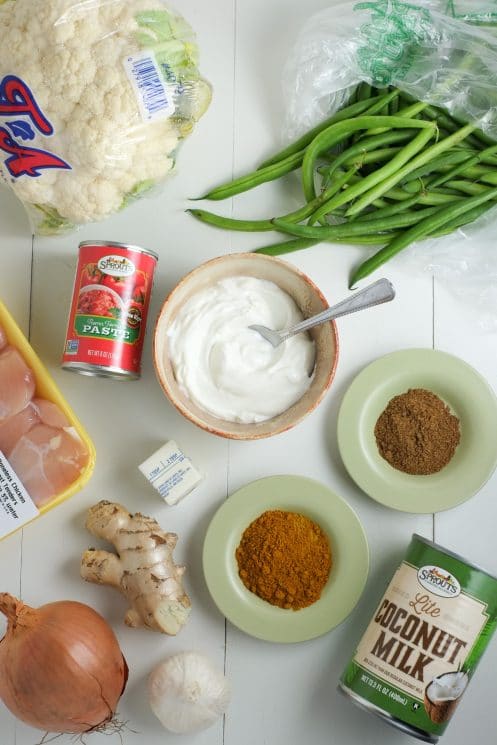 Now prep your veggies by dicing half an onion, cutting the green beans into 1-2 inch pieces, and chopping cauliflower into bite-sized chunks. The smaller the veggies, the more well-cooked they'll be. I made mine on the larger size so they were cooked by still firm. Drop these into the Instant Pot. Now cut chicken into small cubes and dump them on top of the veggies.
Pour the coconut mixture into the Instant Pot over the veggies and chicken. Agitate slightly until everything is coated. Top with 2 tablespoons of butter, cut into cubes and sprinkled on top. (We needed some butter – it is butter chicken after all).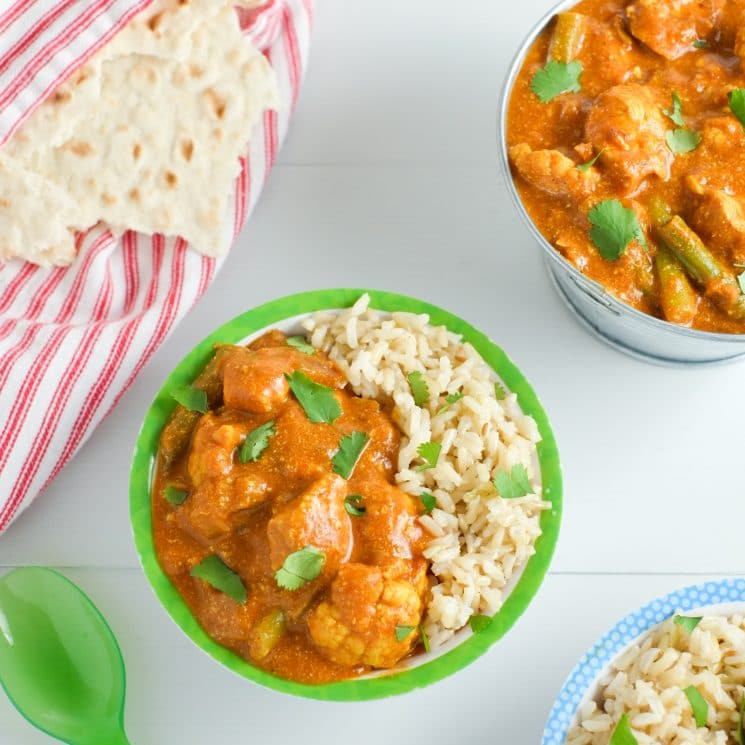 Close the lid and make sure the vent is sealed. Push "Manual," make sure the pressure is "high" (toggle using the "pressure" button), and set the time to 10 minutes.
Once the pot reaches pressure (mine did quickly – probably 5 minutes) and cooks, it will beep indicating it is finished. I recommend a quick release to avoid burning (as always, be careful). Mine actually let out little to no steam, so it was the quickest release I have had yet!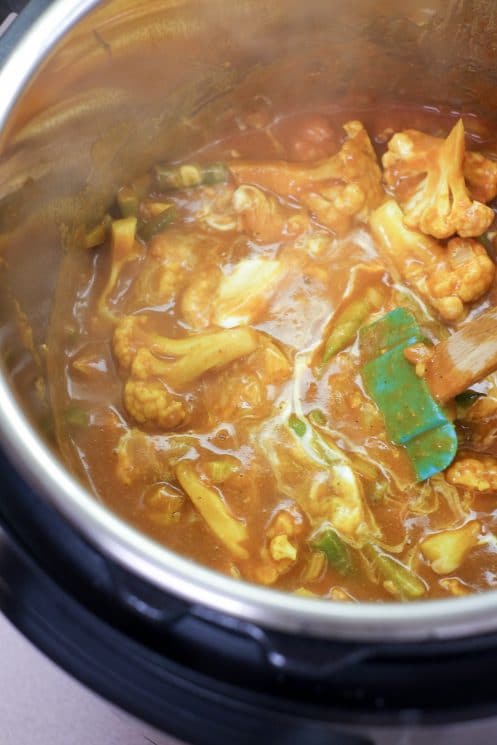 Give the pot a quick stir, then add 1/2 a cup of plain Greek yogurt. You can really use any kind of plain yogurt you like, but Greek has extra protein and less sugar so I like it best. A cooked layer of sauce may accumulate at the bottom. Mine didn't taste burnt but it worried me at first. So don't worry if yours does this – you can either mix it in or just avoid scraping the bottom when serving.
Mix it all up and serve over brown rice and naan, if desired. Cilantro also tastes great as a garnish, though it's not necessary.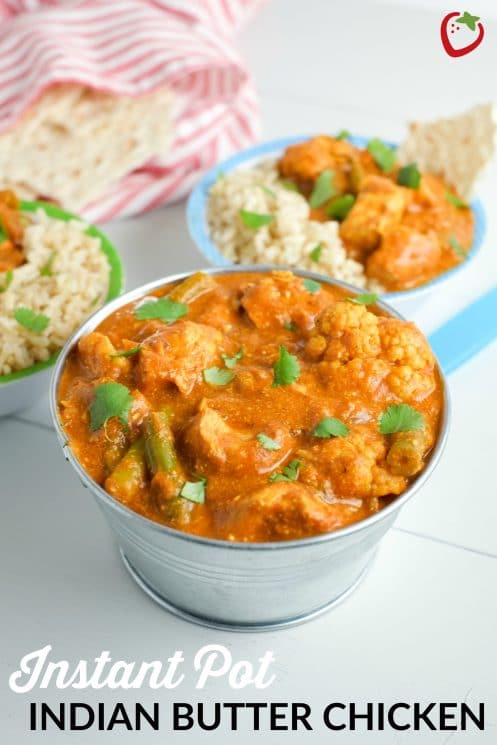 What Indian recipes does your family love? What should we make in the Instant Pot next?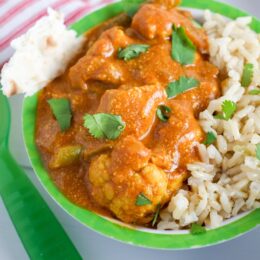 Ingredients
13 1/2

ounce

coconut milk, unsweetened

6

ounce

tomato paste, canned

1

tablespoon

ginger root, fresh

4

clove

garlic

2

tablespoon

curry powder

1

tablespoon

garam masala spice

1/2

teaspoon

salt

1

cup

green beans

2

cup

cauliflower, florets

1/2

medium

onion

1/2

pound

chicken breast

1

none

cooking spray

2

tablespoon

butter, unsalted

1/2

cup

Greek yogurt, plain
Instructions
In a small bowl, whisk together a can of light coconut milk, tomato paste, grated fresh ginger, minced garlic, spices, and salt.

Cut green beans and cauliflower into bite-sized pieces. Dice onion into small pieces. Cut chicken into small cubes.

Spray the inside of the Instant Pot with cooking spray. Layer onion, then veggies, then chicken. Pour the coconut-spice mixture over the top and agitate just a little so it evenly coats everything. Cube the butter and sprinkle on top.

Close the lid of the Instant Pot and make sure the vent is sealed. Push "manual" and make sure high pressure is selected, then set the time to 10 minutes.

Once done cooking, press "Cancel" to turn off the heat, then open the vent to do a quick release of the pressure.

Add Greek yogurt and mix well. The bottom may have a layer of cooked sauce, so just avoid scraping this if you do not want to mix it in.

Serve with brown rice and/or naan. Enjoy!