Healthy Grilled Cheese Wafflewich
Toasty cheese and fresh spinach leaves go inside this fun and simple sandwich made right inside your waffle iron!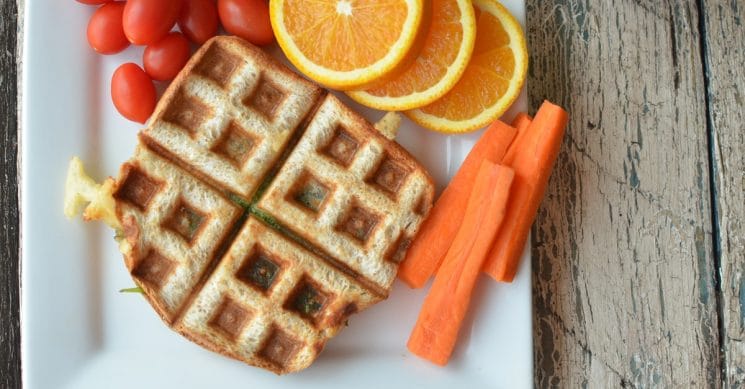 If our kids are going to grow up truly healthy, they need kitchen skills! Teaching kids to cook is hugely important. Today, I'm teaching my kiddos to use our waffle iron for a healthy lunch.
Lunch is the very first thing I taught my kids how to make themselves. Even before my youngest was in school, I'd have him prepare his own sandwiches along with the older kid. He would put them in a lunch bag, just like his older brother and sister. Then, when lunch time came, he already had it prepared.
I love this grilled cheese idea because:
Kids love grilled cheese sandwiches!
It's a delicious way to include spinach.
I don't really want to buy a sandwich press- I already have too many kitchen appliances.
And even the little ones can help you make it.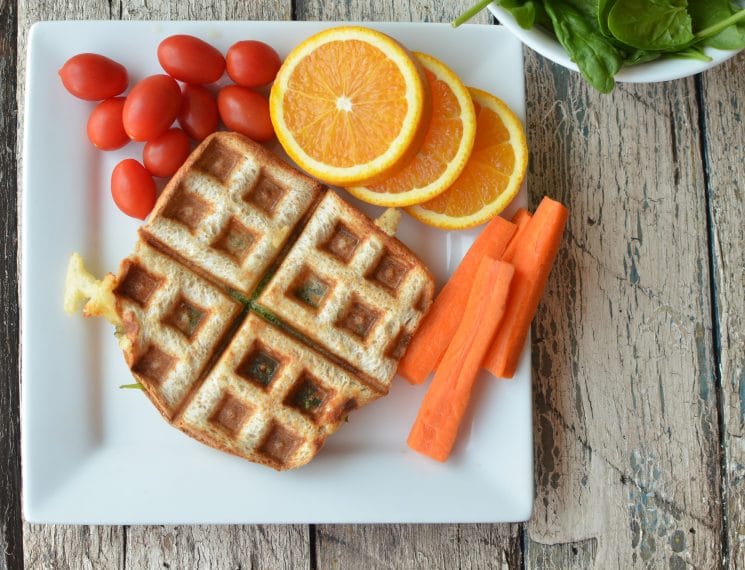 First, let the kids make the sandwich. All they need is two pieces of bread, a slice of cheese, and a bowl full of spinach.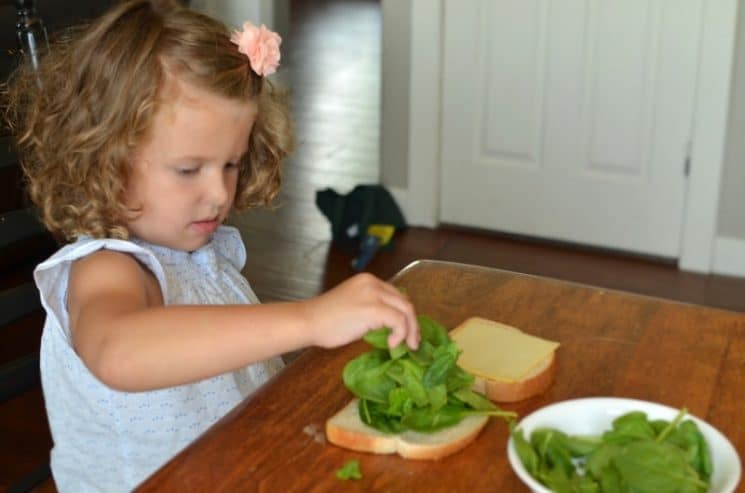 Second, place the sandwich square in the middle of a waffle iron, and let the kids close the iron. Of course, be careful if they are too young to understand it's hot! But this is part of your teaching moment! My kids use our waffle iron so much that I ended up buying this one for my 15 year old for Christmas! His FAVORITE food is waffles, and he probably uses it himself at least weekly.
We waited about 2-3 minutes, and opened the waffle iron. Our grilled cheese sandwich was grilled!
So easy!
You can use this method for a variety of grilled sandwiches! We've also done:
Peanut butter and banana
Tuna and cheese
Roasted veggie and hummus
Avocado and tomato (YUM!)
Pesto and mozzarella
Ingredients
2

slices

whole wheat bread

1

slice

munster cheese

3 – 4

leaves

of baby spinach
Instructions
Make the sandwich by placing cheese and spinach on bread.

Place sandwich on a hot waffle iron and squeeze to close.

Cook for 2-3 minutes, or until sandwich is toasty.