Cauliflower Rice Lettuce Wraps Recipe
This vegetarian dish is anything but boring! Cauliflower rice makes a great lettuce wrap filling with our zesty sauce, especially topped with peanuts for crunch. It's hard to believe that a meal made almost entirely of veggies can be such a hit. You've got to try these cauliflower rice lettuce wraps!
We love lettuce wraps at our house. Typically, they're made of chicken and maybe some brown rice. They're wholesome, filling, and satisfying.
But I was up for a little something different. And I had lots of cauliflower to use after making this how to cut cauliflower tutorial. So, I thought cauliflower rice would make a wonderful filling for lettuce wraps if I could hack it.
And I did! These vegetarian lettuce wraps were incredibly flavorful. I think even self-avowed carnivores would eat these right up.
How to make cauliflower rice
Cauliflower rice is a pretty neat thing. Making "rice" out of a superfood veggie is pretty amazing. Granted, it's not exactly the same as white rice, but in many cases you don't miss rice. And this is one of those cases!
My method for cutting cauliflower makes grating cauliflower a little easier. In this tutorial I show how to chop cauliflower heads in quarters to make the rest of the cutting process go smoothly. Well, for cauliflower rice you stop cutting right there!
Once your cauliflower is in quarters, you have a great handle to use for grating. I highly recommend grating starting at the top because if you wait and do the top at the end it gets quite unstable. So, start grating at the top and work your way toward your hand.
You'll be surprised how much cauliflower rice you'll get! I nearly filled an 8×8 baking dish! (On that note grating in a baking dish is helpful to catch all the cauliflower). Once the "rice" is prepared, set it aside for later.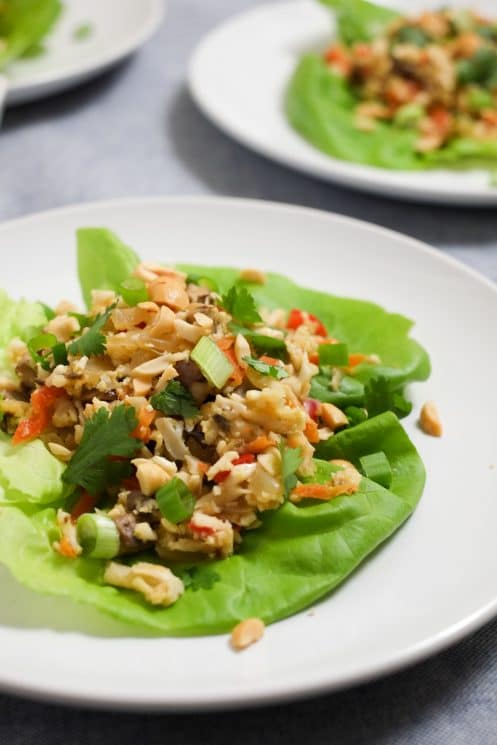 Lettuce Wrap filling
Heat a very large pan over medium-high heat. A wok would be ideal if you have one, but I didn't – so just use the biggest thing you have! Add in a tablespoon of vegetable oil and saute onions for five minutes, until going translucent.
Meanwhile, whisk together the sauce: soy sauce, rice wine vinegar, honey (or brown sugar), lime juice, peanut butter, grated ginger, sesame oil, and minced garlic. Try and get everything pretty well incorporated, but it doesn't have to be perfect.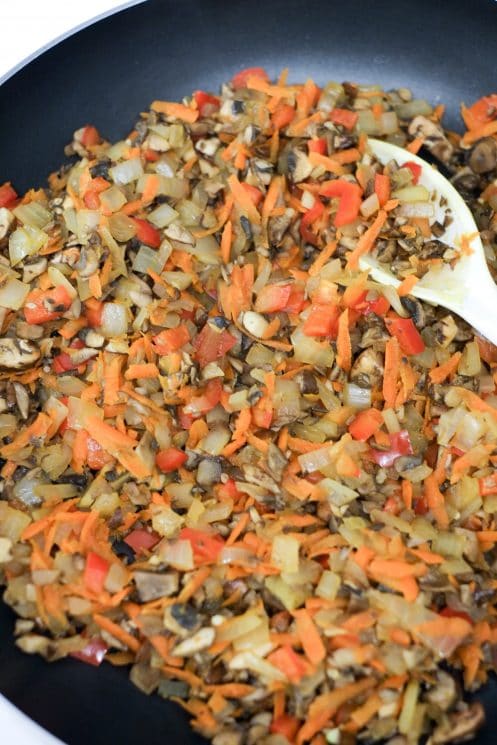 Next, add in carrot shreds, red pepper diced tiny, and mushrooms. Saute another few minutes until the veggies are going soft. Then pour in as much of the cauliflower rice as will fit and mix. Pour the sauce over everything and mix again.
If you couldn't fit all the cauliflower at first, the mixture will cook down a bit and you can add some as you go. Cook the cauliflower rice mixture for another few minutes, until the cauliflower is softened but not mushy. The sauce will bubble a bit.
Assemble the cauliflower rice lettuce wraps
Now, simply rip a couple of lettuce leaves off, wash and dry them, and top with a spoonful of cauliflower rice! You can use any kind of lettuce you like or have on hand. I used butter lettuce this time, but I've used romaine and even iceberg before.
Top each wrap with coarsely chopped peanuts. For me this is a must! The crunch is just what pulls the wraps together. If you prefer, you could also use other nuts or seeds, like sesame seeds or almonds. I just think they need a crunch!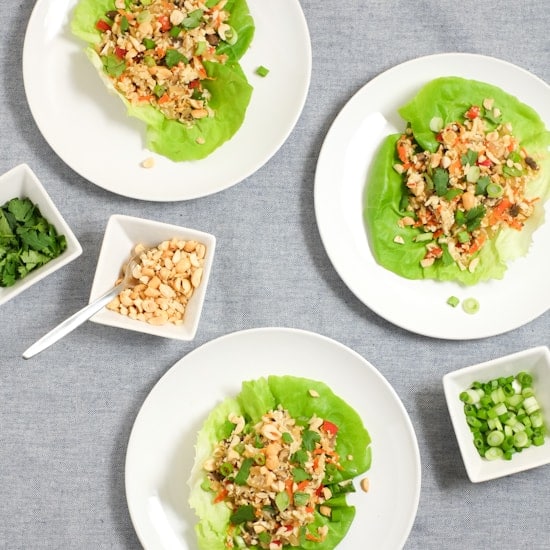 You can also top with green onions or cilantro if you want to add some variation. But they're great even without these so don't stress if you forgot to grab them at the store.
Enjoy these fresh, crisp cauliflower lettuce wraps for your family's next meatless Monday. Or Sunday. Or really any day of the week! I know you'll love them.
Ingredients
1

head medium (5-6″ dia.)

cauliflower

2 1/2

cup

mushrooms, brown, Italian, or Crimini

1/2

cup grated

carrot

1

small

bell pepper, red

1

small

onion

1

tablespoon

canola oil

1

head

lettuce

1/2

cup

peanuts
Sauce
1/2

cup

soy sauce, low sodium

1/4

cup

vinegar, rice wine

1/4

cup

honey

2

tablespoon

lime juice

2

tablespoon

peanut butter, all-natural

2

teaspoon

ginger root, fresh

1

teaspoon

sesame oil

3

clove

garlic
Instructions
Cut cauliflower into quarters, wash, and grate using a box grater or grater attachment on a food processor. Set aside.

Grate carrot and finely chop onion, bell pepper, and mushrooms. Grate ginger and mince garlic.

In a large pan (a wok if possible), saute onions for a few minutes, then add carrot, bell pepper, and mushrooms. Continue sauteing for about 5 minutes, or until veggies are mostly soft.

Meanwhile, combine sauce ingredients and whisk together until combined.

Add cauliflower to pan and mix well. Add sauce. Saute for 3-4 minutes, or until cauliflower is a little tender and the sauce has bubbled a bit.

Serve spoonfuls of cauliflower mixture on lettuce leaves and top with chopped peanuts. If desired, garnish with cilantro, green onions, or even more lime juice.