Slow Cooker Budget Friendly Applesauce Pouches
These slow cooker applesauce pouches are not only delicious but budget friendly!
As a parent, when the fruit and veggie food pouches started coming out it was a huge game changer for me. They are convenient, way less messy, and my kids loved eating them. The only downside is the cost. Most of them cost anywhere from $1 – $2 per pouch. If you have a few kids and they are each eating one or more per day this can add up quickly. This is why we LOVE these reusable pouches from Squooshi pouch. Making your own applesauce is incredibly easy, contains no sugar or other additives, and will save you money!
To get started, slice your apples and toss them in the slow cooker with your cinnamon sticks and vanilla bean. Also add 1/2 cup of water. Cover and set to low for 4 hours. Boom! You are almost done. Seriously – I can't get over how easy this is. You can peel your apples first if you don't want the peel. I like to leave it because it provides fiber and some additional nutrients. Totally up to you.
After 4 hours this is what you will see. It smells amazing! Yummy apple cinnamon vanilla deliciousness. Ok, now for the last step. If you like it super chunky, you can just stir all of this together. If you like it more smooth, remove the cinnamon sticks and vanilla bean pod, and then transfer to a food processor. Blend until smooth. If you like it even more smooth, transfer to a high powered blender.
Once blended, transfer to a container. If you made a lot and want some for yourself, I like glass mason jars for storing. It will stay good in your fridge for at least 1 week.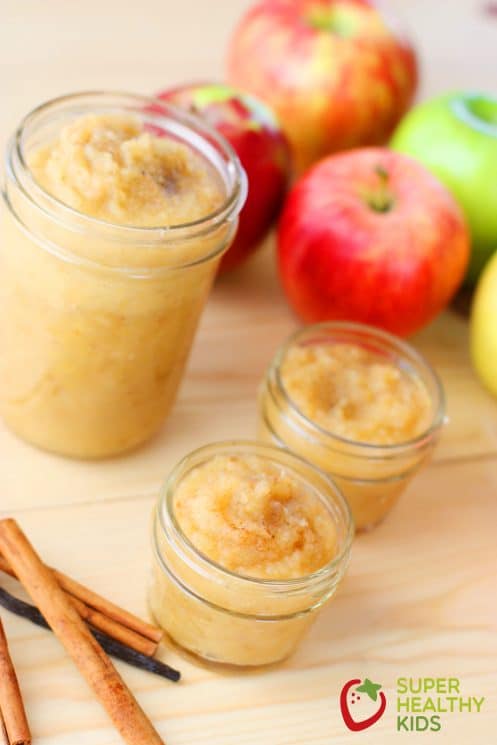 If you are making for your kids, use these Squooshi pouches! You just open the bottom and spoon in the applesauce. Takes about 10 seconds. Seal it and they are ready to eat or store. So where can you store these? The fridge or the freezer! This is some other great info about Squooshi Pouch:
Freezer Safe – Store & Serve from the same container. Doubles as an adorable boo boo pack or lunchbox freezer pack!
Dishwasher Safe – Rinse after use and place in the top rack
Safe for Baby – Features a no choke cap, small size, curved shape, upright, easy for little hands to hold and squeeze.
Compatible – With most silicone soft caps, spoon attachments and filling stations.
Non Toxic – BPA, Lead, Phthalate & PVC free
FAA / TSA compliant—approved for airplane travel
Perfect for all ages. Babies & Kids love the animal series while older kids and adults on the go like the G.O. pouches.
Reusable, Refillable, Convenient, Affordable, Adorable & Fun!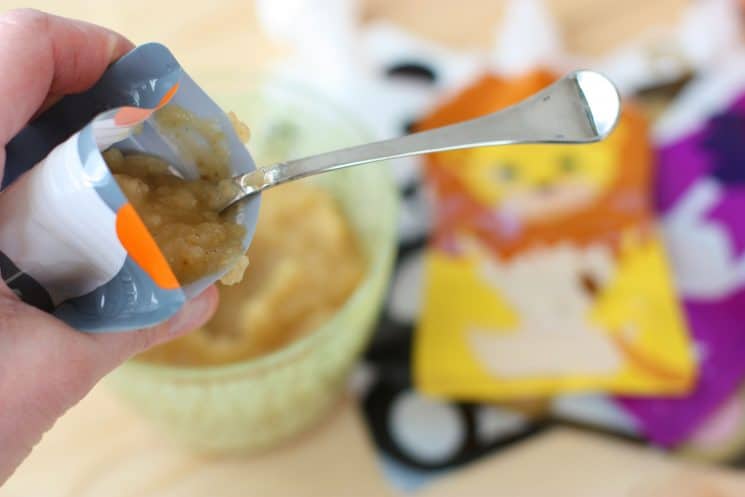 So easy to clean! You can handwash or put them in the dishwasher.
I love all of the fun characters that kids can choose from. They also have different sizes. But the best part about these is the cost. I used about 2 lbs of apples in this recipe. I bought my apples for $1.99 per pound. I used 3 cinnamon sticks (about 10 cents each) and one vanilla bean pod (if you are making budget friendly then skip this ingredient – totally just a flavor add-in, and delicious without it) So I made an entire batch of this applesauce for about $4.50. It made 10 pouches which makes them about 45 cents each! That is less than half the cost you pay for the store bought pouches. The squooshi pouches I used were 4.5 fl oz, and the Go Go Squeeze pouches you can buy are only 3.2 fl oz. Basically these pouches are the way to go!
Ingredients
8

medium

apple

3

each

cinnamon sticks

1/2

cup

water
Instructions
Slice apples and place in slow cooker

Add cinnamon sticks and water. (If you want to use vanilla bean, slice the pot and scrape inside into the slow cooker)

Set on low for 4-5 hours depending on how fast your slow cooker cooks.

Once apples are tender, if you like extra chunky just stir apples until desired consistency is reached.

For a smooth consistency, place cooked apples (remove cinnamon sticks) into a food processor or high powered blender.

Puree until desired consistency is achieved.

Spoon into food pouches or glass jars for storage.

Store in the fridge for 1-2 weeks.
Nutrition
Calories:
241
kcal
|
Carbohydrates:
64
g
|
Protein:
1
g
|
Fat:
1
g
|
Sodium:
6
mg
|
Fiber:
12
g
|
Sugar:
47
g