Blackberry Breakfast Bars Recipe
The BEST healthy breakfast bar! These make-ahead breakfast bars are not only delicious, they're really healthy and filling! Whip these blackberry and bean breakfast bars up in your blender for a winning family breakfast.
I love everything about this recipe. I also love that all its descriptors start with "B": blackberry and bean breakfast bars made in a BLENDER and then baked. Bam!
These breakfast bars are definitely becoming a regular around here. Why?
Packed with good stuff (including beans!)
No refined sugar
An easy make-ahead breakfast
They taste like dessert (without all the bad stuff)
Blackberries!!
I grew up in the Pacific Northwest, where blackberries are plentiful. You just stop your car and pick them by the side of the road. Oh how I love blackberries!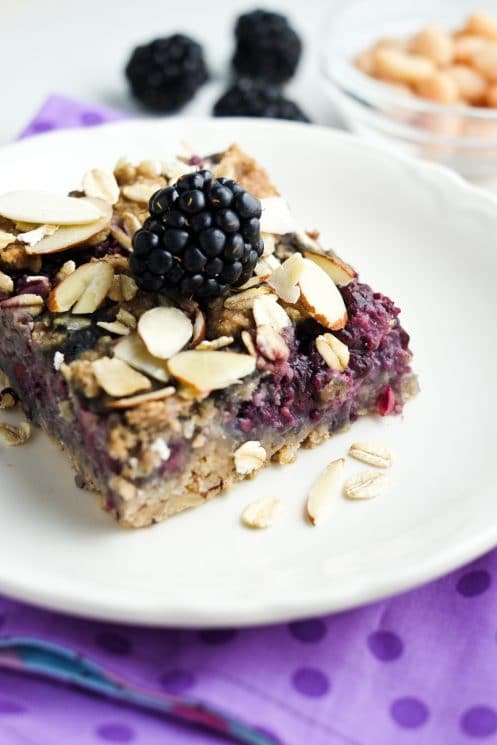 Wait, what? beans?
Though blackberries steal the show, beans are behind the scenes doing some seriously great work. I have become convinced that you can add beans to almost anything for a boost of nutrition and extra moisture. They hide so well!
My inspiration for adding beans came from one of my favorite treats: black bean brownies. If beans could be added to brownies to make them moist and delicious, why not these bars?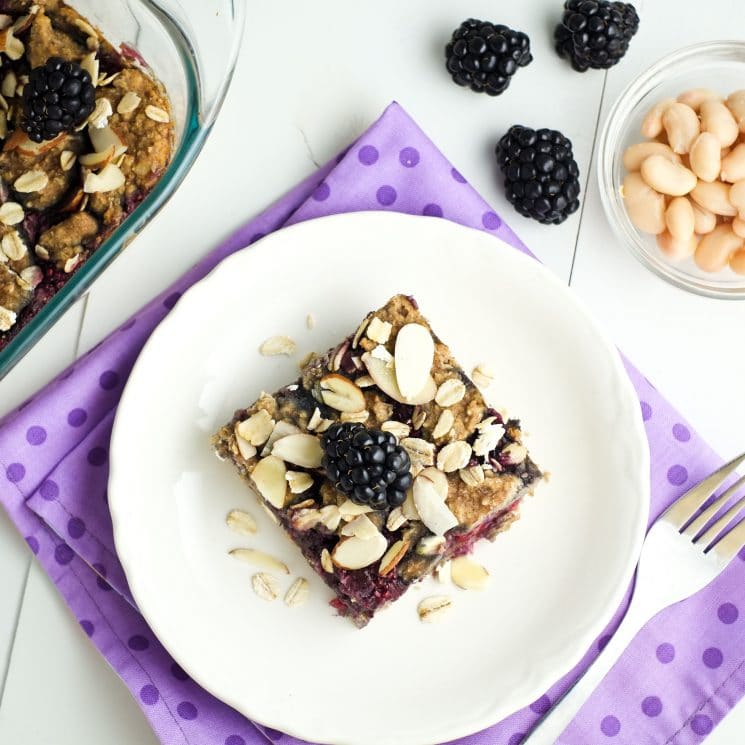 What's the result? A cinnamon-y breakfast bar base that is to die for! With no raw eggs, I may have even tasted the batter… and it was amazing!
Beans are an amazing source of protein and fiber for satiety and heart healthy. They also help balance this meal out by adding some vegetable protein.
Plus, they make the bars extra dreamy. They're anything but dry and oh-so-filling. And you can't even tell they're there — promise!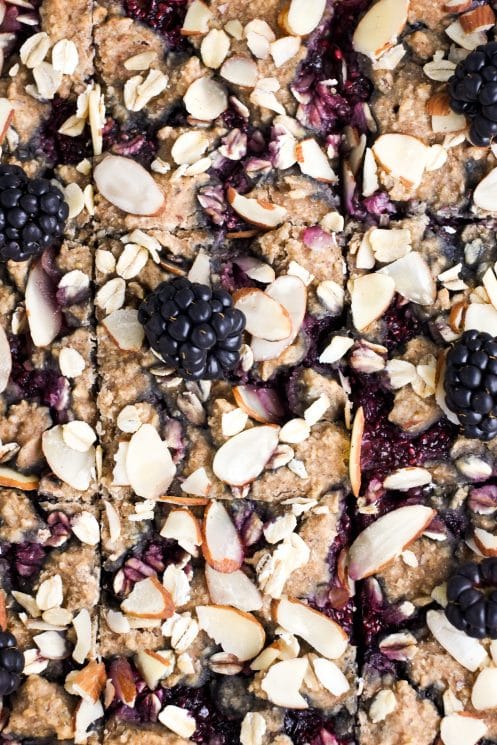 Healthy breakfast bars
These bars will give you and your family a great start to your day! What makes these breakfast bars healthy?
High in fiber: beans, blackberries, oats, and chia seeds so you stay full and regular.
Lots of protein and iron for slow-burning energy and alertness.
A little maple syrup, applesauce, and blackberries for a healthier sweetness.
Plus, blackberries have lots of vitamin C for growth and healing.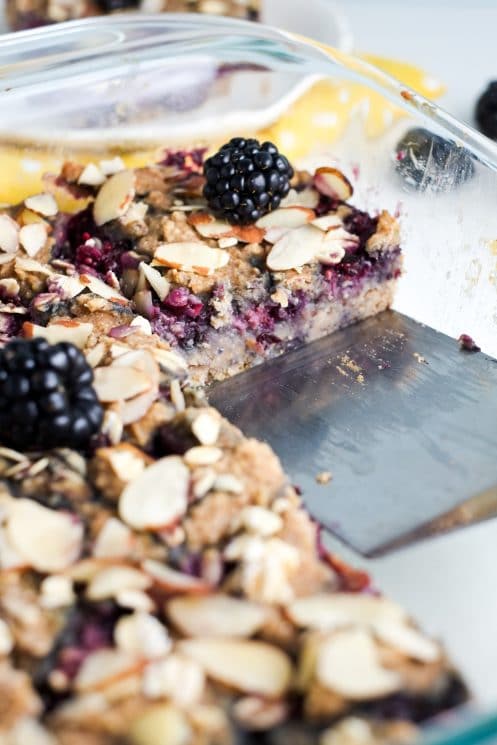 With so many healthful ingredients, you really can't go wrong! And trust me, these breakfast bars taste amazing – your kids will gobble them up with no clue that they're eating something so healthy!
Blackberry and bean breakfast bars Recipe
First, you need to prepare a blackberry "jam." Don't worry, no stove-top slaving required. We're making a no-cook chia jam.
Simply mash 1 6-oz container of blackberries with a fork and stir in 1 tablespoon of chia seeds and 1 tablespoon of maple syrup. I recommend using a high-rimmed bowl because the blackberries tend to squirt (and stain!). Set this mixture aside to congeal a bit.
Now preheat your oven to 325* F and grease an 8×8 inch baking dish. I used coconut oil but you could use spray or butter.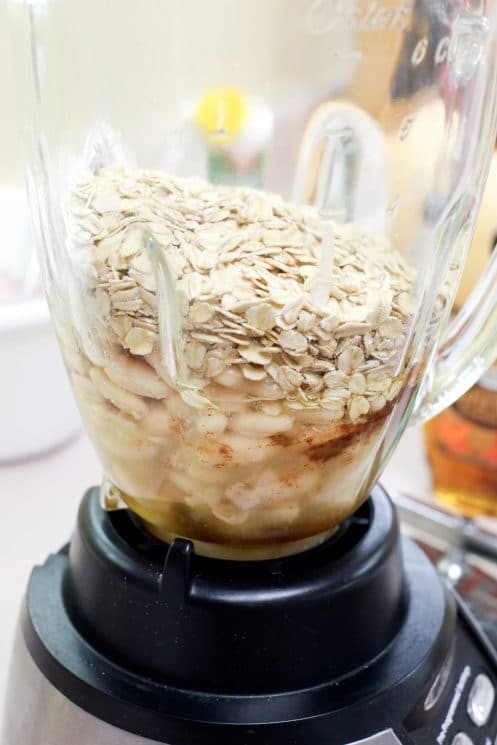 Next, pour in 1/2 cup applesauce, 1/4 cup melted coconut oil (or butter), 2 tablespoons maple syrup (or honey), 1 cup rolled oats, 1 teaspoon of cinnamon, 1 teaspoon baking soda, and 1/4 teaspoon salt into a blender or food processor.
Rinse and drain a can of cannellini beans or great northern beans, then throw those into the blender as well. If you're measuring home cooked beans, you need about 1 1/3 cup of beans.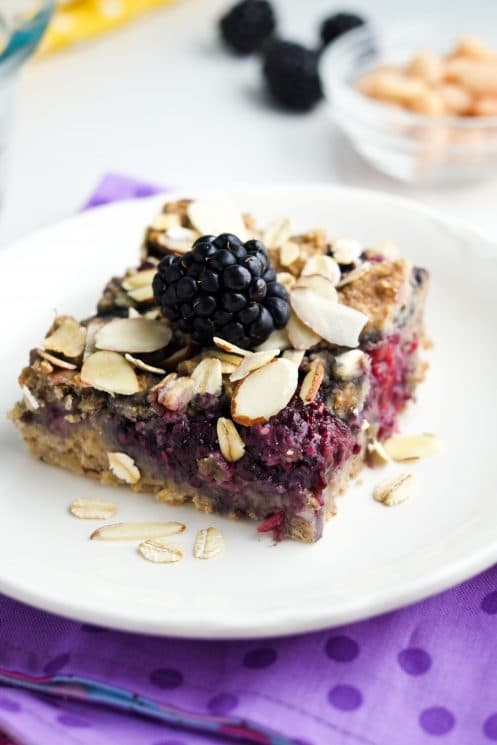 Blend this mixture until it's smooth. If your blender has a hard time (like mine), then scrape the sides. If you're really desperate, you can add a tiny bit of applesauce or water to help it along.
Now add 1/2 cup of slivered almonds. You can either mix these in for a bit more texture or blend them up – or anything in between.
Time to Layer the bars
Pour 2/3 of this blender mixture into your greased 8×8 pan. You'll want about a cup of mixture set aside to put on top later. Smooth the mixture out with a spatula.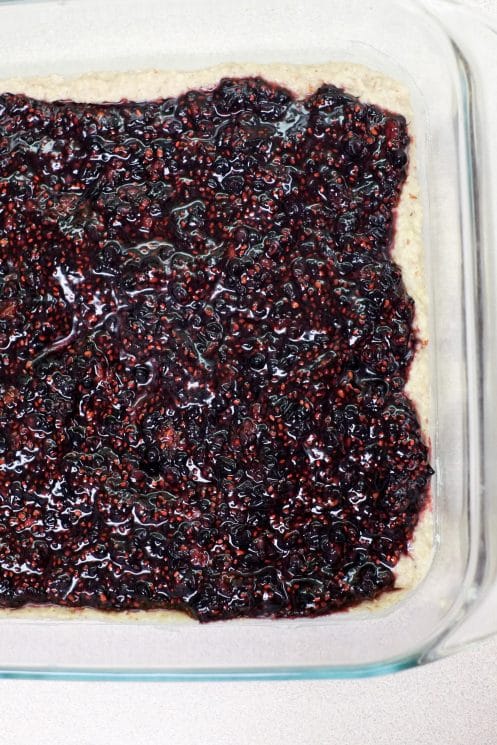 Next, grab the jam and carefully pour it over the smoothed mixture. Try to spread it evenly, but it doesn't need to be perfect.
Finally, drop teaspoonfuls of the remaining blender mixture evenly across the top of the blackberry jam. The mixture won't perfectly cover the jam, it's meant to be more of a crumble on top. If desired, sprinkle a few pinches of slivered almonds and/or oats on top to make it pretty.
Bake for 30 minutes at 325* F. The blackberry mixture toward the middle will still look a little wet, but that's okay.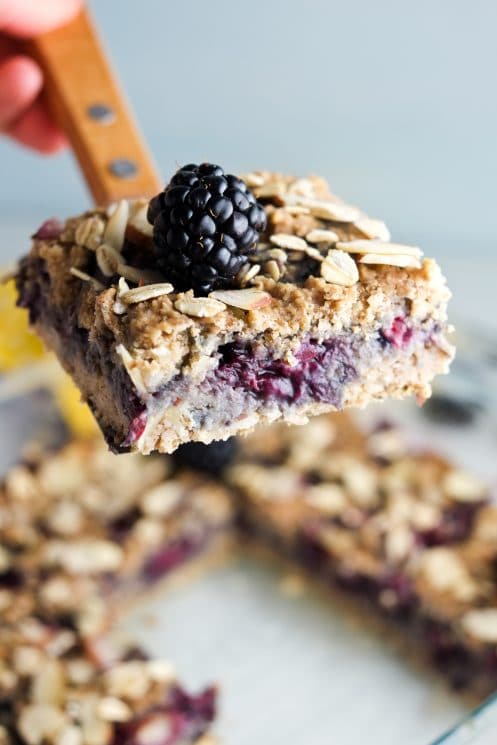 Now cool the bars on the counter for at least an hour before cutting so they have time to set. Ideally, refrigerate these overnight for really solidified bars.
Favorite healthy make-ahead breakfast
This is definitely my family's new favorite make-ahead breakfast. It's simple enough for everyday, but scrumptious enough for a special morning too.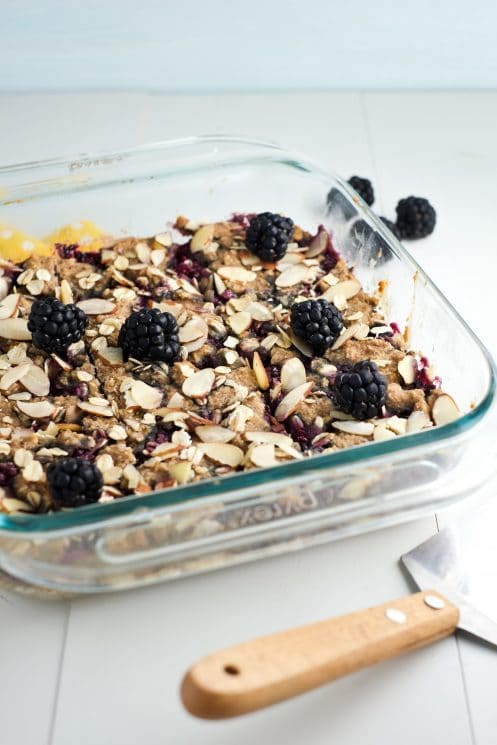 We hope you love these healthy breakfast bars! What's your favorite healthy make-ahead breakfast?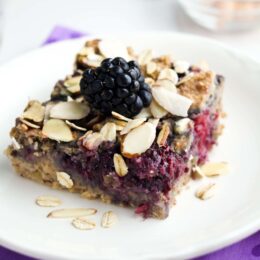 Ingredients
3/4

cup

blackberries

1

tablespoon

chia seeds

3

tablespoon

maple syrup, pure

15

ounce

cannellini (white kidney) beans, canned

1/2

cup

applesauce, unsweetened

1/4

cup

coconut oil

1

cup

oats, dry

1

teaspoon

baking soda

1

teaspoon

cinnamon

1/4

teaspoon

salt

1/2

cup

almonds, sliced
Instructions
In a medium bowl, squish a 6 ounce package of blackberries with a fork. Stir in 1 tablespoon chia seeds and 1 tablespoon of the maple syrup (the rest will be used later). Set this blackberry jam aside to congeal.

Grease an 8 x 8 inch baking dish and preheat the oven to 325* F.

Rinse and drain a 15 ounce can of white beans (cannellini or great northern). Add them to a blender or large food processor.

To the blender or food processor, also add: 2 tablespoons of maple syrup, applesauce, melted coconut oil (or butter), rolled oats, baking soda, cinnamon, and salt. Blend until a batter forms.

Add 1/2 cup of almonds and blend until combined, or just mix in if you want added texture.

Pour 2/3 of the blender bean mixture into the prepared 8 x 8 inch pan. Spread it out evenly. You'll want about 1 cup of batter set aside.

Pour the blackberry jam on top of the bean layer and carefully spread evenly.

Drop small spoonfuls of the set aside bean batter on top, covering evenly. Not all the blackberry jam will be covered and that's okay. Optional: sprinkle extra almonds or oats on top for texture.

Bake for 30 minutes at 325* F. Allow to cool to room temperature and then refrigerate overnight. Cut into nine squares and serve cold.