Banana Yogurt Breakfast Bowls
Healthy Banana Yogurt Breakfast Bowls! These breakfast bowls are super easy to make and loaded with healthy probiotics! An energizing breakfast the whole family will love. Perfect for a back to school and made in no time! 
Oh my goodness, can you believe that summer is more than half way over and school will be back in session? I don't know about you, but summer just seems to come and go in no time! That being said, I think it's important to start school prep. Meaning, we should get our kids healthy, well fed, and fueled for the new school year.
One of my go to recipes for a quick breakfast are yogurt bowls. Some may call this a "smoothie bowl," but I think that breakfast bowls sound more fun for back to school. A little more wholesome sounding too, right? Plus you can doll up your yogurt bowls with all the toppings! In fact, you can sneak in extra "healthy' toppings without kids even knowing. Sneaky sneaky!
Today's yogurt breakfast bowl is just that.  An energizing quick banana yogurt bowl with a cinnamon sugar whole grain topping. This gluten free whole grain topping is an ancient grain called buckwheat and a great way to introduce your kids to new foods.
Buckwheat (which is not actually wheat, but a seed)is the edible portion of a seed from a plant related to greens like rhubarb.  Buckwheat is packed with nutrients and antioxidants which totally makes them a "superfood."
Not only is buckwheat an awesome plant-based gluten free ancient grain, but it also has an amazing source of plant based protein!  Buckwheat grains contains roughly 11-14 grams of protein for every 3-4 ounces and is high in amino acid essential amino acid. Amino Acids are crucial for our growing kids. Mentally and physically!
Now pair that with Calcium/probiotic Rich yogurt, Potassium rich banana, and anti-oxidant rich cinnamon, and you have yourself one ENERGIZING NOURISHING BREAKFAST BOWL! Oh, and did I mention it takes less that 10 minutes to make?
Yes indeed friends!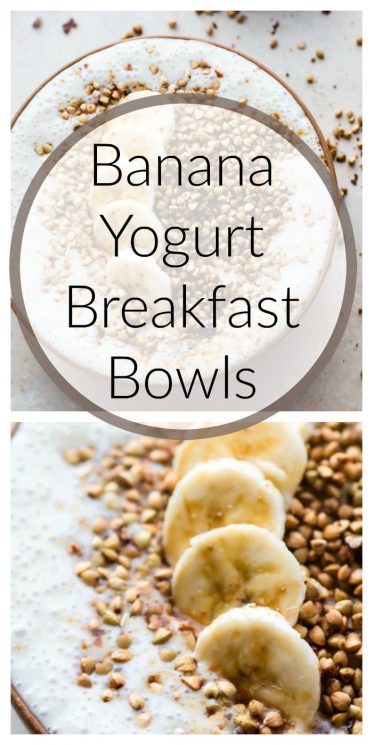 So you see, we might be winding down our summer festivities and foods, but that doesn't mean we need put away our blenders just yet.  Get your kids ready (and healthy) for the new school year with these energizing banana yogurt breakfast bowls. Toasted ancient grain toppings and more!
Grab a spoon, let's dig in!
---
Lindsay is a Nutrition Specialist for Gluten-Free eating over at www.CotterCrunch.com! Fueling you with Delicious Gluten Free Recipes and Nutrition tips one "bite" at a time. If you're looking for more gluten free no bake snack "bite" recipes, be sure to check out her two ebooks full of recipes! One ebook is FREE!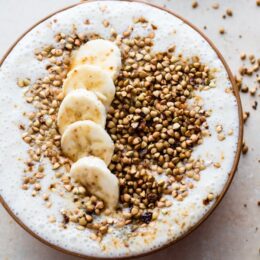 Ingredients
1/4

cup

buckwheat

1

teaspoon

cinnamon

1/2

teaspoon

coconut oil

1

tablespoon

brown sugar

1

cup

yogurt, vanilla, low-fat

1/2

cup

Greek yogurt, plain

1

medium

banana
Instructions
Preheat oven to 350F.

Toss your buckwheat groats in cinnamon, oil, and sugar mix.

Spread your buckwheat groats on cookie sheet and toast for 5-6 minutes. Remove and set aside.

Next blend your banana and yogurts together. For extra thick, use frozen banana.

Pour into a bowl and add your cinnamon toasted buckwheat on top and more sliced banana.