21 Best Spaghetti Squash Recipes
Spaghetti squash is a great alternative to pasta.  There are so many ways to prepare it that make it taste absolutely delicious and lots of great recipes that kids will love too! We compiled 21 of the best spaghetti squash recipes around the web for you. 
Check out our Ultimate Guide to Spaghetti Squash for TOP tips on cutting and cooking spaghetti squash that you won't find anywhere else!

How Do You Cook Spaghetti Squash?
There are lots of ways to cook spaghetti squash: baked, microwaved, roasted, steamed, and so many more.  But there really is one way to cook it that makes it turn out amazing.  And the great thing is that it is really simple.  Cut the spaghetti squash in half lengthwise from the stem end to the base, rub the inside lightly with olive oil, and roast it cut-side down.   Cooking it this way decreases the amount of moisture that gets trapped in the squash and gives you more caramelized delicious strands of spaghetti squash.
Is Spaghetti Squash Available All Year?
Yes!  You can buy spaghetti squash year round in most areas.  But their peak season is from October – December.  The great thing about Winter squash in general is that they store so well, that they are usually available year round.   If you plan to store a spaghetti squash for a long time, the best way to store it is in a cool, dark place.  A basement storage room, or cool pantry or cabinet is the perfect place.
Is Spaghetti Squash Good For You?
When most people think of spaghetti squash, they just think of a low-carb alternative to pasta.  The great thing is that is true, but there is so much more nutrition packed into this pasta alternative.  Spaghetti squash contains high levels of Vitamins A and C which are antioxidants and also B vitamins – and folate.   It has a lot of potassium which is really great for athletic kids and also adults who struggle with high blood pressure.
Is Spaghetti Squash Just Like Spaghetti Pasta?
The reason I think it is important to answer this question is because even though it looks like spaghetti strands, it isn't just like the pasta version.  Kids are smart and if you are trying to get them to try something new and you tell them one thing and they experience another, they won't trust you anymore.  Just be honest with them in that it looks like spaghetti noodles, but the flavor and texture are different but still delicious!
We love spaghetti squash because there are so many different ways to prepare it.  These are 21 of the best spaghetti squash recipes from around the web.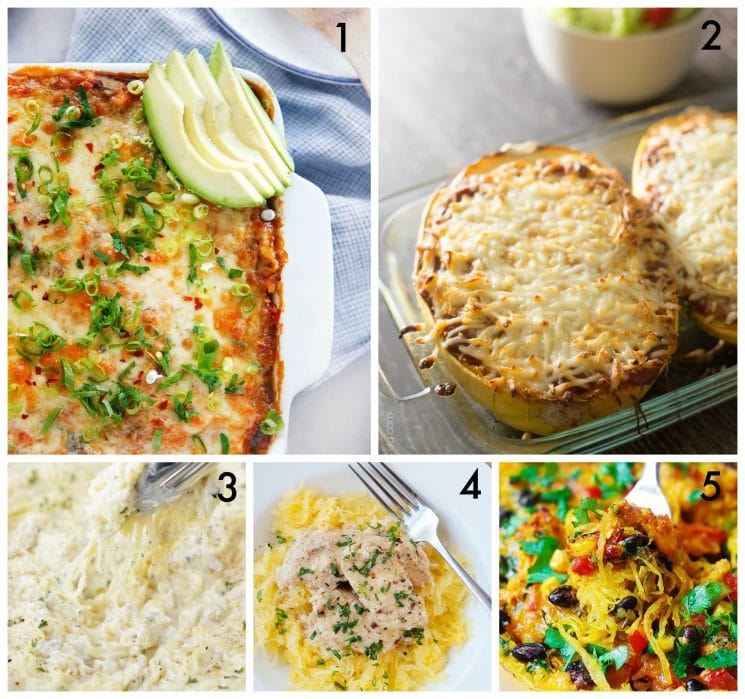 1. Spaghetti Squash Chicken Enchilada Casserole 
Lexis Clean Kitchen
Homemade enchilada sauce, lots of veggies and creamy refried beans involved in this amazing dish.
Tastes Lovely
Everything you love about lasagna, but with more nutrition, and leaves you feeling much less heavy after you eat it!
The Gunny Sack
This recipe is a combination of two of my favorites: spaghetti squash and fettuccine alfredo. The recipe is for an easy, quick alfredo sauce made in a skillet and gently stirred with the rest of the ingredients.
4.  Garlic Butter Chicken Spaghetti Squash 
Laura Fuentes
Delicious lemon-garlic sauce drizzled over a bed of spaghetti squash for a quick and yummy dinner.
5. Southwestern Spaghetti Squash 
Julia's Album
Stuffed with chicken, black beans, tomatoes, corn, peppers and topped with melty cheddar cheese all blended with Southwestern spices.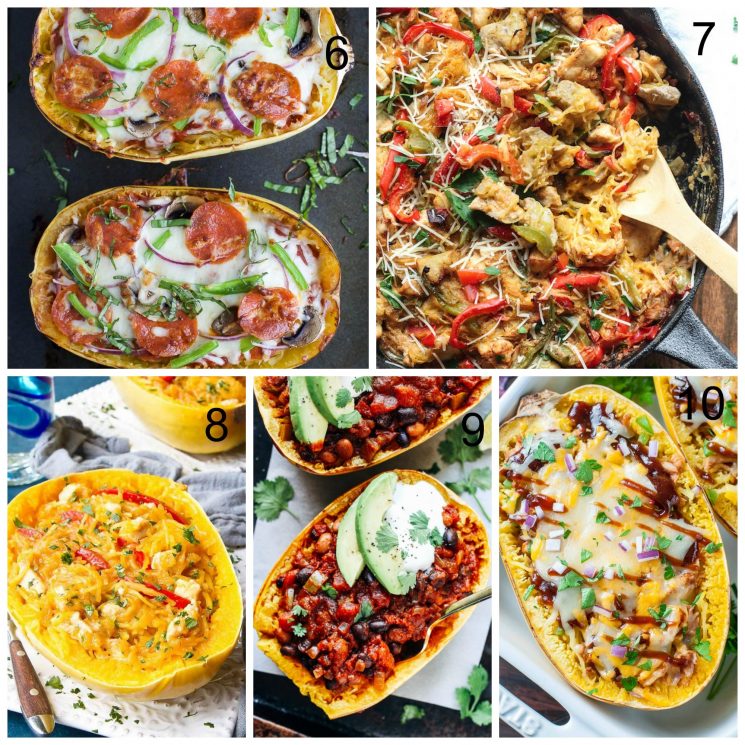 6.  Pizza Stuffed Spaghetti Squash 
Joyful Healthy Eats
This is loaded with flavor and the perfect comfort food with a twist.
7.  Cajun Chicken Spaghetti Squash Bake 
Destination Delish
Not too spicy, but flavorful enough for both adults and kids.  
8.  Thai Chicken Spaghetti Squash 
Cookin Canuck 
Mix the flavors of a Thai curry sauce with a healthy dinner recipe idea and you get this Thai Chicken Spaghetti Squash. Amazing flavors with in 30 minutes.
9.  Chili Stuffed Spaghetti Squash Bowls 
Making Thyme for Health
Roasted spaghetti squash filled with a hearty two-bean vegetable chili – a warm and satisfying meal.
10.  BBQ Chicken Spaghetti Squash 
Peas and Crayons
Grab your favorite BBQ sauce and you are ready to whip up this smoky sweet spaghetti squash recipe.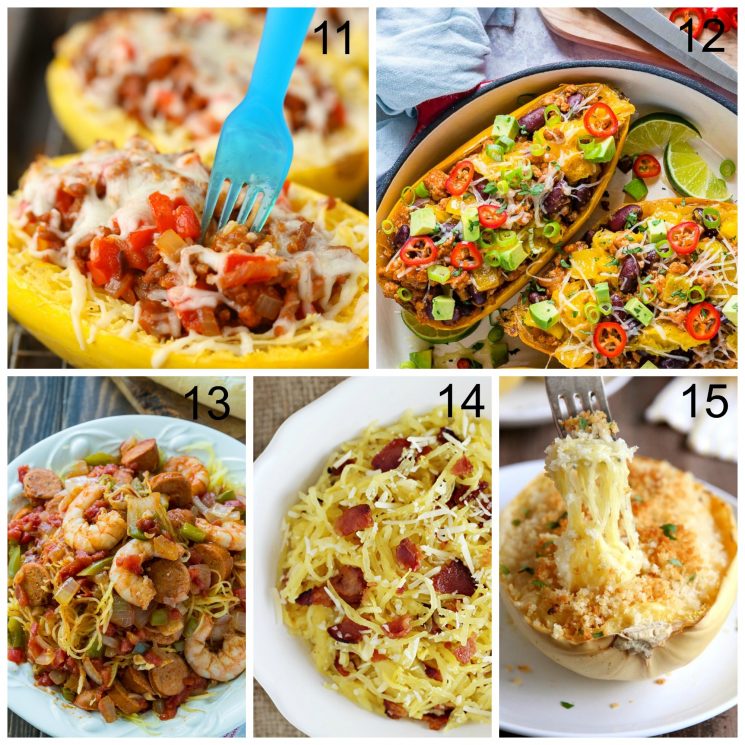 11.  Italian Baked Spaghetti Squash 
Super Healthy Kids
Italian Baked Spaghetti Squash with veggies, Italian sausage, cheese and marinara.  You may never have pasta spaghetti again! 
12.  Taco Stuffed Spaghetti Squash
Clean Food Crush
A fun way to switch up taco Tuesday using the squash as the base.
13.  Spaghetti Squash Jambalaya
Spicy Southern Kitchen
A healthier way to get your Jambalaya fix – using spaghetti squash instead of rice gives a different texture without sacrificing flavor.
14.  Bacon Parmesan Spaghetti Squash
Home Cooking Memories
A deliciously easy side dish – this might even turn a reluctant spaghetti squash eater into a fan.
15. 
Twice Baked Spaghetti Squash and Cheese
Completely Delicious
Just like classic baked macaroni and cheese but without the pasta – spaghetti squash noodles are an amazing substitute.
16. 
Chicken Piccata Spaghetti Squash Boats
No Spoon Necessary
Tender chicken tossed in a light and fresh piccata sauce piled high into roasted halves of spaghetti squash.
17.  Spinach Artichoke Spaghetti Squash Recipe
Taste and Tell 
A healthier way to serve a favorite dip, combine spaghetti squash with spinach artichokes and a creamy cheese sauce.
18.  Spaghetti Squash Hashbrowns
Food with Feeling
Perfectly paired with a fried egg for a satisfying breakfast.
19.   Cheesy Spaghetti Squash Bake
Super Healthy Kids
This cheesy comforting spaghetti squash bake is packed with vitamins and minerals from three different veggies
20.  Spaghetti Squash Chow Mein
Damn Delicious
A low-carb version of everyone's favorite takeout dish.  Even your picky eaters will love this!
21.  Breakfast Spaghetti Squash
Salu Salo
Although this dish is normally eaten for breakfast, it can be enjoyed any time of day!