10 Healthy After School Snacks Kids Can Make Themselves!
After a busy day at school, the first thing those kiddos need (after a hug!) is a little snack boost…and the last thing you want to do is fix another meal while you are getting dinner together! Here's a list of healthy after school snacks the kids can make themselves!
"I'm hungry. Can I have a snack when we get home?"
A lot of us hear some variation on this question every single day. And even if you serve an early dinner like we do, a quick snack when they get home can mean the difference between a crabby kid and one that has had a little energy boost to make it to dinner time happily.
My biggest goal in after school snack time is to keep it simple. I don't want to cook or make a lot of dishes when I'm already thinking about dinner. Which is why teaching kids to get their own snacks has been so helpful!
Of course, this takes a little preparation and practice so your kids are equipped with the skills and know-how they need to get their own snacks.
How to Teach Your Kids to Get Their Own Snacks
Sit down with the kids and this list and let them decide on 5 snack ideas that sound great to them.
Let them help you prep things on the weekend for snack time. For instance, older kids can help cut veggie sticks and younger ones can stir up the Ranch dressing. The container of veggie sticks and jar of dip can be ready to go and in a kid reach-able spot in the fridge so they can help themselves with mom hands free.
Label/guide the serving size they can take. Put a 1/2 cup measure or equivalent cup size in the container of trail mix. Have 1/2 cup or so containers or bowls at their reach for yogurt. You could even make a simple, short list to keep on the fridge for them to follow.
Practice. I know it sounds so odd, but especially when it comes to younger ones who are still learning how to follow step by step instructions correctly, this is important so you don't end up pulling your hair out over a big mess in the kitchen.
Don't forget clean up. The last thing you need is more crumbs, silverware, and bowls to put away and/or wash. Show them where you expect the empty containers to go or how they should be washed. Show them how to wipe the counter too.
10 Snacks Kids Can Get Themselves
1. One or two scoops from the "Trail Mix" container.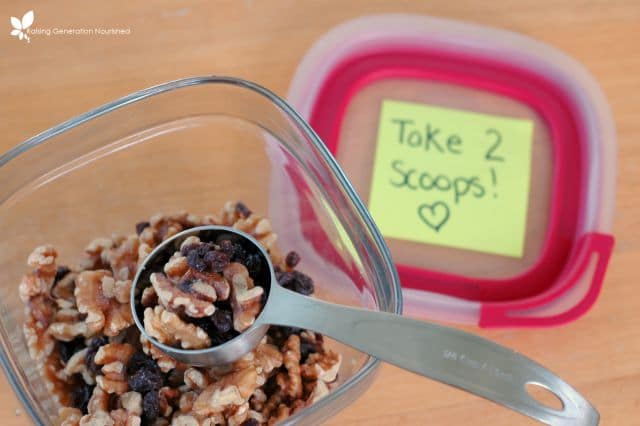 2. Fruit On the Bottom Yogurt Cups.
3. Healthy Snack Bars, like these no-bake date bars.
4. Ants on a Log.
5. Hard Boiled Egg from the Fridge Stash & a Piece of Fruit.
6. Fruit & Cheese.
7. Veggie Sticks & 5 Minute Ranch.
8. Fruit & Nuts.
9. Guacamole & Tortilla Chips.
10. Cheese & Crackers.
Renee blogs at Raising Generation Nourished, and with 3 girls ages 5 and under, she is passionate about raising the next generation of kids with a better understanding where their food comes from and how food affects their bodies.