Rainbow Curly Fries Recipe
Crispy strands of yummy fries are a kid favorite around our house. While we love regular potatoes, other root vegetables offer a lot of extra nutrition, color and variety. Our rainbow curly fries recipe is a yummy combination of different root veggies cut into long curly strands and baked for a healthy crispy snack or side to any meal!
We used a Sweet Potato which has a white/yellow color, yam which is orange, beet which is red, and a russet potato which is white. These all have a different texture, flavor, and color which made our fries super fun and yummy to eat!
The first time I made this recipe, I used my handheld spiralizer, but the hard texture of the sweet potato and yam just wouldn't work with it. The next time I made these I used the Paderno spiral vegetable slicer and had much better success! The key to this is to use a larger potato or beet and put pressure on the handle so that it produces a larger spiral.
Once all your veggies are cut, toss them in a a couple of teaspoons of oil and season with salt and pepper to taste. I have found the easiest way to do that is in a large gallon ziploc bag. The next part is key to making them crispy. Place parchment paper on a baking sheet and spread the spirals out so that they all have space. (Don't follow the picture below – it just looks pretty) You might need 2 baking trays depending on how many you are making at a time. If your fries are touching too much it will steam them, and they will just be soggy.
Place them in a preheated oven at 425 degrees F and bake for 15 minutes on the first side. Take them out, flip carefully and then bake for an additional 10-15 minutes or until they have crisped right up. You will want to watch them because some of the fries might start to burn.
We loved all the different types of fries and thought it was fun to try the veggies we don't normally eat as fries. Plus the spiralizer makes super cool designs with the remaining veggie that you can use as a stamp on paper as a fun art activity! The spiralizer literally takes just a minute to make a lot of fries and so this recipe is a great side for any meal or even an after school snack!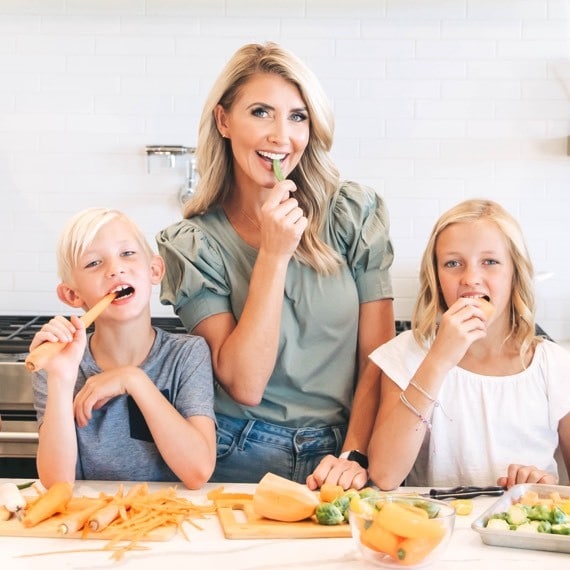 Natalie Monson
I'm a registered dietitian, mom of 4, avid lover of food and strong promoter of healthy habits. Here you will find lots of delicious recipes full of fruits and veggies, tips for getting your kids to eat better and become intuitive eaters and lots of resources for feeding your family.
Learn More about Natalie