Portable Power Food for Active Kids
Whether your kids are always on the go, or they are actively involved in sports, we have the power food with the portable solutions they'll need!
We always had our kids in little league. They would try every activity until they found one they liked- and it worked! As they got older, they stuck with the activities they loved, and dropped the activities they didn't. And as they got older, the sports became more intense. As a mom, I was grateful for the consistent exercise they were able to get through organized sports. They've made friends for life, and they've stayed out of trouble (For the most part! haha)
But as the sports got more intense, and took more time, portable snacks were not just convenient, they were a necessity! We've tried a thousand different snacks over the years, but the past few months as we've been using the Green Pouches, we've been able to expand their snacks to include foods we never dreamed of sending to their activities before. Gone are the days where we could only think of granola bars and pretzels! I truly feel like a new world of opportunity for optimal nutrition has opened up for us!! Here are all the places we've been taking our Green Pouches, and all the foods we've filled them with!
Top 8 Foods that are Now Portable
1) FROZEN SMOOTHIES
Taking smoothies on our adventures has been our FAVORITE new hiking food! We blend up a green smoothie with all our favorite things, pour into the green pouch and then freeze it overnight. This picture below was a recent canyoneering trip we ventured on in Moab, Utah. The frozen smoothie was so refreshing!! It defrosted enough for us to drink it, yet stayed super cold!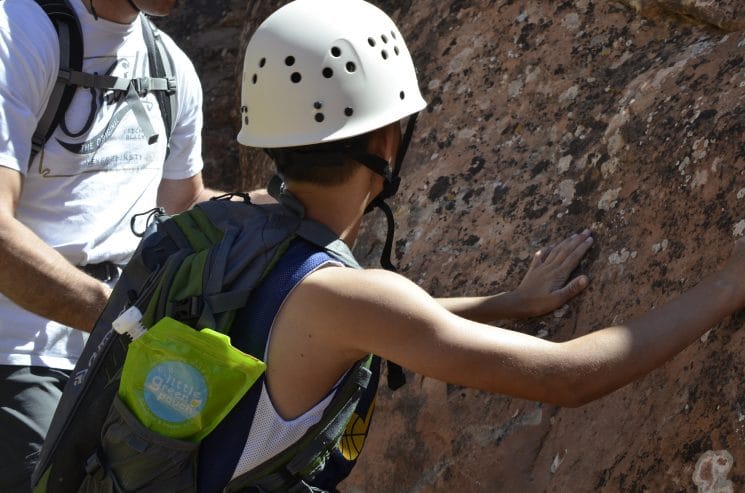 2) APPLESAUCE
Applesauce has grown up in the last ten years! When I was a child, the only ingredient was apples! Now there are varieties and blends (like strawberry applesauce, pumpkin applesauce, or any flavor combo you can imagine! y daughter takes applesauce to ballet as it's a quick, easy, and sweet snack that helps keep her dancing for hours!
3) BLENDED SOUPS
Heading to the ski slopes? Soup hits the spot! Let me tell you how delicious a pouch of soup is on a cold day! We've made blended broccoli soup, and butternut squash soup!

4) YOGURT
We've been eating a lot of Greek yogurt around here! It's not only filling, but the extra protein has been great for these kids so their snacks can be more sustainable! You can blend your yogurt with berries for that perfect carb-fat-protein combo! Using the big pouch, you can also fill with your yogurt, and then freeze! Once frozen, we send to soccer with my youngest son!

5) OATMEAL
This poor kid (my oldest boy) is usually gone for 10-12 hours at a time! He goes to a math/science high school that's located in another city. He drives to the train, takes it to school, and then has a full schedule at the high school and the college. He needs LOTS of food! The pouches can be filled with warm oatmeal for him, and eaten on the way to school!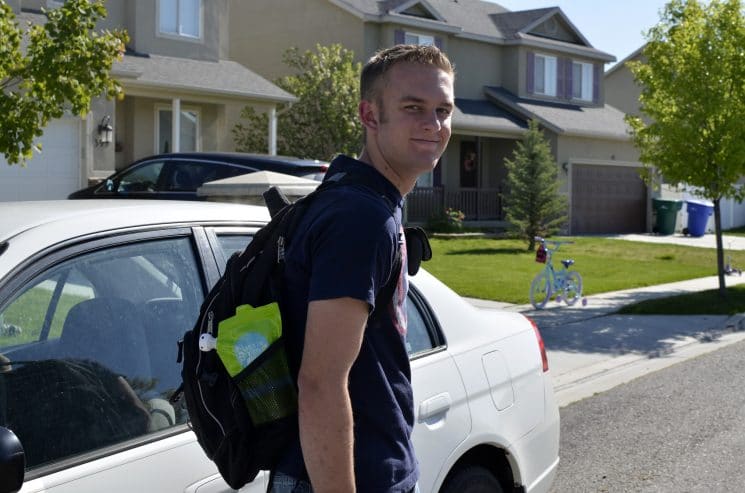 6) VEGGIE MASH
7) HYDRATION DRINKS
We have a homemade recipe for a hydration drink, sort of a Gatorade replacement), and this kid just thought it would be funny to pretend he was dying in the desert. But really, if you need to send a hydration drink to a hot summer ball game, you can fill it in the Green Pouch!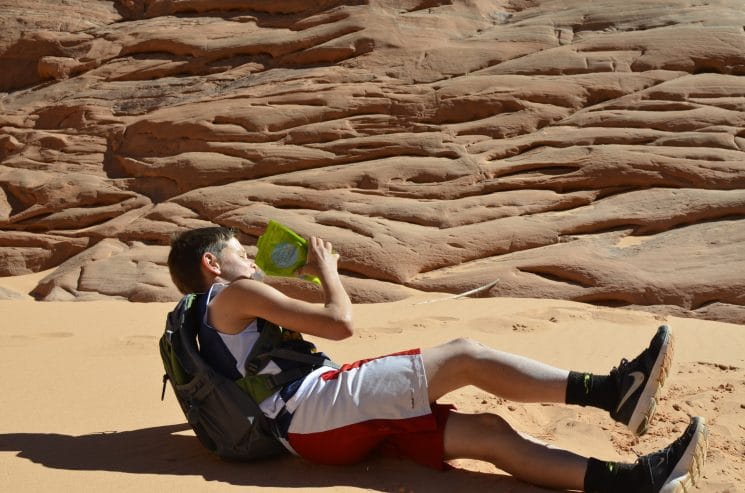 8) CHIA PUDDING
We haven't tried this yet, but my kids actually were asking for it! Fill your Green pouch with chia pudding! It truly is the most filling pudding on the planet!! The good fat in the chia seeds are great for growing and active kids.
I can't tell you how fun these pouches have been to send new foods with my kids on their activities! We no longer feel trapped by granola bars and water bottles.
About the Green pouches: They fill from the top with a zipper seal. This makes them VERY easy to fill! They are durable, dishwasher and freezer safe, plus free of BPA, phthalates, lead and PVC.
50+ uses per food pouch—eco-friendly, saves money
14-ounce capacity—largest size, with fill lines on back
Cup holder friendly—perfect for morning commutes and pre or post-workout drinks
Safe materials—made of durable BPA-free, lead-free, phthalate-free, PVC-free plastic
Opens at the top—easier to fill; free-standing when full
Double-strength zip seal—no spills or leaks; easy to close
Dishwasher safe—rinse well, then place upside down in top rack
Freezer safe—great for bulk storage and make-ahead meals and snacks
Flat when empty—when you're done, they take up less space in your bag or in storage
Patent Pending
Your kids are going to love these too!! SO- get yours with a special COUPON CODE for 20% OFF KIDS20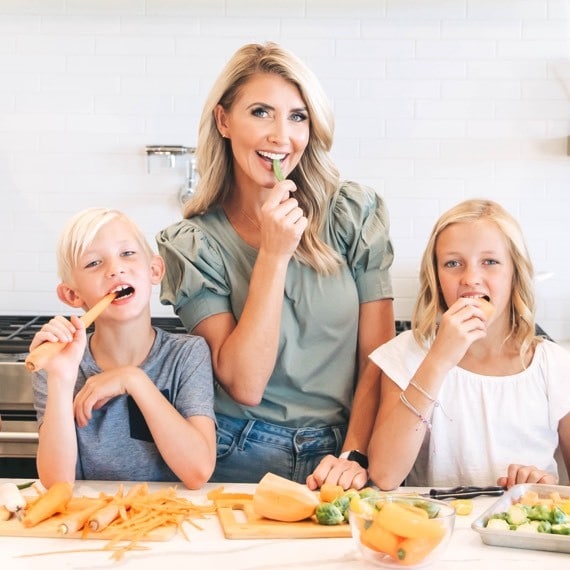 Natalie Monson
I'm a registered dietitian, mom of 4, avid lover of food and strong promoter of healthy habits. Here you will find lots of delicious recipes full of fruits and veggies, tips for getting your kids to eat better and become intuitive eaters and lots of resources for feeding your family.
Learn More about Natalie