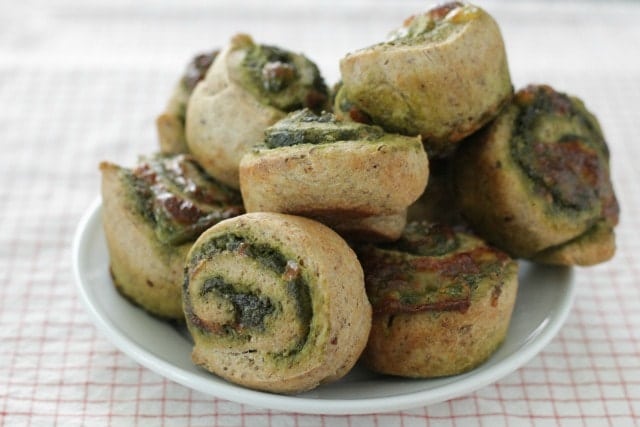 Filled with melted cheese and flavorful pesto, your whole family will love these easy-to-eat pizza rolls. I love to make a batch of these nutrient-packed rolls to have on hand for easy lunches and snacks, especially since they freeze and reheat so well. And while the end result looks a little fancy, trust me when I tell you that you don't need any special skills to make this recipe!
My 3-year-old isn't so interested in leafy greens when served up cooked or in a salad, but she does love pesto. A while back I realized that I could pack basil pesto with a lot of the kale growing in our garden and now, Kale Pesto is a go-to sauce for pizza and pasta.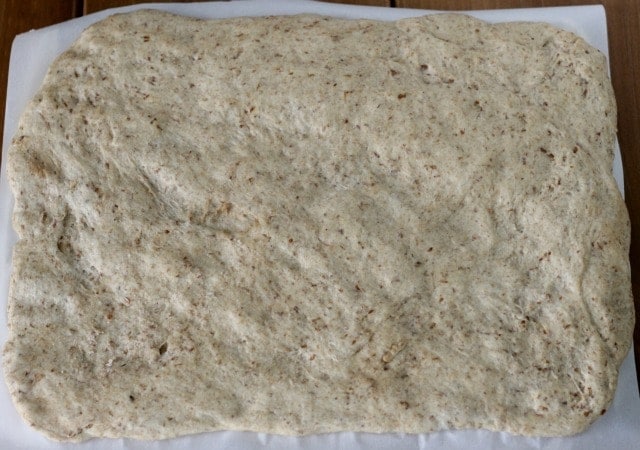 The pizza dough in this recipe is made with whole wheat flour, ground flaxseed, and olive oil, which lends a nice elasticity, making it really easy to work with. You can even make it in the morning and put these rolls together after work in no time at all. Use your fingers to lightly stretch out the dough into a rectangle, no rolling pin required, and let it rest briefly while you gather the rest of your ingredients.
The very flavorful and bright green kale pesto goes on top of the dough, followed by shredded mozzarella cheese, and a sprinkle of Parmesan. I like to make a big double batch of pesto and store some in the freezer—it freezes really nicely for up to 3 months.
Roll up the dough, starting on one of the long sides, until you have a long spiral roll. The dough shouldn't stick to the parchment (or your fingers), so this step is pretty easy.
Cut 1-inch slices and place each carefully into greased muffin tins. Try to make the slices flat, but don't worry if they don't fit perfectly—they'll puff up nicely regardless!
After a quick bake in the oven, they are ready to cool and eat. You can serve them warm out of the oven or at room temperature in a packed lunch. You could even serve them with a little marinara sauce for dipping!
Amy Palanjian shares recipes and feeding inspiration for little ones at Yummy Toddler Food. Follow her on Instagram or find her on Facebook.