Turn One Grocery List into Five Healthy Dinners
Sometimes, you just know you're headed into a crazy week. Your kids have music lessons and playdates, Dad will be working late, you'll be working late, and you've got a list of errands a mile long.
But family dinners don't have to take a back seat, even when life gets hectic! We've tapped into the magic of meal planning to create a menu that uses common ingredients in creative ways, so you never feel like you're eating the same thing two nights in a row. Try it out by following the guide below!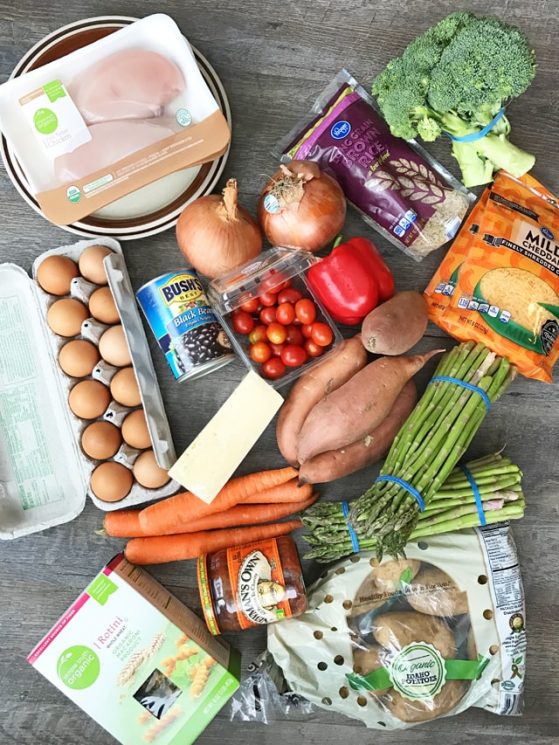 The Grocery List
Let's start with your list. Yes, it has eighteen items on it. Don't be intimidated by that- remember, you're making FIVE whole dinners from these ingredients. And we kept the cost low: around $10 a meal to serve four people.
1 package of 3 chicken breasts

3 broccoli crowns

4 sweet potatoes

4 carrots

2 bunches asparagus

1 dozen eggs

3 pounds potatoes

1 quart chicken broth

1 can black beans

1 red bell pepper

1 carton cherry tomatoes

2 onions

1 pound whole wheat rotini

1 quart milk

1 block Parmesan cheese

2 bags shredded cheddar cheese

1 bag brown rice

1 jar salsa
Total Approximate Cost: $50
Next, here are the simple pantry items you'll need, in case you need to re-stock those ingredients before you get cooking:
Olive oil

Soy sauce

Butter

Dried basil

Salt and pepper
Ready to cook? Here are your recipes!
Monday
Loaded Baked Sweet Potatoes
Kick off your week with healthy, creamy sweet potatoes stuffed with chicken, black beans and cheese.
Directions:
Step 1: Bake all four sweet potatoes until tender (or cook them in a slow-cooker or Instant Pot.)
Step 2: While the sweet potatoes are cooking, lay the chicken breasts side by side in the bottom of a glass baking dish. Then drizzle with olive oil and sprinkle with minced garlic or garlic powder, and salt. Cover with foil and bake at 375F about 40 minutes, or until cooked through,
Step 3: Cut open sweet potatoes and fill with drained black beans, a sprinkle of cheese, salsa, and cubes of meat from ONE of the chicken breasts. (You'll use the rest later in the week.) Enjoy!
Tuesday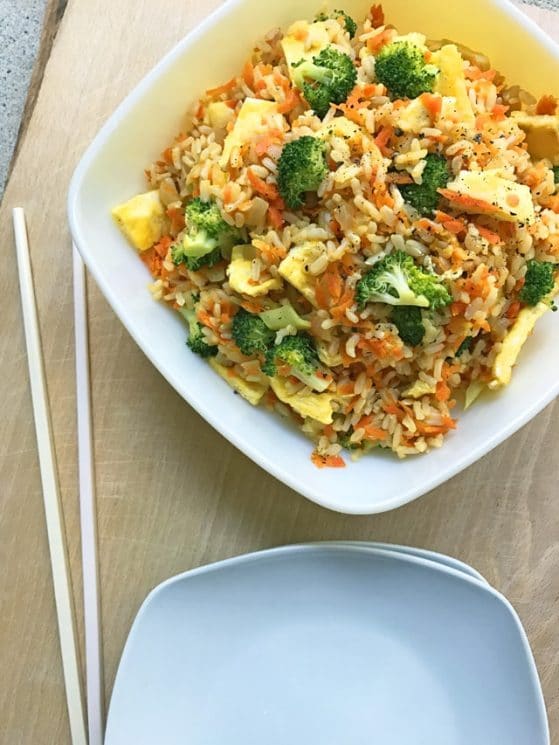 Veggie Fried Brown Rice
Whole grain brown rice mingles with fresh veggies and egg for a Chinese-inspired weeknight meal.
Directions:
Step 1: Cook 1.5 cups of brown rice according to the package instructions, then spread it on a cookie sheet to cool and dry for 30 minutes (you can make the rice a day ahead, if you like.)
Step 2: Grate 4 carrots and chop one onion small. Then saute the veggies in 1 Tbls. butter in a large pan until very soft, sweet, and tender, at least ten minutes.
Step 3: Add small broccoli florets from one broccoli crown and saute 5 minutes more.
Step 4: Meanwhile, whisk three eggs and cook them in a nonstick pan, omelet-style. Cut the cooked eggs into small strips.
Step 4: Fold cooked rice and eggs into the veggie mixture, then add soy sauce to taste (we like about 1 Tbls. soy sauce.) Serve!
Wednesday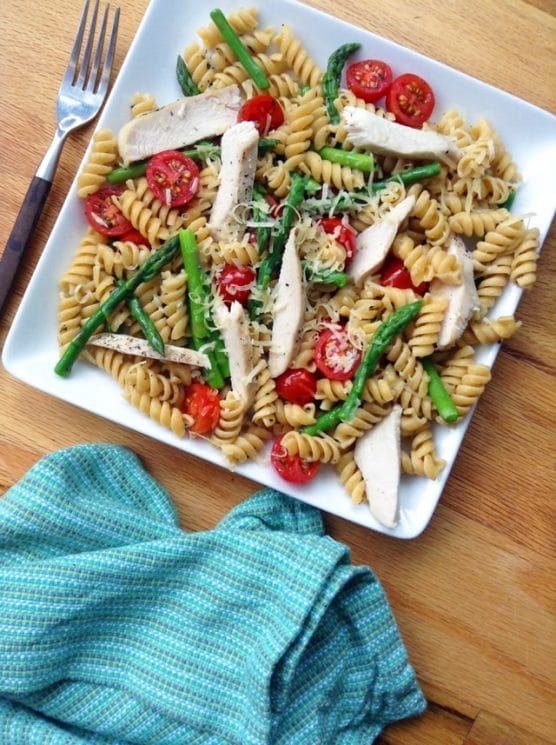 Chicken and Asparagus Rotini with Warm Cherry Tomatoes
No mid-week slump here! Light Italian flavors, colorful veggies, and hearty whole wheat pasta make "humpday" special.
Directions:
Step 1: Boil 8 oz whole wheat pasta, penne or rotini shape. (Wait to drain it until step 3!)
Step 2: Meanwhile, rinse one bunch asparagus, trim the ends, and cut into 2-inch pieces. Then rinse and halve one pint of cherry tomatoes, and cut two cooked chicken breasts into strips.
Step 3: One minute before the pasta is cooked, drop the asparagus into the cooking water. Do not overcook the asparagus! Let it turn bright green, then drain the pasta and asparagus together.
Step 4: Immediately drizzle extra virgin olive oil over the pasta, and stir in halved cherry tomatoes, 1 tsp. dried basil and a pinch of salt.
Step 5: Top each serving with chicken strips and freshly-grated Parmasan cheese.
Thursday
Warm, comforting soup is one of our favorite wintry meals! This one is hearty and nutritious.
Step 1. Boil or steam all 3 pounds of potatoes until tender.
Step 2. In a large pot, saute 1 chopped onion in olive oil until translucent, then add 1 quart of chicken broth, 1 cup water, and 3 cups of chopped broccoli florets.
Step 3: Roughly chop all but one of the potatoes (set that last one aside for tomorrow) and add them to the broth.
Step 4: Bring soup to a simmer until the broccoli is just cooked, then puree it with an immersion blender, leaving some chunks if you like.
Step 5: Stir in 3 cups shredded cheddar cheese, salt and pepper to taste. Serve!
Friday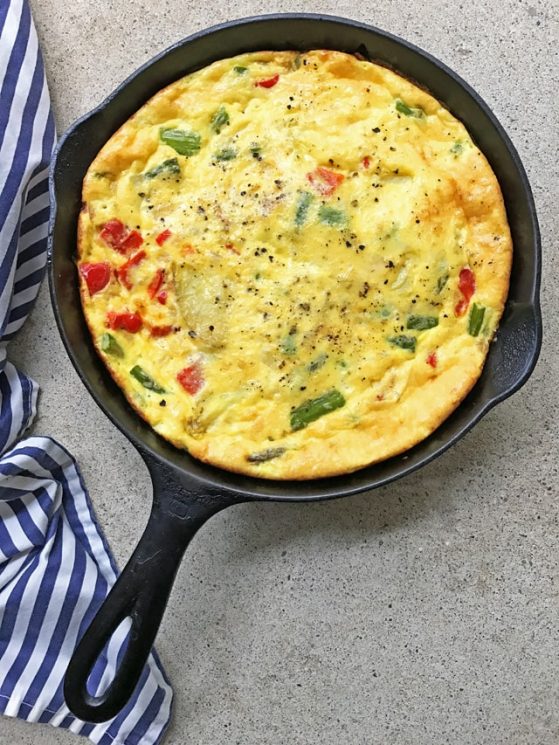 Egg Frittata with Veggies
Classic French flavors, fluffy eggs, and fresh vegetables ring in the weekend.
Directions:
Step 1: Preheat the broiler. In a medium mixing bowl, whisk eggs together with ¼ cup whole milk, 1 cup grated Parmasan cheese, and a pinch of salt and pepper.
Step 2: Chop half a small sweet onion, 1 small bell pepper, and 12-15 asparagus spears, then add them to an oven-safe 9.5-inch skillet with 1 Tbls olive oil or butter. Cut the potato you saved from yesterday's dinner into large chunks and set aside.
Step 3: Saute the veggies in the skillet until just tender but not overcooked, about five minutes. Then pour the egg mixture over the vegetables, and drop in the cubed potato.
Step 4: Reduce the heat to low and cook, without disturbing, until the eggs are set on the bottom but still runny on top, about five minutes.
Step 5: Transfer skillet to the oven and broil for five minutes until the top of the frittata is set. Cool slightly, then serve!
When a busy week hits, you can still cook fresh family dinners each night! One grocery trip and convenient prep stocks your fridge with everything you need to make five healthy, tasty dinners.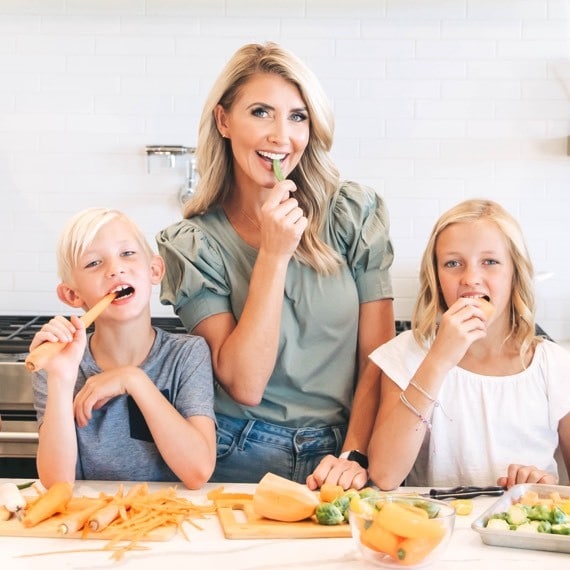 Natalie Monson
I'm a registered dietitian, mom of 4, avid lover of food and strong promoter of healthy habits. Here you will find lots of delicious recipes full of fruits and veggies, tips for getting your kids to eat better and become intuitive eaters and lots of resources for feeding your family.
Learn More about Natalie