When you're in need of a quick, healthy snack (or sweet treat), these carrot cake bites are the perfect recipe! They require no cooking, are quick to make, slightly sweet and packed with healthy ingredients!
Energy bites and energy balls are one of my favorite snacks to make, particularly in the summer. They don't require any baking and are very travel-friendly. At a time of year where many of us are on-the-go. Taking long car rides or even just venturing to the park for a picnic, these energy bites are the perfect healthy snack to have on hand.
What sets these energy bites apart? In addition the nuts and dates (which you'll see in most recipes), we've been able to sneak in a nice helping of fresh veggies. And as I'm sure many of you agree, it doesn't get much better than hidden veggie snacks that taste like dessert!
All you'll need to make these energy bites are a few simple ingredients and a food processor.
We'll start by blitzing some raw carrots in the food processor until they're finely chopped (almost a mealy consistency). Then you'll transfer those to a bowl and add in your dates and nuts. The dates act as a kind of sticky binder and provide a nice touch of natural sweetness. They also help the balls stay together.
For this recipe I chose to use pecans.  I love the caramel flavor they have, but you could easily swap in your favorite nut.  (walnuts would also be delicious).
To this mixture, we'll add the rest of the ingredients and then just pulse everything together until it forms a dough that you can roll into balls.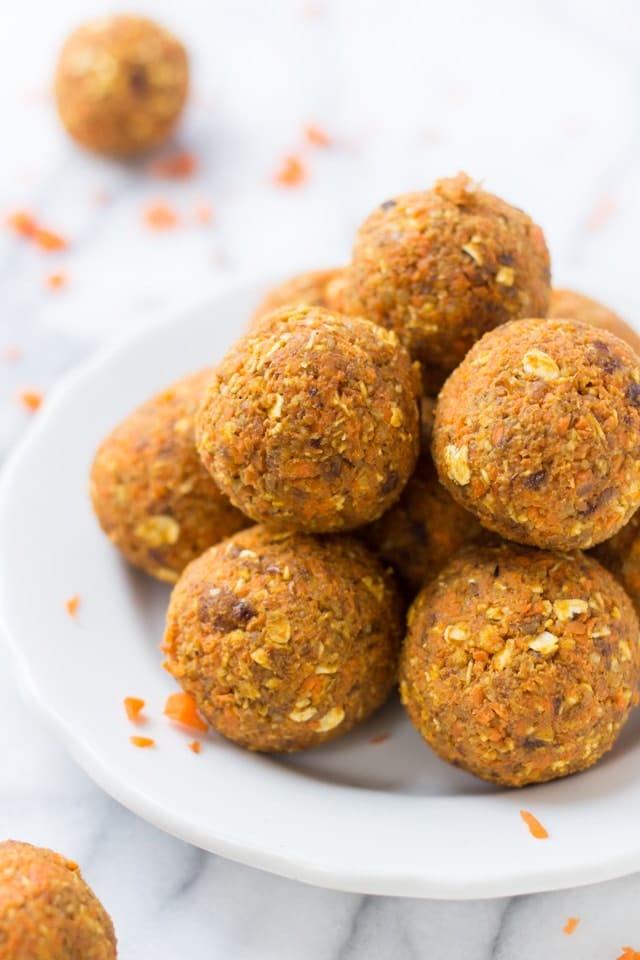 A few notes on this recipe before you make them:
These are a little softer than traditional energy bites due to the high water content in the raw carrots. I recommend keeping them in the fridge
If nuts are an allergen in your house, you can swap in sunflower seeds or pumpkin seeds for the pecans and sunflower butter/tahini for the nut butter
If oats are a sensitivity, you can use your favorite flaked grain (quinoa flakes would be great here!)
If you want a sweeter option, increase the number of dates, but you'll also have to increase the amount of oats
Other than that, I think you and your little ones are really going to love this recipe. They're crazy simple to make, taste like carrot cake and are fun to snack on. Hope you enjoy and have a happy start to the summer!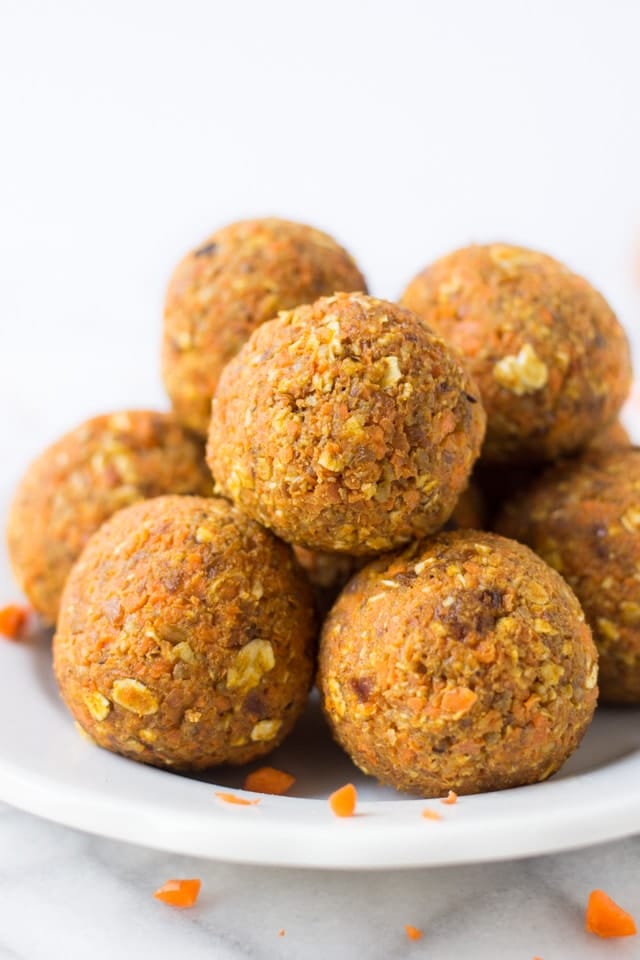 ---
Alyssa is the blogger and cook behind Simply Quinoa, a gluten-free website dedicated to healthy food, always with a little quinoa twist.
---