Meal planning is the best way to ensure your family is eating nutritious balanced food. It can get overwhelming if you haven't ever done it or don't know the best way that works for your family. I have you covered with all the basics to get started!
Why Meal Plan?
To make sure your family is getting nutritious meals that taste good! As parents we want our children to get the most nutrition as possible so that they can grow into healthy, strong, disease-free adults. We also want them to develop healthy habits along the way so they will make good food choices on their own someday. Providing healthy balanced meals is one of the best ways to do this.
To help you decrease the amount of money you spend on food. If you know exactly what you are going to make for your meals, you don't end up buying extra ingredients that you won't use. Also, making seasonal recipes decrease on costs because you are buying things at a better price when they are in season. You also will also find yourself eating out less!
To save you time, effort and stress! Knowing what you are going to make ahead of time allows you to prepare by having ingredients on hand, letting food thaw if needed, and saving you from the 4:30pm 'What am I going to make for dinner' crisis!
Meal Planning Methods
There are a lot of different methods to meal planning. These are the methods we have found to be the most successful.
1) Weekly Method
Begin by taking an inventory of ingredients you already have on hand.
Choose meals for each day of the week and make a shopping list that reflects the ingredients needed to to make these meals.
The next week, go through the same routine, plan out your shopping for what you plan to make that week, and so on.
2) Two-Week Method
Begin by taking an inventory of the staples in your pantry and freezer foods that you have. You will do a large shopping trip at the beginning of the month.
For the first week of the month, plan meals for for that week and make a shopping list that coincides with the meals you planned and what you already have.
When you go to the store, buy what is on your list, but also look for deals. If something is on sale, stock up to use that item later in the month.
To plan your second week of the month, there is no shopping involved. Instead, take a careful inventory of what you already have that needs to be used up and plan your week of meals around those foods only.
3) Monthly Method
Choose 30-40 of your favorite recipes that you can rotate through. You can add in a new recipe or make something twice if your family really loves it, but generally you stick to your tried and true 30 recipes.
Take a brief inventory of staples and basic ingredients before you go grocery shopping.
Start the month with a large shopping trip, buying anything that won't go bad and perishables to last for 1-2 weeks. After that, just refer to your meal plan and shop weekly for needed items.
4) Freezer Cooking
Take a few hours to plan your meals and make your grocery list.
Shop for everything you will make.
Cook all of your meals.
The goal is at the end of 1-2 days you will have freezer meals for almost a month.
Simplifying Meal Planning
Seasonal Meal Plans. Plan your meals by what is in season. You will save money this way and also get the most flavor from your food.
Create a fall back. Make a meal plan that has all of your families favorites that you can use in a pinch.
Make meals that can work together. Try to plan your meals so that you can use leftover parts of one meal to supplement another meal.
Sample Meal Plans
It's important to make good decisions about the food you bring into your home and serve to your family, but life can definitely get hectic and makes this a lot harder.  If you feel overwhelmed with meal planning on your own, we have done all of the work for you!  Our Family Fresh Meal Plan is complete with breakfast, lunch, snacks and dinners planned for you, an automatic shopping list created, and the ability to customize!
PIN THIS FOR LATER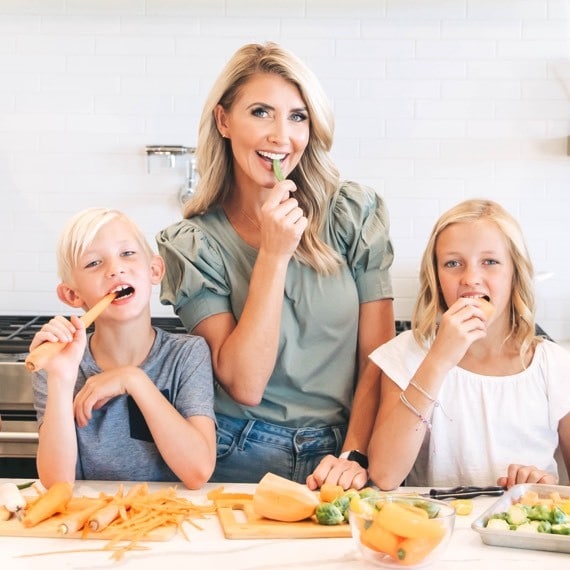 Natalie Monson
I'm a registered dietitian, mom of 4, avid lover of food and strong promoter of healthy habits. Here you will find lots of delicious recipes full of fruits and veggies, tips for getting your kids to eat better and become intuitive eaters and lots of resources for feeding your family.
Learn More about Natalie