New Years Kitchen Organization
Clean up, clear out, and organize the busiest works-space in your home! Check out our tips for organizing your kitchen for the new year.
After the busy holidays, you might feel ready to organize your kitchen to start fresh with the new year. You've come to the right place! Super Healthy Kids has 18 ideas to share with you.
Tips to an Organized Kitchen:
Clean out and zone your fridge and freezer.
Clean the entire refrigerator if you haven't done so recently, and defrost your freezer if it needs it. Get rid of any spills, splashes, and out of date foods. Next, organize the refrigerator into zones. Super Healthy Kids has a great video titled Fridge Tour and How to Organize Your Fridge about zoning your refrigerator into the following zones for easily locating your refrigerated food items: dairy, snacks, condiments, leftovers, meal prep, and extra zone. Also, organize your freezer into meaningful zones for your family, such as frozen fruits, frozen vegetables, frozen raw meats, frozen cooked items, and more.
Add storage containers to the refrigerator, freezer, pantry and cabinets as needed.
Use see- through containers to help to quickly find what you need and label the containers if needed.
Pantry purge and placement.
Go through your panty to remove expired foods or food packages that have been open for so long that you don't remember when you actually used them. You may also find food items that you can donate to your local food pantry to make room for foods that you'll actually use. Place foods in an organized manner that best meets your family's needs. Anything that you like for your kids to reach, such as snack items and cereals, should have lower spots. I also like for our paper towels and napkins to be on lower shelves so that the kids can help with replacing them as needed. Use lazy susans in the pantry to make items that typically would be lost in the back of a shelf more accessible.
Also, if you want to transfer some of your staples to bins, use slim bins to allow you to fit more into a space.
Use drawer organizers or utensil organizers to make the most of drawer space. This also helps you to locate items more efficiently AND allows the kids to help unload the utensils and other specialty items from the dishwasher since you'll be able to show them that each item has its own unique space. You can also keep commonly used cooking utensils, such as whisks, spatulas, and more in a container on the kitchen counter near your stove.
Look through your spices and toss outdated ones. I have my spices on four shelves, and the best thing I did for myself in the kitchen last year was to alphabetize them. That way, I know my top shelf has spices starting with A through D, so I can easily go to the correct shelf for any spice every time, and so can anyone else who cooks in our home.
Store pots, pans, spatulas, et cetera as close to the stove as possible. Hang a pot rack if you have space for one to free up your kitchen drawers and cabinets.
A space saving idea for measuring cups and spoons is to store them inside of a cabinet door near your cooking zone.
Check in and make sure that the items you use most are easily accessible. From year to year, this can change. If your kids have outgrown sippy cups, for instance, remove them from your cabinet's prime real estate and place other more commonly used items there. Place items that you want your children to get for themselves in easy to get to spots. The location of these items can change depending on the age and height of the kids.
Use your cabinet and pantry doors.
Add storage, such as spice racks or even over the door shoe holders to the backs of cabinet doors and pantry doors if needed.
Calendars, lists, and school work, oh my.
Find a designated spot for calendars so that when a family member brings one home from school, band, soccer or anywhere, he can add it to the family calendars. Have a spot for your running grocery list so that anyone in the home can add to it at any time. Also, have a designated spot for papers that would otherwise be lying about the kitchen, such as school permission forms, the parent volunteer form for the book fair, et cetera. I like to keep a basket in one spot in my kitchen that is for whatever the kids need for me to look through. Lastly, give mail its own special spot so that it doesn't wind up somewhere in the kitchen.
Storage container simplification.
Save time by storing your storage containers and lids in zones to easily find what you need. Separate round from square containers and lids. Ideally, having containers with lids that snap to the bottom makes grabbing what you need simple. Toss or recycle any broken storage containers or lids.
Space under the upper cabinets can hold lighting, a towel rack, appliances and more.
Rescue your favorite recipes from being buried deep in your cookbook abyss. Find tips for recipe organization here.
Do you store any medications in the kitchen? We do. Go through all of them, as well as medications that you keep in your bathroom, to organize them as well as to toss any that are out of date. We have all of our daily medications in the pantry in a plastic three drawer container with labels.
Check out what you have stored under the kitchen sink. Do you use it? If not, do you need it? Use bins to keep items organized. Also, a tension rod can be used under the sink to hang your cleaning supplies.
Use labels on items that you remove from the original package so that you or anyone using your kitchen will be able to identify what you have on hand.
Bonus Clever Kitchen Organization Hacks:
What can you do with a magazine holder? Apparently, it will hold a lot more than magazines and can come in handy in the kitchen. Hang one on the inside of a cabinet door for storing your parchment paper, foil, et cetera or for storing the lids to storage containers. Put them in the pantry to hold onions and potatoes or to store canned goods.
Mason jars are a great storage vessel, and not just for food. Store muffin/cupcake liners in them to keep them organized and keep them from getting smashed.
Use a towel bar to hold pot lids.
An organized kitchen allows you to easily find what you need so that you can efficiently prepare meals in a decluttered workspace, hopefully while making memories cooking with your family. If you have a kitchen organization tip or hack to share, we'd love to hear from you.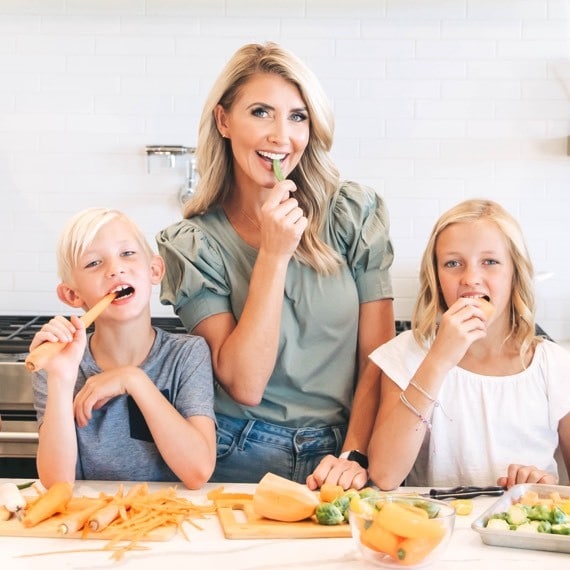 Natalie Monson
I'm a registered dietitian, mom of 4, avid lover of food and strong promoter of healthy habits. Here you will find lots of delicious recipes full of fruits and veggies, tips for getting your kids to eat better and become intuitive eaters and lots of resources for feeding your family.
Learn More about Natalie