It's Not About The Broccoli
Dina Rose, PhD is a sociologist, parent educator and feeding expert. She is the author of It's Not About the Broccoli : Three Habits to Teach Your Kids for a Lifetime of Healthy Eating (Perigee). Dina's work has been featured on TV, radio, and in both print and online news sources such as: NBC Connecticut News, Martha Stewart Radio, HuffPost Live, Good Parenting Radio, Babble, The Globe & Mail, Mamapedia, Parenting Magazine, and Spirituality & Health. In addition to writing her blog, It's Not About Nutrition, Dina also writes for The Huffington Post and Psychology Today. For more information, visit www.itsnotaboutnutrition.com
---
You have to serve a new food multiple times before your kids will accept it.
So keep serving new foods, even when your kids reject them. One day your kids will dig right in
If you're the parent of a child who habitually rejects new foods, I bet you're sick of hearing the multiple-exposure advice. I don't blame you. For many families, it simply doesn't work. Here's why.
Many children come to the table dressed in what amounts to a shield of armor that protects them against new foods. They know before they even sit down that nothing will convince them to try anything new. The first thing these kids do when they arrive at the table is identify the acceptables and the rejectables.
Parents confuse tasting with eating.
Let's start by discussing habits. Habits are behaviors that become so routine that we do them without thinking about them. For many kids that's what rejecting new foods is: a habit. They don't even consider eating whatever it is that you're offering.
When you've got a habitual rejecter on your hands, even if you can get your tyke to take a taste—"You can have a brownie if you taste the broccoli!"—nothing really changes. Your child puts the required amount of food into his mouth and then automatically decides that it's disgusting. Does that even count as a taste?
For our part, parents confuse tasting with eating. We may tell our kids that they just have to take a taste, but deep down, that's not what we're really thinking. We are really thinking about how we'll have to make a different dinner if our darling decides not to dig in. Or, how disappointed we are in our kids. I can't tell you the number of times a parent will tell me, "She only took two bites."
You know that the research says that kids need to taste a new food somewhere between 10 and 15 times before they'll accept it. But did you know that, in most of those studies, the children are only offered a teeny, tiny taste? That the kids couldn't eat more of the food even if they wanted to? Your kids don't have to eat the entire entrée. In fact, it's the expectation of having to eat a new food that often makes kids refuse to even taste it.
So what can you do differently? Stop trying to get your kids to eat new foods and start teaching them the habit of happily tasting new foods instead.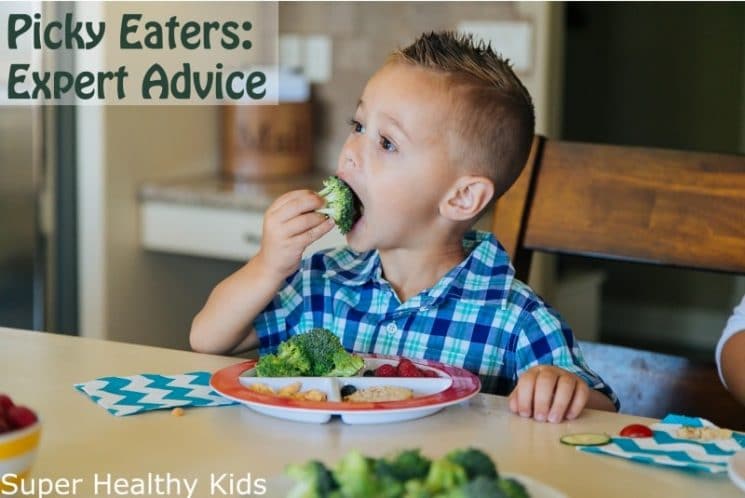 Offer your child tiny tastes of food. Considering doing this away from the table because offering food during meals comes with the expectation of eating. You may think you're letting your kids off the hook with the statement, "Just taste it. If you don't like it, you don't have to eat it." But if you hear this from your child's perspective—"If you do like it, you will have to eat it"—it's easier to see why some kids balk.
Instead of asking your children if they like what they've tasted, invite them to taste the food and to tell you what they think. Ask questions such as, "Is the food crunchy, smooth or lumpy?" "Is the food pretty or does it look weird?" "Is the food very smelly, kind of smelly, or not at all smelly?"
I know it is hard to believe that this kind of tasting can ever lead to actual eating, but it happens. The more kids get accustomed to tasting different foods the less fear they feel. And it's eliminating the fear that helps kids lose their no-new-foods shield of armor.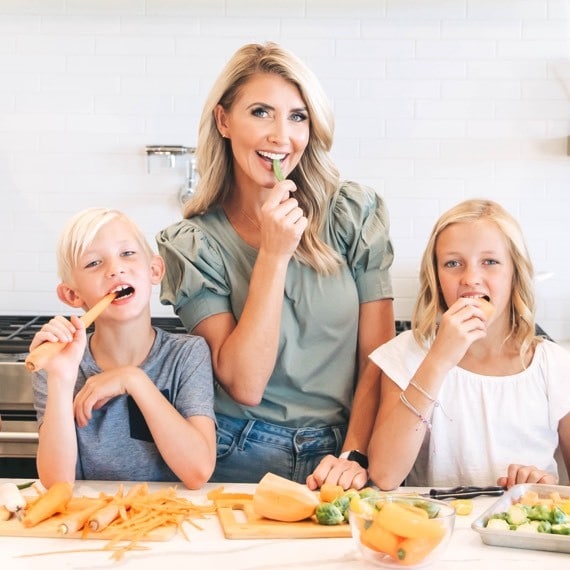 Natalie Monson
I'm a registered dietitian, mom of 4, avid lover of food and strong promoter of healthy habits. Here you will find lots of delicious recipes full of fruits and veggies, tips for getting your kids to eat better and become intuitive eaters and lots of resources for feeding your family.
Learn More about Natalie