After trying dozens of recipes, we finally tweaked this Green Smoothie recipe to perfection. This smoothie is delicious creamy, nutrient-packed, and 100% kid-friendly. It's one of favorite ways to fill in those nutritional gaps!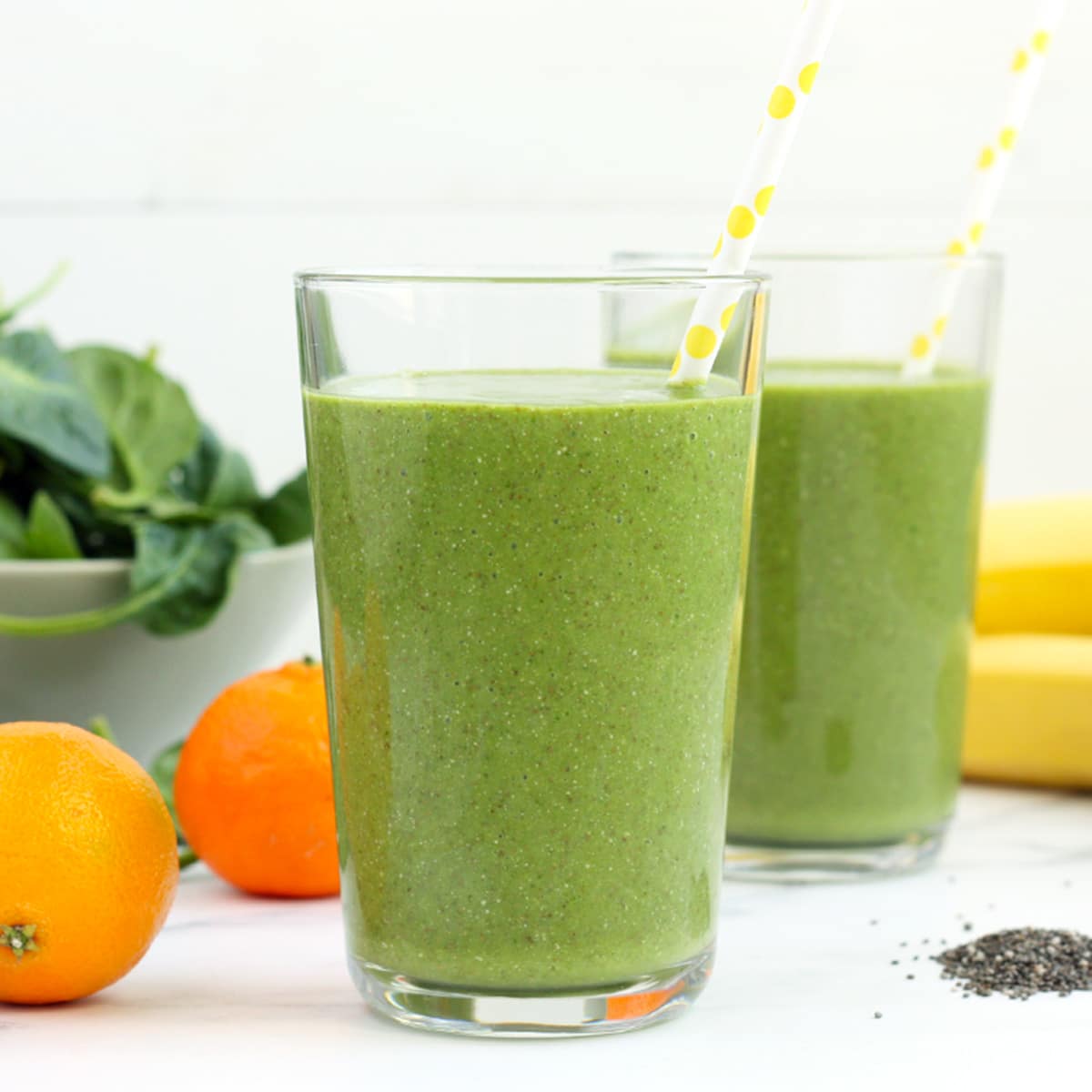 Why We Love This Simple Green Smoothie Recipe
Green smoothies can completely transform how we get fresh fruits and veggies into our kids' growing bodies. We spend a lot of time talking about healthy eating, but despite our best efforts it can be difficult getting all those nutrients in. Fruits and veggies are the most under-consumed food group (especially among kids), and green smoothies can help reluctant veggie-eaters get the nutrition they really need to thrive. But we all know that "But it's so good for you!" isn't always a great selling point when it comes to kids. Luckily, this tried-and-true recipe delivers big time when it comes to taste.
Are Green Smoothies actually good for you?
The short answer is: yes. The long answer is: absolutely, yes.
Fruits and leafy greens contain a plethora of vitamins, minerals, antioxidants, and fiber that protect and promote health in people of all ages.
So are there any exceptions to the green-smoothies-are-amazing rule? As with anything, balance matters. So drinking green smoothies every day isn't necessary, or necessarily best. These vibrant drinks tend to contain little to no fat or protein, so kids (and you!) should aim to round out your day's meals with other foods like whole grains, nuts, seeds, beans, meats, and dairy. Make sure your base is made with whole fruits and veggies, and go light on the juice.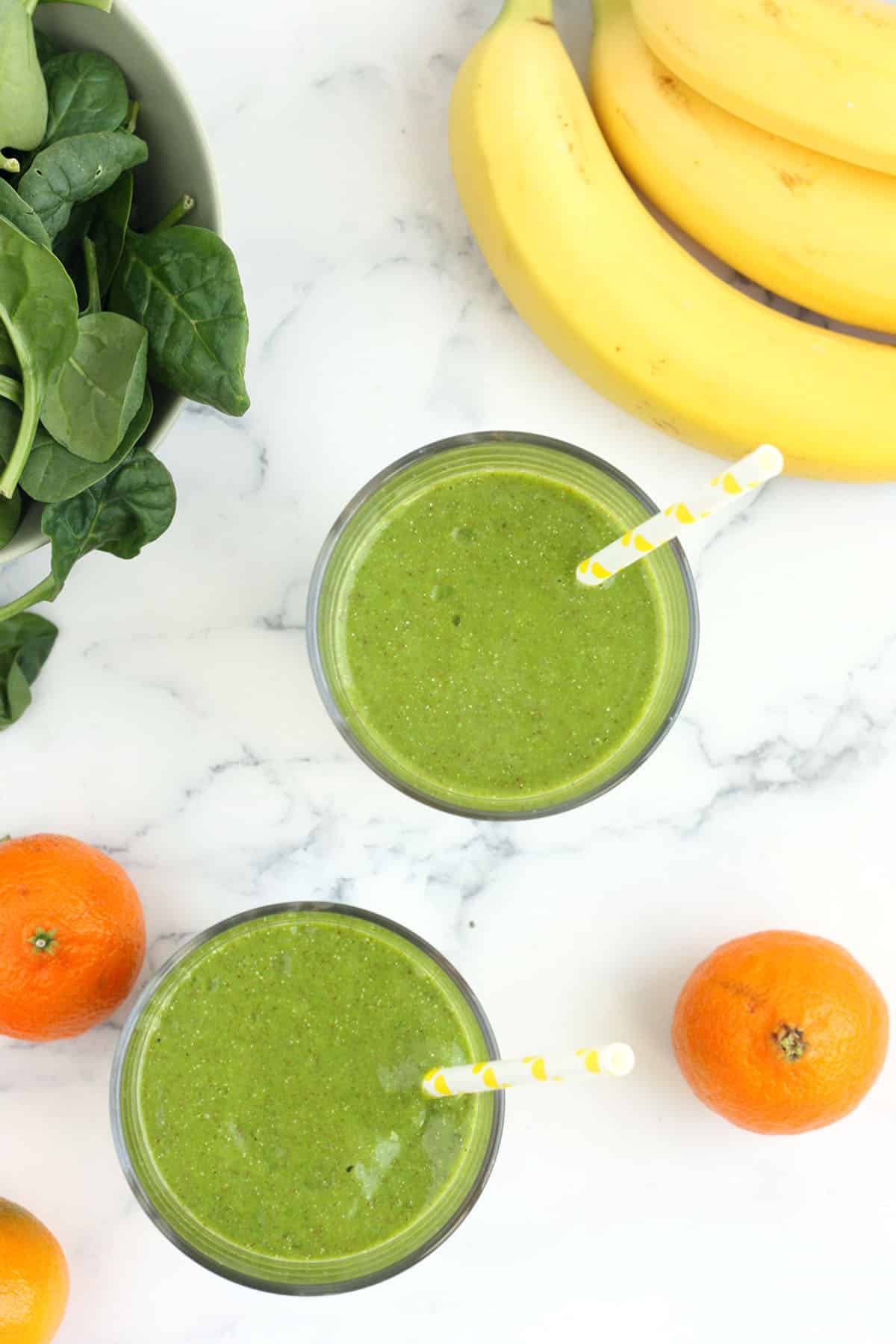 Ingredients for our Green Smoothie:
Spinach– Spinach is considered a power food for good reason! It's a good source of vitamins including A, C, and K, as well as several B vitamins like folate and iron. It's also high in calcium and antioxidants.
Milk– Milk is an excellent source of calcium, a good source of high-quality protein, and Vitamins such as D and B12.
Orange Juice– orange juice is a good source of Vitamin C and other essential vitamins and minerals.
Mango– Mangos are a good source of Vitamins C and A, as well as potassium and beta-carotene.
Banana– Bananas are a good source of fiber, potassium, and magnesium.
Chia Seeds– Chia seeds are amazing! They are a good source of soluble and insoluble fiber. They are rich in essential nutrients such as omega-3 fatty acids, protein, various minerals, and have high levels of antioxidants.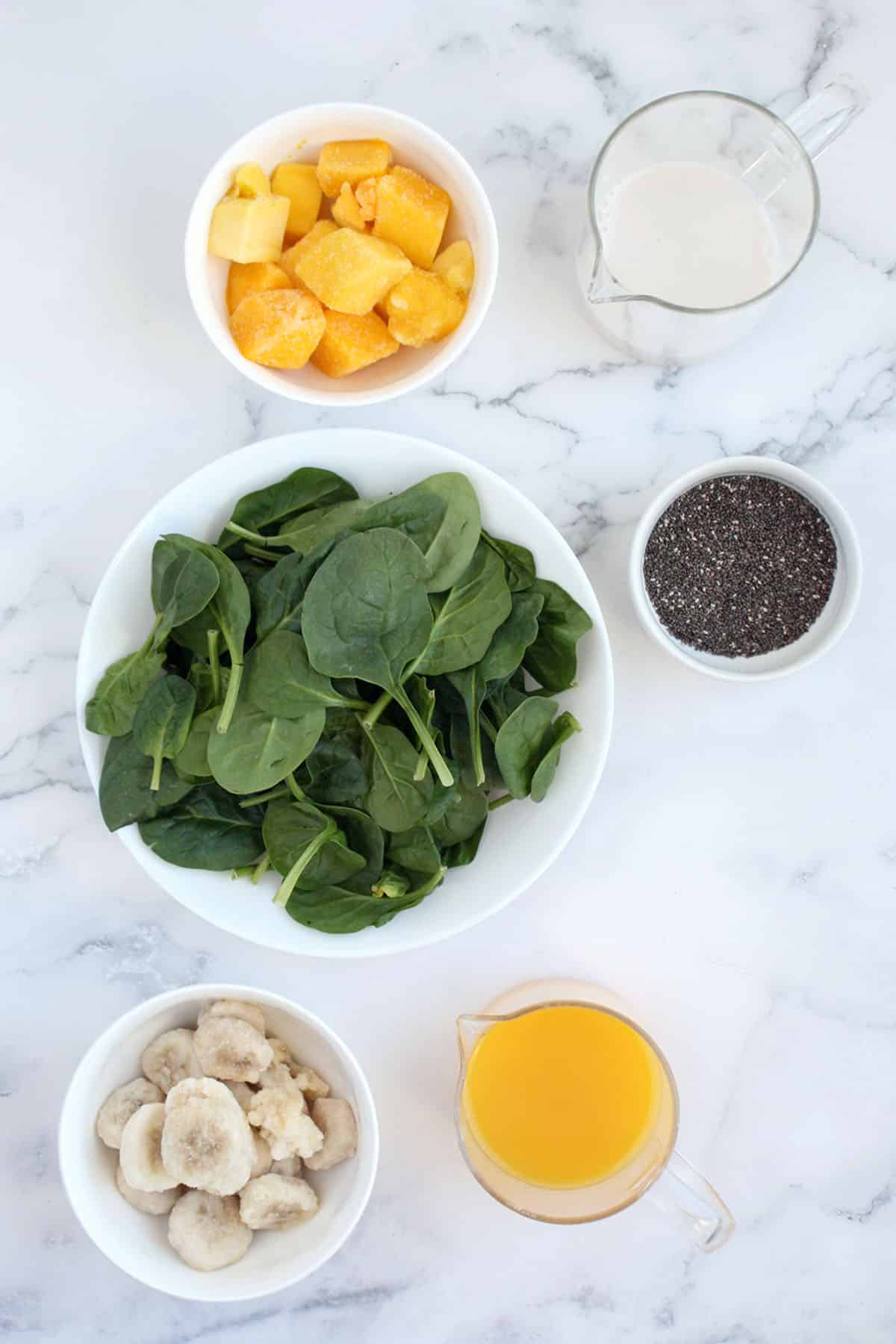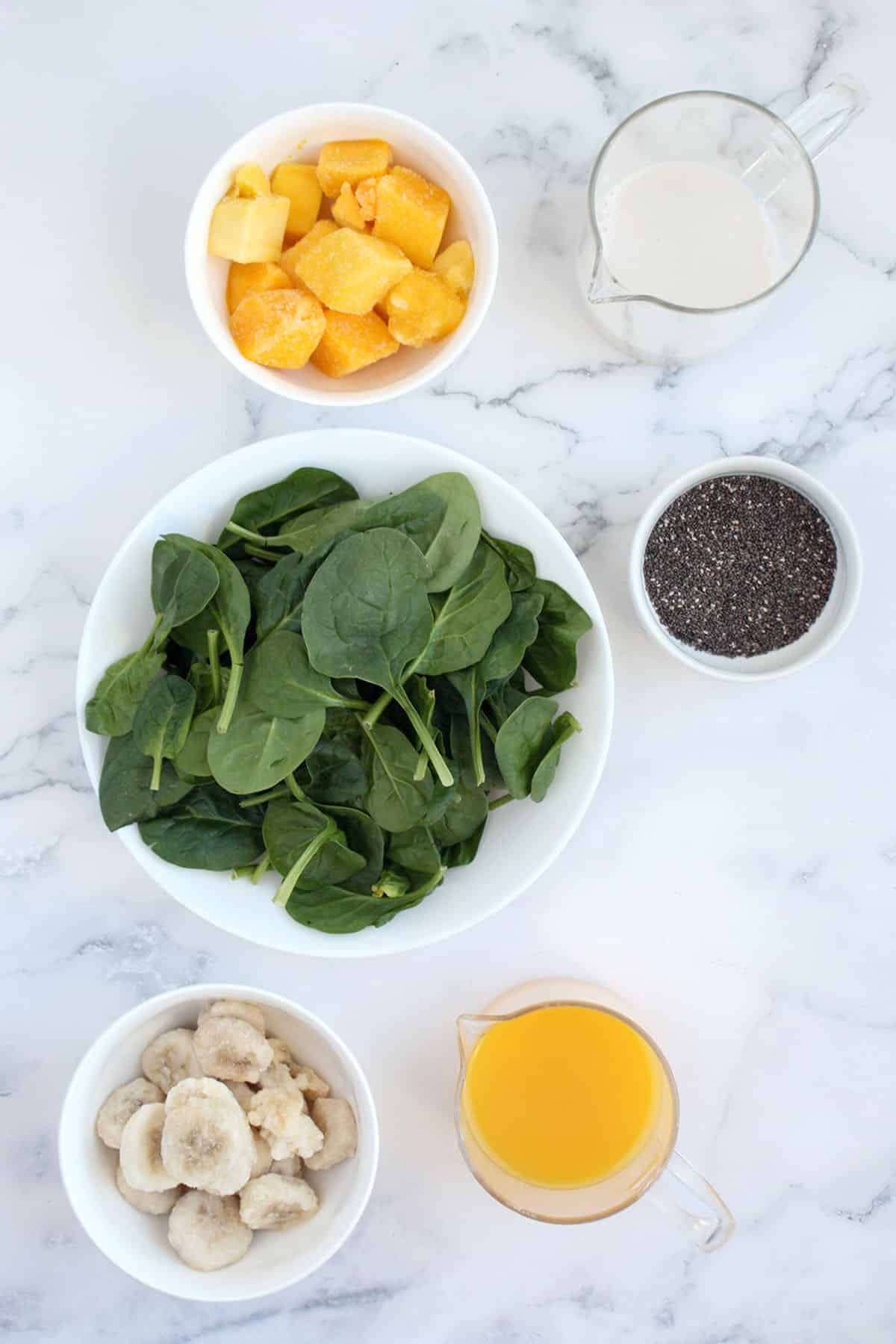 How to make our Green Smoothie recipe:
Firmly pack the spinach into your measuring cup and put it in the blender first. This will ensure that the spinach gets good and pulverized. Those spinach bits can can deter a hesitant eater!
Add your ingredients to a high powered blender. Invest in a good blender- it really does make a difference!
Blend well until your mixture is smooth and creamy.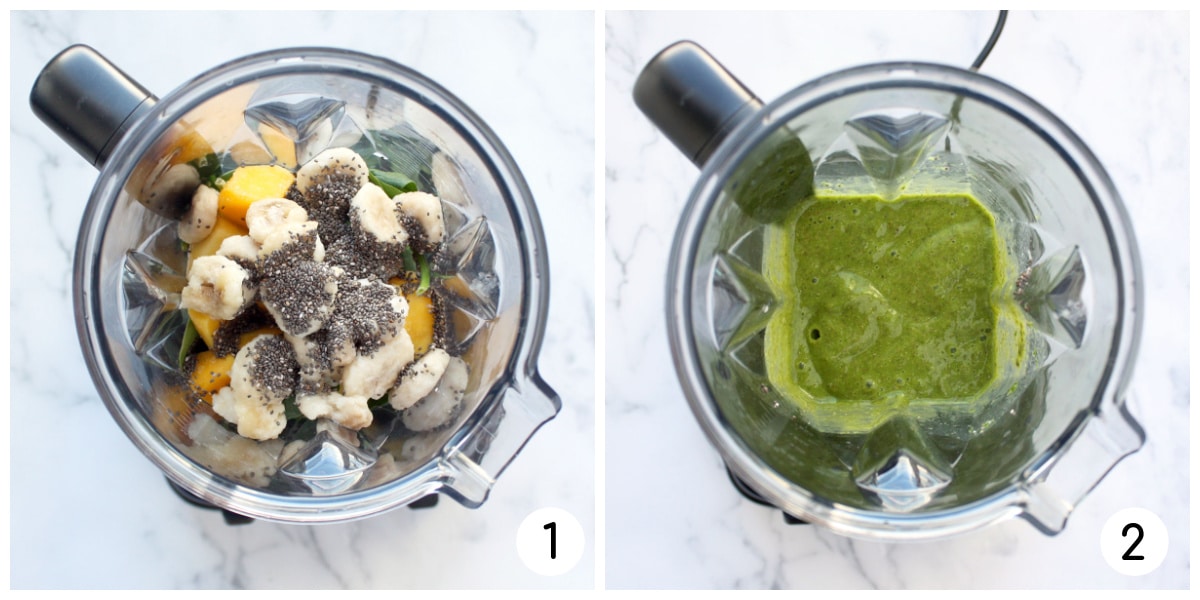 Tips & Substitutions:
Just getting into green smoothies? Creativity and an adventurous spirit will take you far! All you really and truly need to make a green smoothie is fresh and frozen fruit, a handful of raw leafy greens, and a splash of water, milk, or juice.
1. Use lots of greens!
They offer a huge nutritional punch, and you honestly can't taste them. So be generous! Adding the greens to the bottom of the blender, or blending the greens with your liquids before adding the rest of the ingredients, will help ensure it will blend well without leaving a lot of green flecks.
2. Follow the 2:1 ratio.
Smoothies are one of the most forgiving recipes out there- we love to play around with different ingredients to find a new favorite. For ultimate success, follow the 2:1 ratio. Two parts fruit and veggies to one part liquid.
3. Skip the ice.
For a super creamy smoothie, use frozen fruits for your chill factor and skip on the ice.
4. Make freezer smoothie packs.
One of my favorite timesaving tips is to prep smoothie packs on the weekend. Buy your ingredients in bulk and spend a few minutes portioning them into individual freezer bags. On busy mornings all you have to do is put a smoothie pack in your blender, add your liquid, and blend!
5. Avoid added sugars.
We always bananas to our smoothies because they add all the sweetness our smoothies need! The riper, the sweeter. I like to buy a large bunch of bananas and let them get good and ripe on the counter for a few days. Then I slice and freeze them for our smoothies.
6. Boost the protein.
Adding greek yogurt, cottage cheese, tofu, nut butter, or protein powder to your smoothie is a great way to add additional protein to your diet.
7. Get creative!
The sky is the limit! Here are some of our favorite smoothie ingredients:
spinach
kale
avocado
pears
bananas
strawberries
peaches
raspberries
blackberries
mango
pineapple
oranges
blueberries
dragonfruit
coconut
oats
flaxmeal
hemp
almond butter
Let kids mix and match their own ingredients. Even toddlers can lob fruits and veggies into a blender. The more involved they are, the more likely they are to enjoy the final product.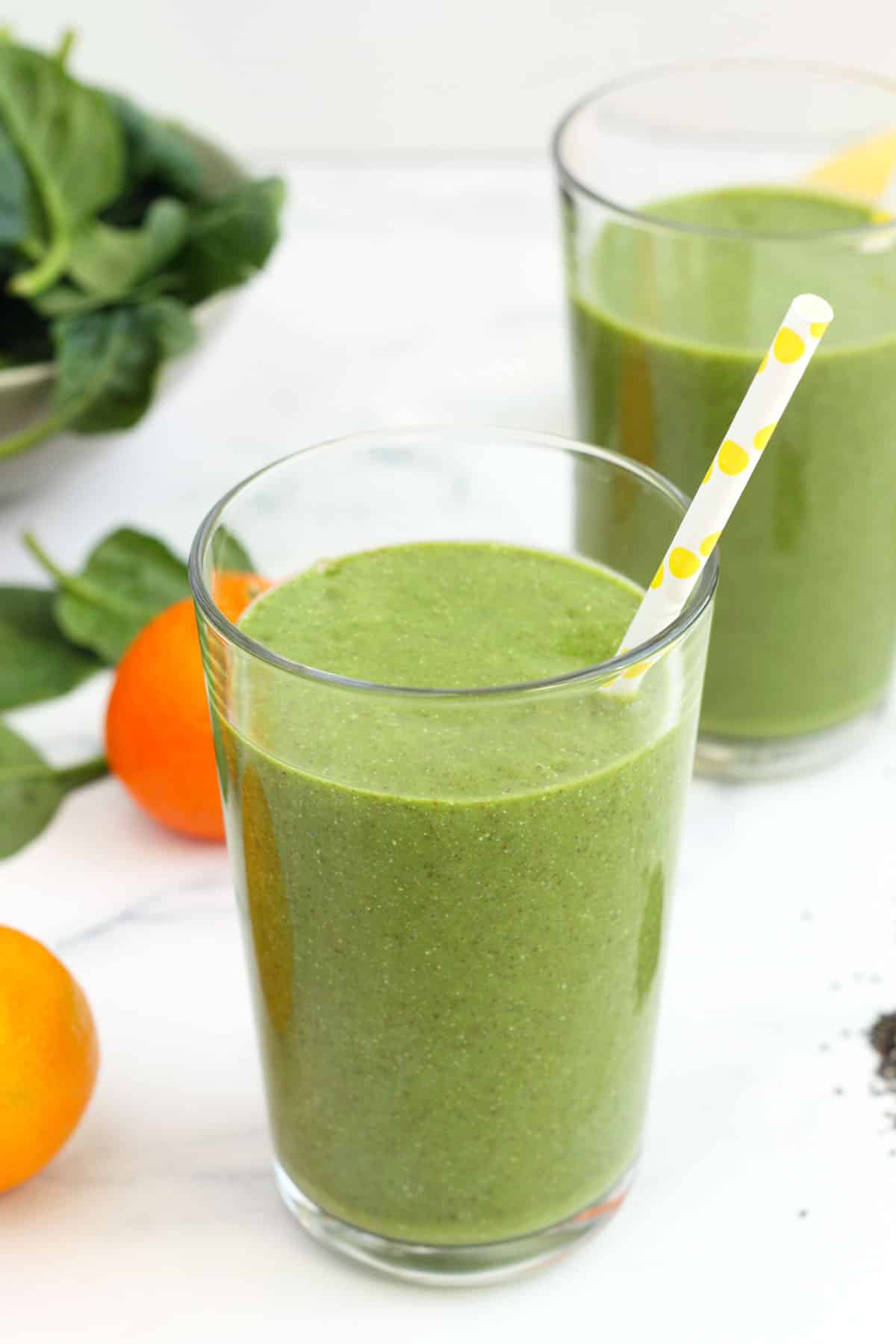 Our Favorite Smoothie Recipes:
Green Smoothie
After trying dozens of recipes, we finally tweaked this Green Smoothie recipe to perfection. This smoothie is delicious creamy, nutrient-packed, and 100% kid-friendly. It's one of favorite ways to fill in those nutritional gaps!
Ingredients
Peaches and Cream Green Smoothie
Instructions
Tightly pack the spinach in a measuring cup. Be generous! You won't taste it.

Add the spinach to a high-powered blender along with the milk, orange juice, frozen fruit and chia seeds.

Blend well until the mixture is creamy and no spinach flecks remain. Serve immediately and enjoy!
Nutrition
Calories:
183
kcal
|
Carbohydrates:
38
g
|
Protein:
5
g
|
Fat:
3
g
|
Saturated Fat:
0.4
g
|
Polyunsaturated Fat:
2
g
|
Monounsaturated Fat:
0.3
g
|
Trans Fat:
0.01
g
|
Cholesterol:
2
mg
|
Sodium:
40
mg
|
Potassium:
684
mg
|
Fiber:
5
g
|
Sugar:
27
g
|
Vitamin A:
2589
IU
|
Vitamin C:
70
mg
|
Calcium:
152
mg
|
Iron:
1
mg
www.superhealthykids.com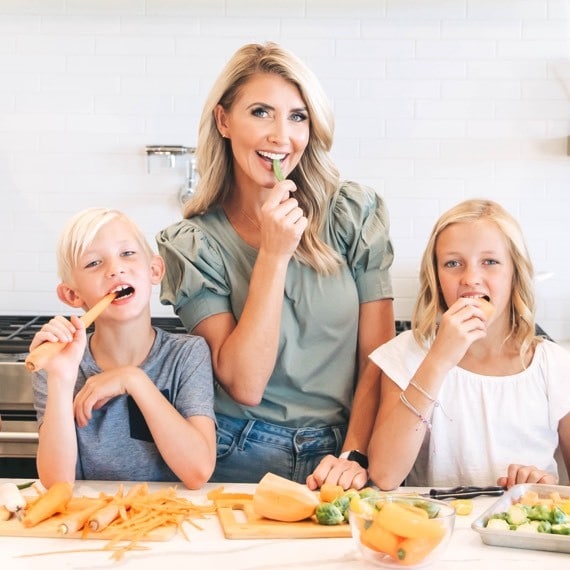 Natalie Monson
I'm a registered dietitian, mom of 4, avid lover of food and strong promoter of healthy habits. Here you will find lots of delicious recipes full of fruits and veggies, tips for getting your kids to eat better and become intuitive eaters and lots of resources for feeding your family.
Learn More about Natalie