Homemade Instant Oatmeal Packets
I used to think that oatmeal was an 'old people' breakfast. I wonder if it is because the guy on the Quaker Oats can has white hair? As a kid you have a lot of time to sit and stare at the cereal box, or oatmeal can in my case……Deep thoughts. Anyway, my view on oatmeal quickly changed when I got married and had to make a quick breakfast for 2 people on a budget with a busy schedule. There was no time or money for anything very fancy at all. Enter oatmeal. I am pretty sure I ate instant oatmeal everyday for several years…….until our budget, or time in the morning expanded. Which 3 kids later I am not sure if either of those elements have really increased all that much 🙂 Oatmeal is really one of the greatest breakfasts invented. It is healthy, filling, versatile, inexpensive, and fast! But the instant oatmeal packets are typically full of sugar, other additives and really don't have the best flavor. I prefer old fashioned rolled oats versus the instant rolled oats and the packets you can buy are instant. They cook fast, but to me the texture is too mushy. And the cook time between the two versions is a couple of minutes, so no big deal.
I am a lover of bulk cooking and then having quick meals to pull out when you need them. Making your own instant oatmeal packets is essentially that. You can make a whole bunch at once, and then have them handy for a quick and healthy breakfast when you want them. And they are completely customizable. Have a picky eater? No problem! Let them decide exactly what goes into their oatmeal packets and then you are both happy campers. Literally……you can take these camping. All of the ingredients we use have a shelf-life of at least 3 months and so once you make them, you can store them for a bit.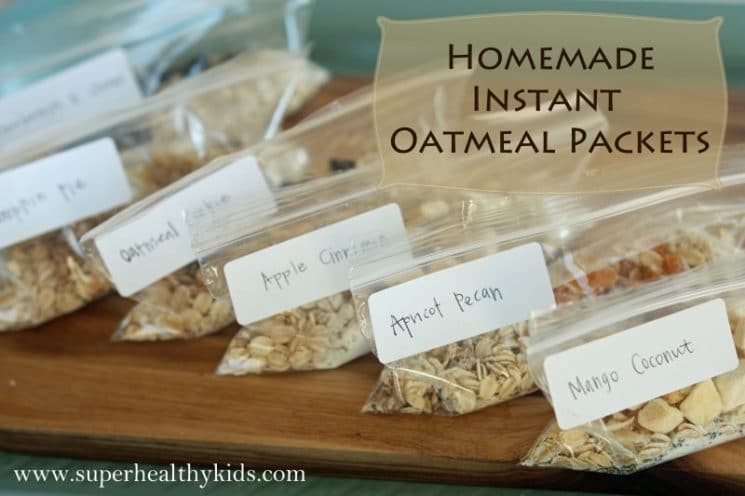 Once you have your ingredients assembled, these literally take a few minutes to put together. This is the basic recipe: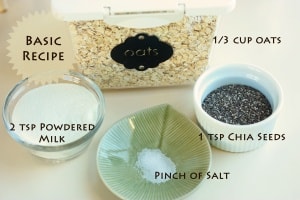 All of the ingredients beside the oats are optional. The chia seeds add a boost of nutrition and essentially no flavor and so why not add them? The powdered milk adds protein, and makes your oatmeal more creamy. The salt is just a flavor enhancer. And oats are naturally gluten free! Just make sure you buy a brand that is pure and stated gluten free.
Here is a quick lesson about the different type of oats (you can use any type, it will just change the flavor and cooking time):
| | | |
| --- | --- | --- |
| Oat Type | Information | Cooking Instructions |
| Whole Oat Groats | The whole oat kernel with the inedible hull removed. These have a chewier texture and nuttier flavor than other types of oats.Cooking Time: 1 hour on the stove. | Combine 1 Packet of oatmeal (1/3 cup) with 1 1/3 cup water. Bring to a boil and then turn down to simmer for 60 minutes. |
| Steel Cut Oats | These are groats cut into pieces using sharp metal blades. They have a more similar texture and flavor to groats than rolled oats.Cooking Time: 20 minutes on the stove. | Combine 1 Packet of oatmeal (1/3 cup) with 1 1/3 cup water. Bring to a boil and then turn down to simmer for 20 minutes. |
| Old-Fashioned Rolled Oats | Made by steaming oat groats so they're softened and then rolled into flakes. The steaming partially cooks them, and the flattening decreases cooking time. The final result is a chewier oatmeal than instant, but less cooking time than whole groats and steel cut………and my personal favorite.Cooking Time: 10 minutes on the stove and 3-5 minutes in the microwave. | Combine 1 Packet of oatmeal (1/3 cup) with 2/3 cup water. Bring to a boil and then turn down to simmer for 10 minutes. Or, combined packets with water, and heat in microwave for 3-5 min. |
| Instant Rolled Oats | These go through the same process of steaming and rolling as the old fashioned oats, but they are rolled thinner and steamed longer than old fashioned oats. Then they are dehydrated. This makes them creamier and less chewy texture and they cook much faster.Cooking Time: Rehydrate. Add boiling water, stir, and they are ready to eat. | Combine 1 Packet of oatmeal (1/3 cup) with 1/2 cup boiling water. Or combine water with oat packet and microwave for 1-2 minutes. |
To create your packets:
1) Label your bags. I used sticker labels and snack size ziploc baggies. You can use regular sandwich size bags and a sharpie marker directly on the bag if you prefer.
2) Add the basic oatmeal mixture ingredients to each bag.
3) Add fruit, nuts, and other flavors. If you like your oatmeal sweet, add a sweetener of choice. I personally add about 1 1/2 tsp of sweetener per packet. Some options are:
coconut sugar
sucanat (dried sugar cane juice)
dried maple syrup
brown sugar
Some of the flavor combinations I chose are:
Mango Coconut:Freeze dried mango, shredded coconut.
Apricot Pecan: Dried apricots, pecan gems
Apple Cinnamon: Dried apples, cinnamon
Oatmeal Cookie: Raisins, brown sugar, cinnamon
Blueberry: Dried blueberries
Pumpkin Pie: Pumpkin Pie spice, brown sugar
Almond Brown Sugar: Sliced almonds and brown sugar
Making your own instant oatmeal packets is really a no-brainer. From my calculations homemade oatmeal packets cost about 1/3! And look at the difference in ingredients.
| | |
| --- | --- |
| | Commercial Instant Oatmeal Packets: Rolled Oats, Sugar, flavored fruit peices, artificial flavor, calcium searate, citric acid, red 40, sodium sulfite, corn syrup solids, partially hydrogenated soybean oil, salt, calcium carbonate, sodium caseinate, dipotassium, phosphate, nonfat milk, guar gum, mono and diglycerides, ferric orthophosphate, titanium dioxide, vitamin A palmitate, niacinamide, riboflavin, thiamine mononitrate, pyridoxine hydrochloride, folic acid. |
Homemade Instant Oatmeal Packets:
So for a healthy, quick, and inexpensive breakfast, making your own homemade oatmeal packets is the way to go!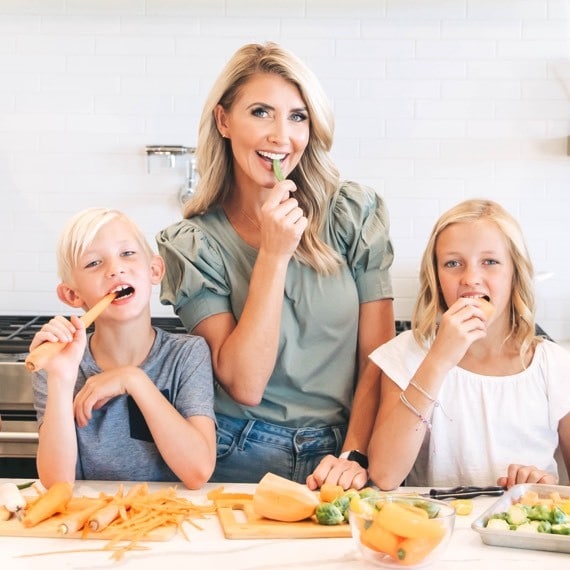 Natalie Monson
I'm a registered dietitian, mom of 4, avid lover of food and strong promoter of healthy habits. Here you will find lots of delicious recipes full of fruits and veggies, tips for getting your kids to eat better and become intuitive eaters and lots of resources for feeding your family.
Learn More about Natalie