Homemade Cranberry Sauce is tangy and sweet and SO much better than anything you can buy in a can! 
How Do You Make Homemade Cranberry Sauce From Scratch?
In just 3 easy steps you have a delicious homemade cranberry sauce to serve with your favorite holiday protein.  Turkey, ham, roast beef, chicken?  Yes, yes, and yes.  It goes good with it all!
Place orange juice and cinnamon in a saucepan. Heat over medium heat until it reaches a full boil.
Add cranberries and continue to boil for 10 minutes, stirring constantly.  Simmer longer if you like a thicker cranberry sauce.
Add honey and 1 teaspoon orange zest; stir until well combined.
Serve with your favorite protein.
OUR LATEST VIDEOS
How Far in Advance Can you Make Homemade Cranberry Sauce?
You can store your homemade cranberry sauce in the fridge OR the freezer!  Yep, you can make it and freeze it.   If you would like to start your holiday meal prep early, this is one recipe you can check off your list.  Make it and then store it!
Fridge: Prepare your cranberry sauce and transfer to a covered container.  Put in the fridge within two hours of cooking.  It will stay good in your fridge for 10-14 days.
Freezer: After you cook your cranberry sauce, let it completely cool.  Transfer to an airtight container.  Freeze up to 2 months.  When you are ready to use it, let is defrost in the refrigerator.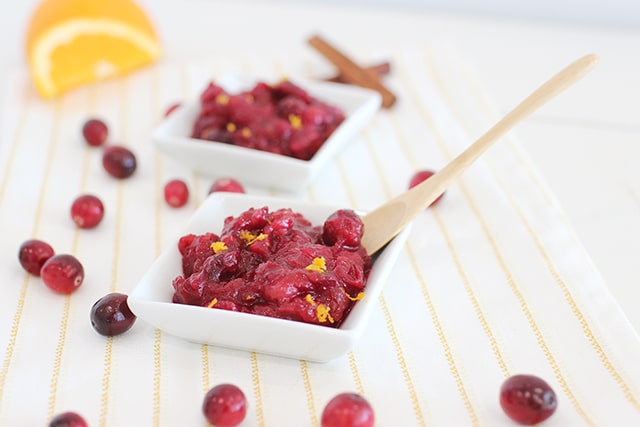 Looking for More Recipes to Go with Your Holiday Meal?