This crispy, surprising Popcorn Granola is chock full of nuts, seeds, dried fruit, and whole grains!
My first taste of Healthy Popcorn Granola was a shock. How, I wondered, could I have lived my whole life 'til now without making this? It tasted perfect: the warm, cinnamon-y crunch of popcorn, oats, and nuts, and the undertones of maple and sweet vanilla.
My kids agreed. We ate it for days, with milk, sprinkled on top of plain yogurt, and my toddler's favorite way: by the handful. Stashed in a jar in the refrigerator, it was an excellent, instantly-ready source of good nutrition that my kids loved to eat. Win win!
Add-in Goodness
This granola is filled with crunchy, tasty, healthy add-ins that keep kids full and provide them with awesome nutrition.
Pumpkin seeds and sliced almonds are rich in protein and healthy fats. Whole grain oats and popcorn provide fiber-rich energy.
For the sweetener, we used chewy raisins and a quarter cup of pure maple syrup, which left the granola plenty sweet for our liking. If you're trying to really minimize added sweeteners, I think you could even use a tablespoon or two less maple syrup and still get a sweet-enough flavor.
Healthy Whole Grain
You might not think of popcorn as a health food. But it is! The crunchy movie-time treat is actually a whole grain, fiber-rich food, and air-popped popcorn cooks without oils (so you can add the healthier oils you WANT on your popcorn, later.)
Researchers have also recently discovered that popcorn is rich in antioxidants, compounds in plants that protect our bodies from disease.
Enjoying popcorn is a great snack habit for kids, and for parents, too!
Tip: I highly recommend getting an air popper for popcorn. I know there are lots of tricks for making your own in the microwave or stove top, but I've found the air popper blows them all away (no pun intended!) The kernels turn out fluffier and lighter– no burnt kernels ever. Plus, kids love to watch the puffy popcorn clouds rise up and tumble out into a bowl.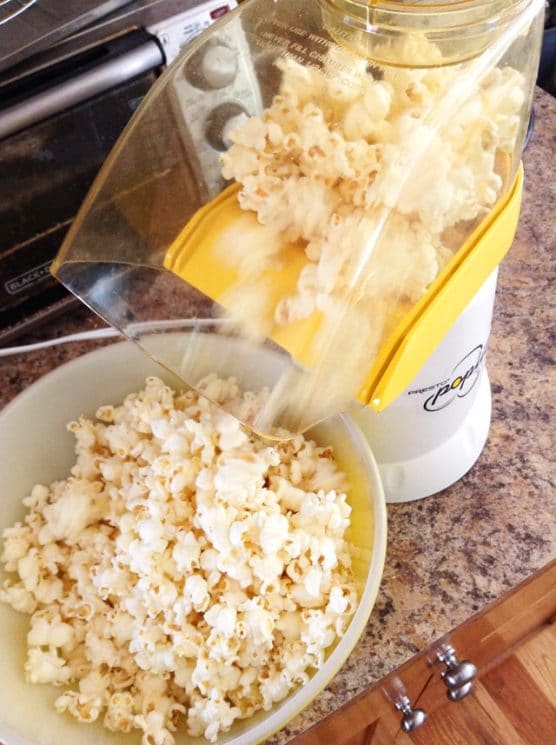 Once you've baked your granola, make sure it cools completely before you store it in an airtight container. We stashed ours in a jar in the fridge, but I think it would be fine at room temperature for a couple of days. Just see how long it lasts before it gets devoured.
Healthy Popcorn Granola
This crispy, surprising Popcorn Granola is chock full of nuts, seeds, dried fruit, and whole grains!
Print
Pin
Rate
Ingredients
6

cups

popped popcorn

1

cup

unsweetened coconut flakes

1

cup sliced

almonds

1/2

cup

rolled oats

1/2

cup

raw pumpkin seeds

1/2

cup

raisins

6

tablespoons

butter

1/4

cup

pure maple syrup

1

teaspoon

vanilla

1/2

teaspoon

cinnamon
Instructions
Preheat oven to 375 F.

In a large mixing bowl, combine popcorn, oats, coconut, almonds, and pumpkin seeds. Toss to combine.

In a small microwave-safe bowl, warm butter until melted. Add the maple syrup and vanilla, and whisk with a fork until combined.

Pour the butter mixture over the popcorn mixture and stir until the dry ingredients are well-coated.

Spread the granola onto a baking sheet and bake five minutes. Stir it up, then bake for five minutes more.

Transfer granola back to the large mixing bowl and stir in raisins. Enjoy it warm (it's so good warm!) or cool. (Cool completely before storing.)
Nutrition
Calories:
673
kcal
|
Carbohydrates:
55
g
|
Protein:
11
g
|
Fat:
47
g
|
Sodium:
18
mg
|
Fiber:
12
g
|
Sugar:
26
g