A super easy no bake Fruit Pizza recipe that's gluten and grain free. A fantastic healthy dessert that the whole family can enjoy this summer!

I don't know about you but sometimes I really struggle to think of healthy dessert recipes and creative ways of getting my children to eat and enjoy more fruit. I love nothing more than a big bowl of fruit salad after a meal but my family don't share my enthusiasm and would much rather tuck into a sugar-laden chocolate cake instead!
So in an effort to keep everyone happy and eating healthily I came up with this recipe for Chocolate Fruit Pizza.
First up, this is super easy to make and requires no baking whatsoever (my kind of recipe!). The base is made from almonds, dates and coconut oil. Together they provide an excellent boost of protein, fiber, calcium, vitamin E, potassium and medium chain triglycerides (i.e. good fatty acids!)
I used used unsweetened cocoa powder to give the base of the fruit pizza a delicious chocolatey taste. You could also use raw cacao powder but just be aware that the quantities will probably be a lot less. Everything is quickly blitzed together in a food processor. Then pressed into a springform tin or tart dish and placed in the fridge or freezer to set.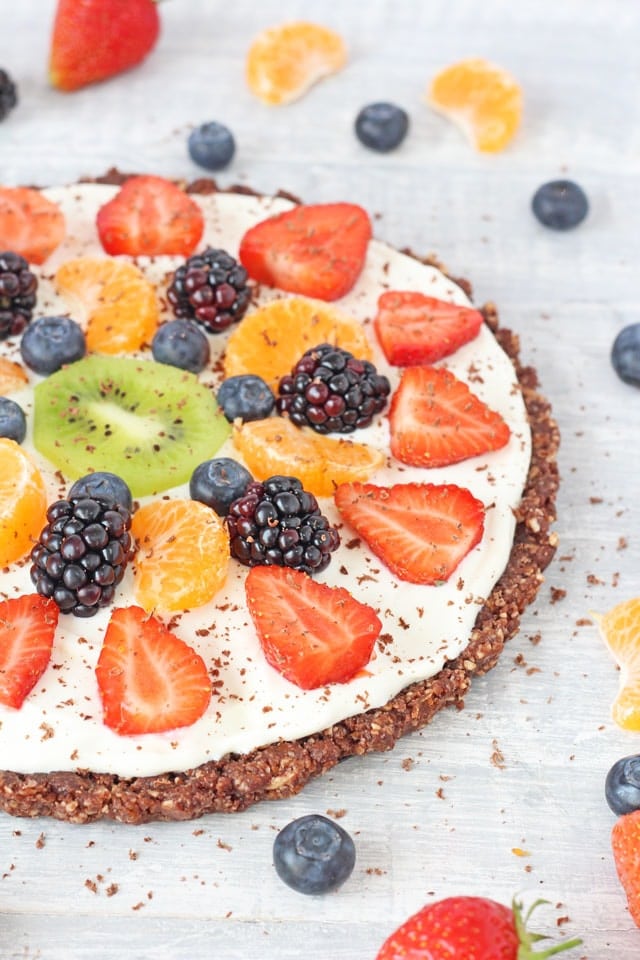 The filling is even easier to make. It is simply cream cheese and greek yogurt you mix together and flavour with a little vanilla extract and orange zest. You can then use whatever fruit you like or whatever is in season to top the pizza. For a dairy free version you can use whipped coconut cream in place of the cream cheese and greek yogurt.
This is also a great recipe to get the kids involved in making. Letting them choose the fruit and decorate the pizza is a sure way to get them excited about their food.