We're always looking for new ways to make breakfast healthy, easy, and fun for the whole family. These healthy breakfast sliders include whole wheat rolls, veggies, eggs, ham, and Cache Valley cheese for a wholesome start to your day. They fill you up, taste amazing, and can even be made ahead! 
This post is sponsored by Cache Valley. We truly love their products and all of our opinions are our own.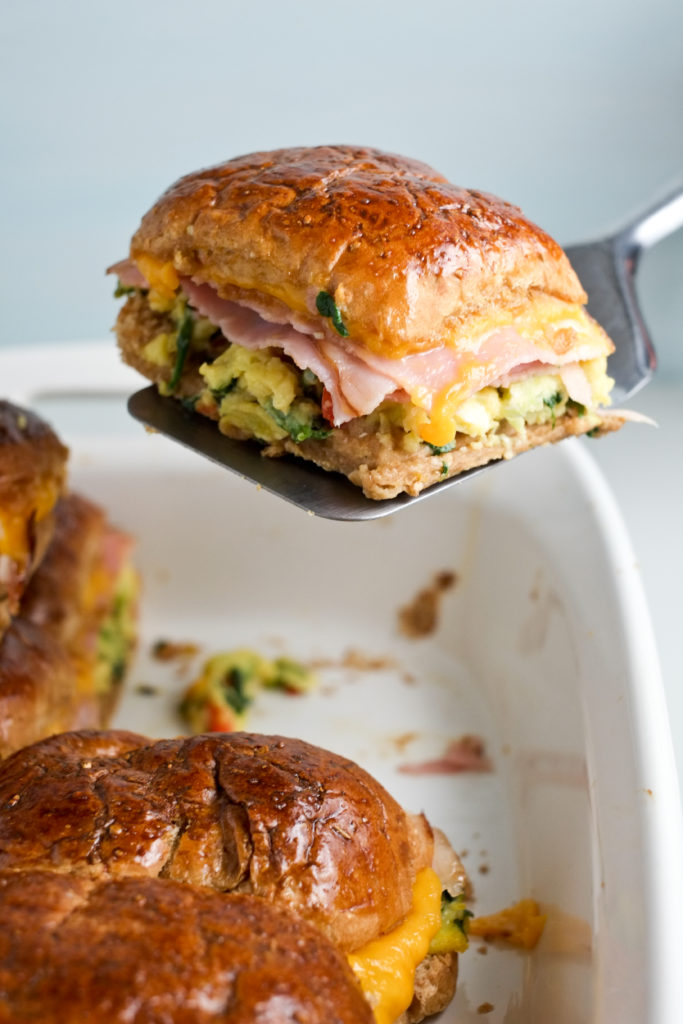 Ever get tired of eating the same breakfast every day? These healthy breakfast sliders are a great way to have some fun! The whole family will love these cheesy, protein packed sliders.
They're especially great because they can be made ahead! Just follow the tips below for making ahead and throw them in the oven in the morning.
OUR LATEST VIDEOS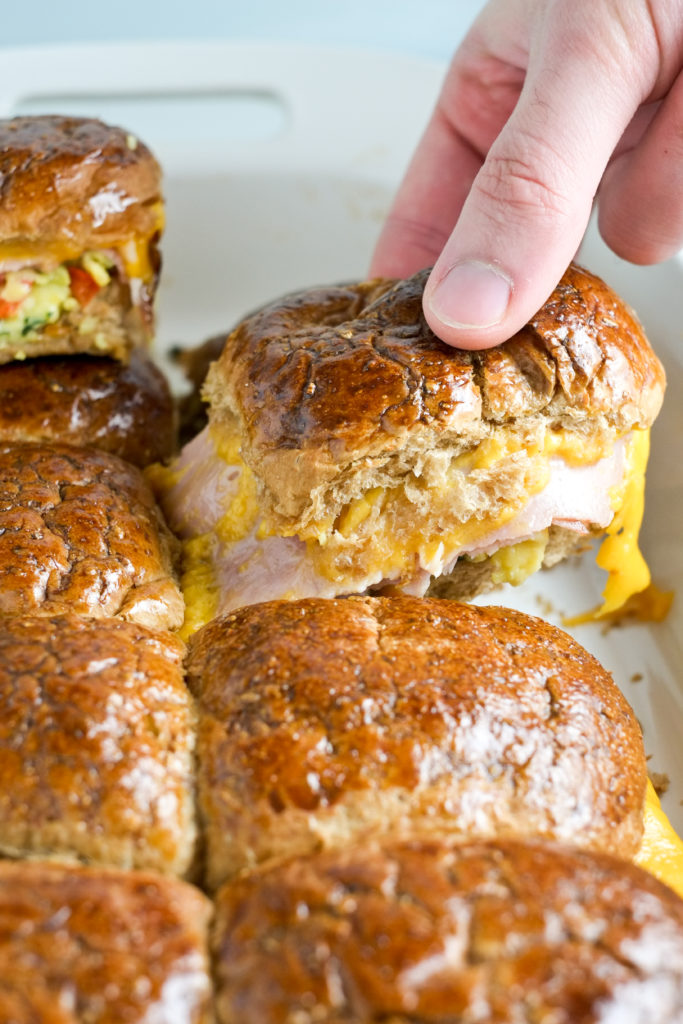 Family friendly breakfast sliders
These sliders are a great family friendly breakfast for more reasons than one. First, they're delicious. Cheesy, warm, and filling. Second, they're nutritious! A truly family friendly meal helps your family live healthy lives, too.
We started with whole wheat rolls for whole grains. Then we added some tasty veggies to our scrambled eggs to bump up the vitamins and minerals. Spinach and red bell pepper were our choice, but really any veggie could work. The eggs, ham, and cheese are a great source of protein, which is important for a filling breakfast.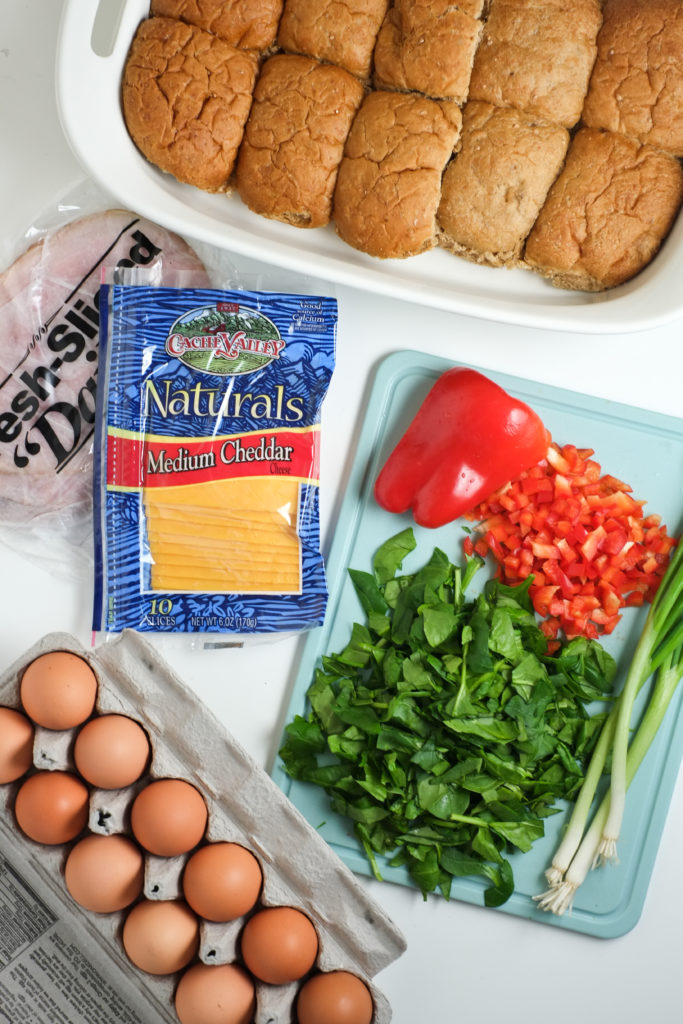 We finished these sliders off with some wholesome Cache Valley Natural Slices medium cheddar cheese. We love Cache Valley Creamery because they use only the highest quality local ingredients you know you can trust. Good cheese comes from good places, and this cheese is inspired by the goodness of a stunning valley of dairy farms and friendly people nestled in the mountains. (Take me there!) They've been making cheese since 1937, so they really know their stuff. I grabbed my cheese from Smith's, but it's also sold at Walmart and many other local retailers. We highly recommend it!
How to make healthy breakfast sliders
Begin by cutting your veggies into small pieces. My husband doesn't like red bell peppers "taking over" so I cut them really small. Whisk your eggs in a medium bowl. I used 8 eggs, but you are welcome to use more if you want your sliders with lots of egg.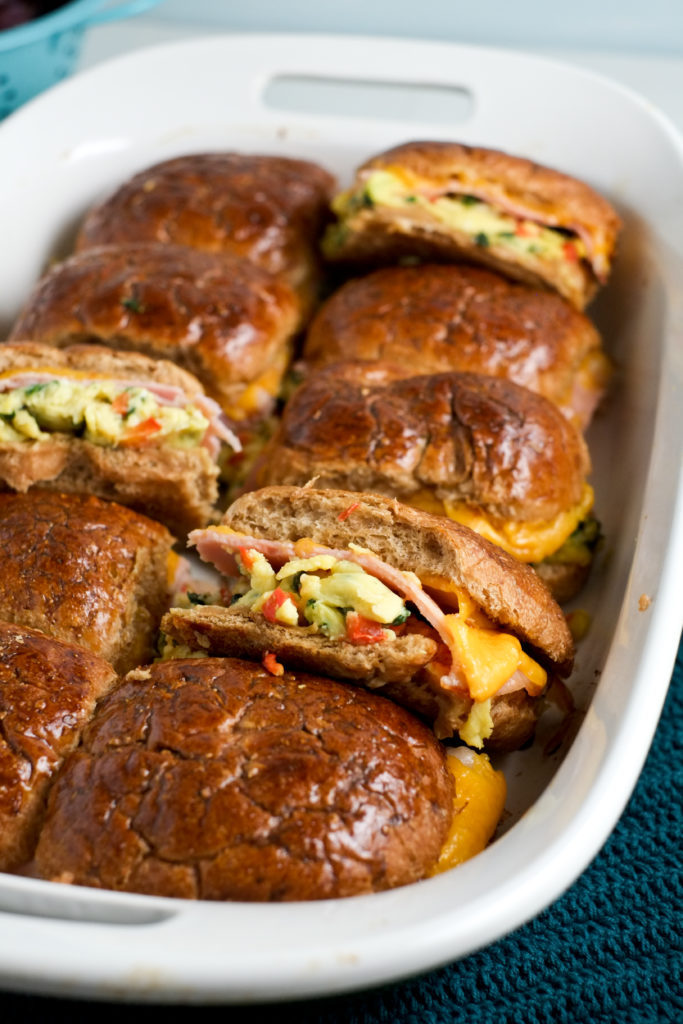 In a medium pan over medium-high heat, add a tablespoon of olive oil. Saute spinach, red bell pepper, and green onions for about 5 minutes, until peppers are soft. Add a bit of salt and pepper to taste. Pour in whisked eggs and stir until they're cooked. Take the eggs off the heat and set aside.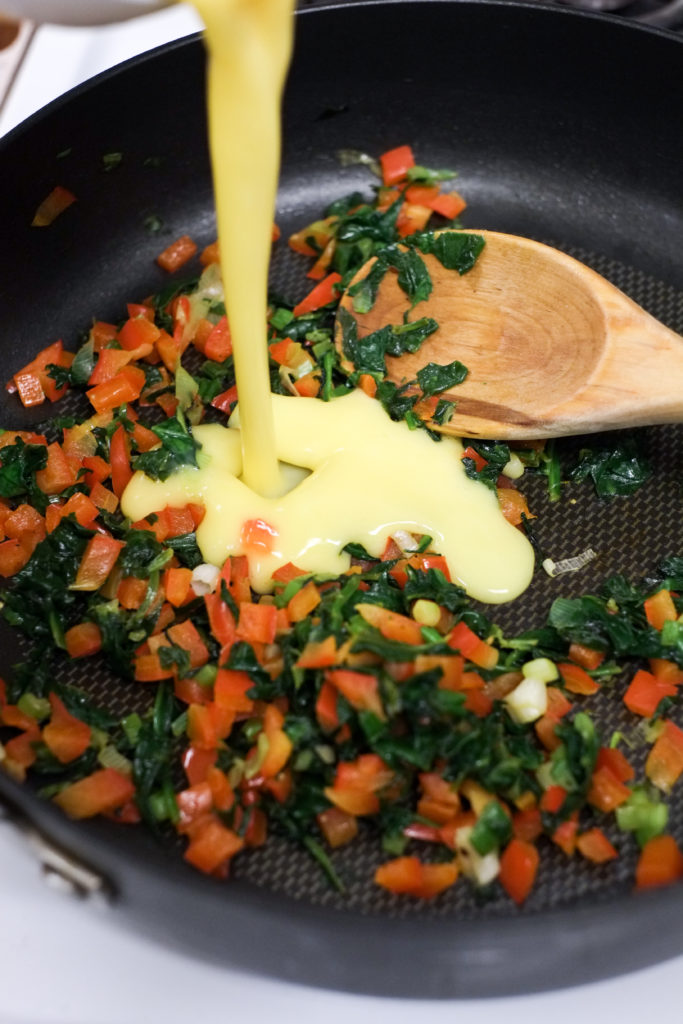 Preheat your oven to 350* F. Spray a 9×13 baking dish with cooking spray. Cut the rolls in half and place them in the bottom of the dish. Set aside the tops for later. If you can find whole wheat rolls that are all attached it is helpful, but not necessary. I could only fit 10 rolls because mine were a bit wide, but you may be able to fit more, depending on the size of your rolls. Just fill the dish up!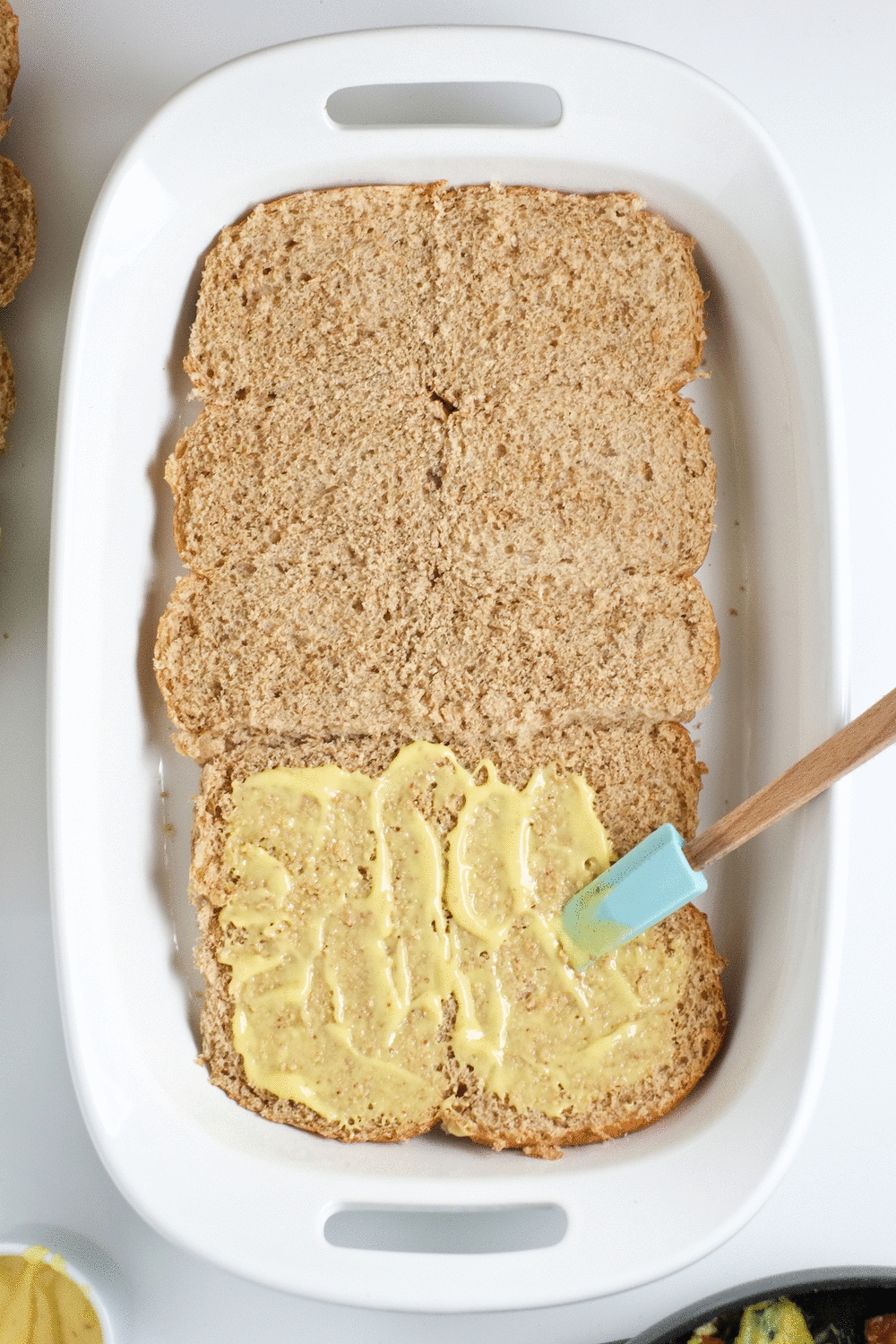 Spread a layer of honey mustard on the bottom of the rolls. We loved the addition of honey mustard but these are also great sans sauce. You can use other sauces your family loves and experiment. Now layer on eggs, ham, and cheese.
Place the top of the rolls back on top of everything and bake the sliders for 25 minutes.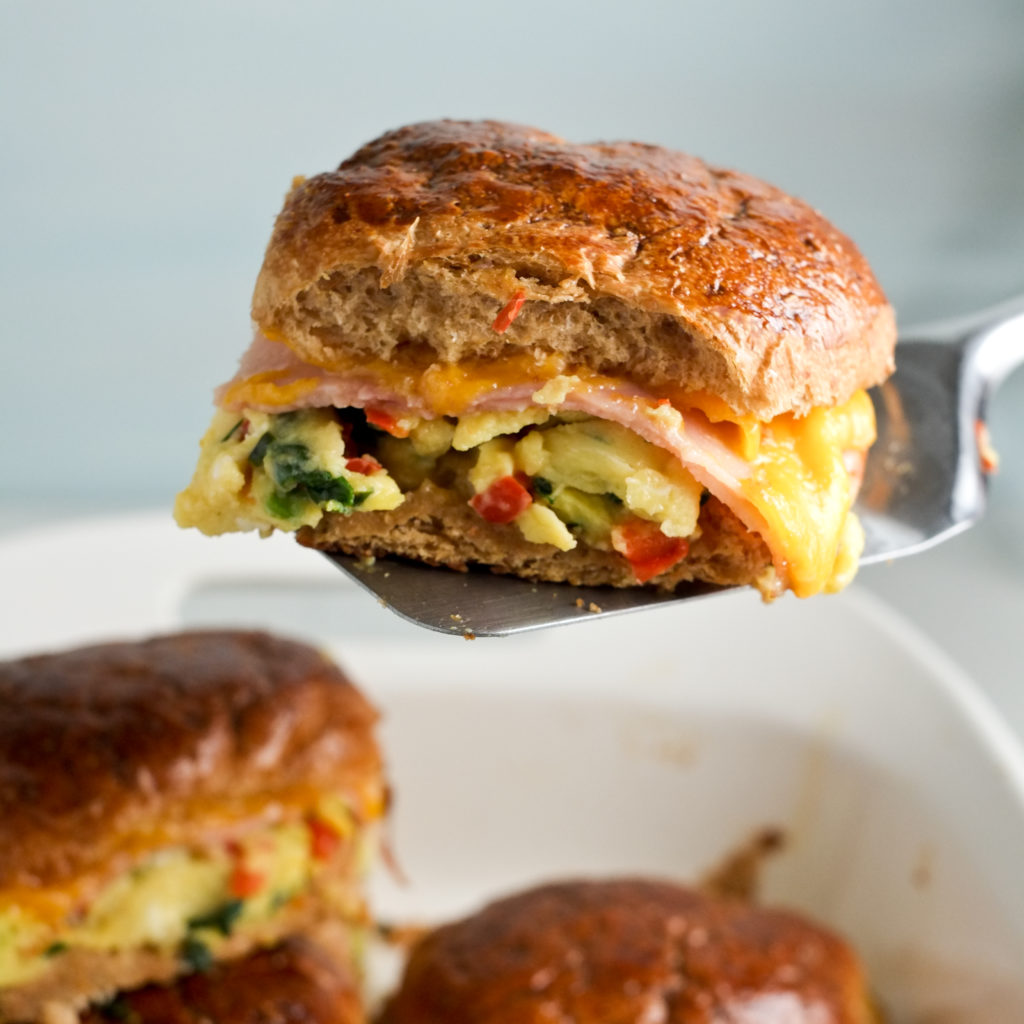 Make-ahead breakfast sliders
These sliders are also a great breakfast to make ahead! Simply follow the steps above, but put the layer of cheese on the bottom to protect the rolls from getting soggy as they wait. If you really want to be careful, you can simply cook the eggs ahead and then layer everything in the morning, too.
Cover sliders with foil or plastic wrap and place in the fridge overnight. When ready to bake, remove foil and bake for 30-40 minutes, or until cheese is melted and eggs are heated through.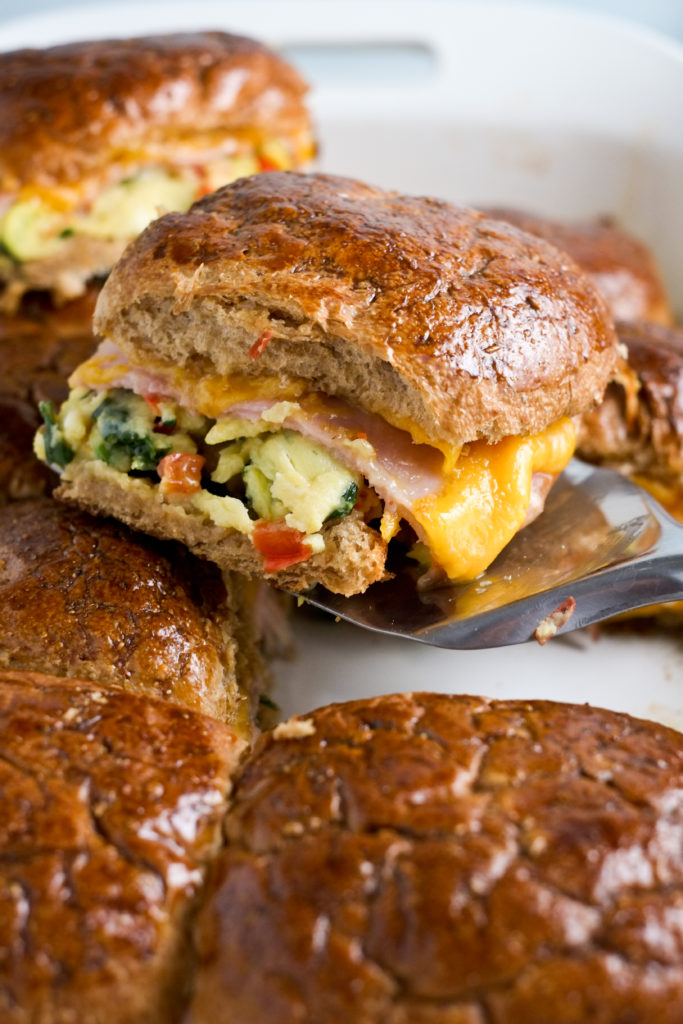 These healthy breakfast sliders are perfect for busy mornings or holidays when you don't want to worry about making breakfast, but you also want something a little special. The whole family will enjoy this filling, healthy breakfast – and you won't have to slave in the kitchen all morning!