Harry Potter Inspired Pumpkin Pasties Recipe
Harry Potter fans will recognize pumpkin pasties as hand pies filled with pumpkin that Harry buys off the trolley cart. And even if you don't recognize pumpkin pasties, you'll still love them!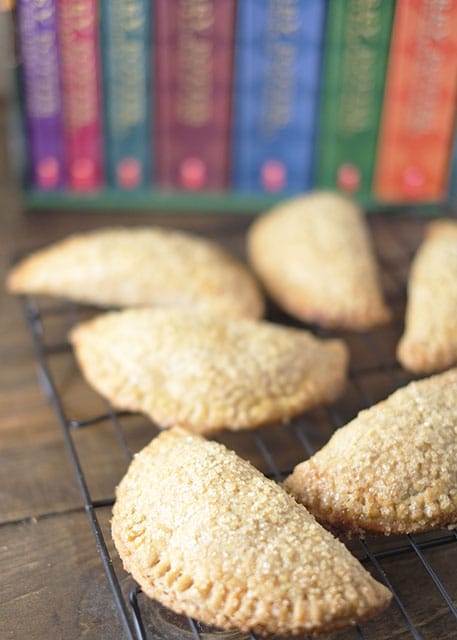 Pumpkin season is in full swing and we can't get enough! And what could be better than combining pumpkin with literature-inspired food?
How to Make a Healthier Pie Crust
I have always loved making pie! Because I grew up making it, I never realized that it can be such an intimidating task. So, I am here to share with you my mom's wonderful pie crust recipe, with a few tweaks to make it a little healthier. Pumpkin pasties, here we come!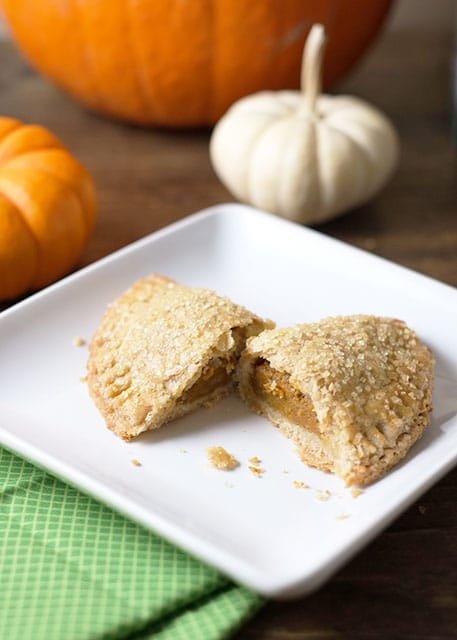 What I tweaked:
We're using white whole wheat flour rather than all-purpose flour.
Using all butter rather than half butter/half Crisco (you really do need butter to make a flaky crust!).
First, make a buttermilk mixture. Pour a teaspoon of lemon juice into 3/4 cups of milk and allow this to sit in the fridge for now. Most pie crust recipes I have seen call for water, so feel free to use that if you don't want to use milk. But the acidity of the buttermilk helps makes the crust flaky, so if you can, I recommend using it.
Next, mix the flour and salt in a bowl. Now cut your butter into small pieces with a knife. The key is that the butter needs to be cold, so keep it refrigerated until right before you use it! Plop the butter into your flour and "cut" it in. Basically, you're trying not to mash and melt it too much because you want the butter not to melt until it's in the oven. So use a pastry cutter, a fork, or a couple butter knives to continue chopping the butter up while it's in the flour. It'll form some little pebbles of flour-covered-butter. Now stop!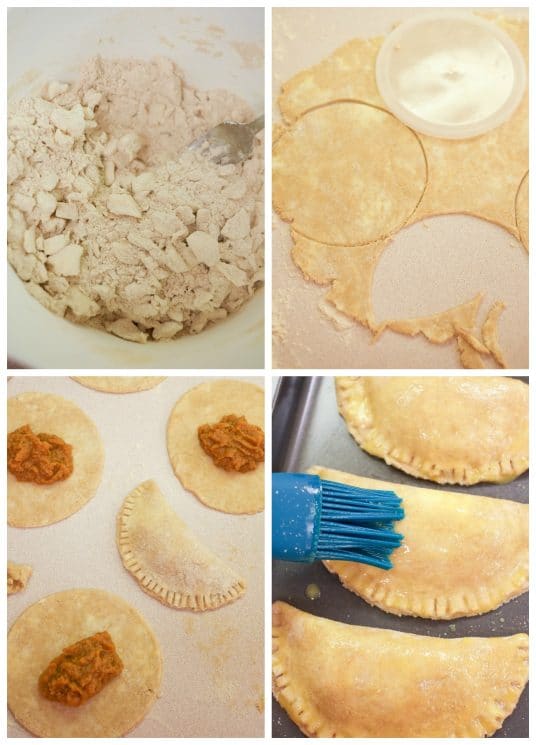 Slowly pour in your cold buttermilk mixture and continue cutting the dough together just enough so that it sticks together when you pinch it. Try not to overmix it, but don't worry too much about it. The dough should be on the dry side, just barely sticking together when you try and form a ball. If it seems far too wet, add a little more flour. Too dry, add some cold water or milk.
Make two balls with the dough, then press them into thick disks so that they're ready to be rolled out later. Cover them in plastic wrap and set them in the fridge for 20-30 minutes to chill.
And that's it! Pie dough does seem inconsistent at different times when I've made it, but somehow it always turns out in the end.
How to Make Lower Sugar Pumpkin Pie Filling
The filling is the healthier part of this process (and tastier if you ask me!). I decided to try out mashed banana in place of most of the sugar and it worked splendidly! Banana bakes well and has a texture similar to pumpkin, so I hardly noticed it.
Mix all the filling ingredients together. That's it.
Once your dough is chilled, roll it out on a well-floured surface. Make sure to regularly check if the dough is sticking to the counter and sprinkle more flour on if it's starting to. You'll want to roll the dough until it is a little under 1/4 inch thick (thin enough that you're not going to just have crust on your pies, but thick enough that it will not rip at the slightest provocation).
Cut 4-5 inch wide circles from your dough using a circle pastry cutter, or simply by tracing a bowl with a knife (I used an oatmeal canister lid). Once both disks of dough have been rolled and cut, collect the remaining scraps and form them into a new ball as delicately as you can. Roll this out to cut any remaining circles you can.
Plop heaping spoonfuls of pumpkin mixture into the center of each of the circles, then fold the circles in half and crimp the edges. I used a fork, but you can be creative and use your fingers or other gadgets to make fun designs. The point is to seal the pumpkin in, but it can look however you want.
Finally, brush each pie with the beaten egg wash, then sprinkle with turbinado sugar. The sugar isn't totally necessary, but it sure does give them a nice, sweet crunch. I think Harry would approve.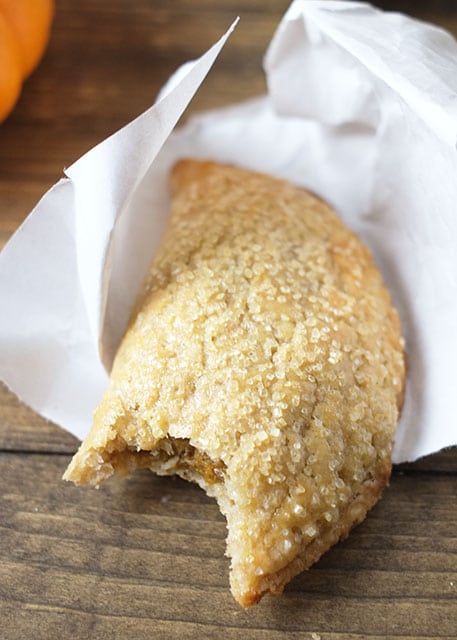 There you have it, pumpkin pasties – simple as pie!
Harry Potter Inspired Pumpkin Pasties
Harry Potter fans will recognize pumpkin pasties as hand pies filled with pumpkin that Harry buys off the trolley cart. And even if you don't recognize pumpkin pasties, you'll still love them!
Ingredients
Filling
1 1/4

cup

pumpkin, canned

1

medium

banana

1

tablespoon

brown sugar

1

teaspoon

pumpkin pie spice
Instructions
Add lemon juice to the milk to make buttermilk and set aside.

Cut refrigerated butter into small cubes.

Combine flour and salt in a medium bowl. Cut in the cold butter using a pastry cutter or fork , working the dough as little as possible until course, pebble-size pieces form. Add the buttermilk mixture and mix the dough together until it combines just enough to stick together when you pinch it.

Divide the dough into two balls and form each half into a thick disk (so it's round with a flat top – ready to be rolled out later). Wrap tightly in plastic wrap. Set the dough in the fridge for 20-30 minutes.

Preheat oven to 400* F.

In a small bowl, combine pumpkin, well-mashed banana, brown sugar, and pumpkin pie spice.

Once chilled, roll the pastry dough out with a rolling pin on a well-floured surface until it is a little less than 1/4 inch thick. Cut circles 4 to 5 inches wide, using a round pastry cutter or tracing a round object with a knife. Combine all scraps in a ball and roll out once more to repeat.

Evenly distribute the pumpkin mixture into the middle of each of the pastry circles. Fold the circles over and crimp around the edges to seal pastry, using a fork or your fingers. Place at least an inch apart on a baking sheet.

Brush each pastry with egg wash, then sprinkle with turbinado sugar.

Bake for 20 minutes, or until nicely browned. Remove from the sheet after a few minutes and place on a cooling rack for at least 20 minutes before serving.
Nutrition
Calories:
792
kcal
|
Carbohydrates:
78
g
|
Protein:
14
g
|
Fat:
51
g
|
Saturated Fat:
30
g
|
Cholesterol:
173
mg
|
Sodium:
640
mg
|
Fiber:
10
g
|
Sugar:
23
g
www.superhealthykids.com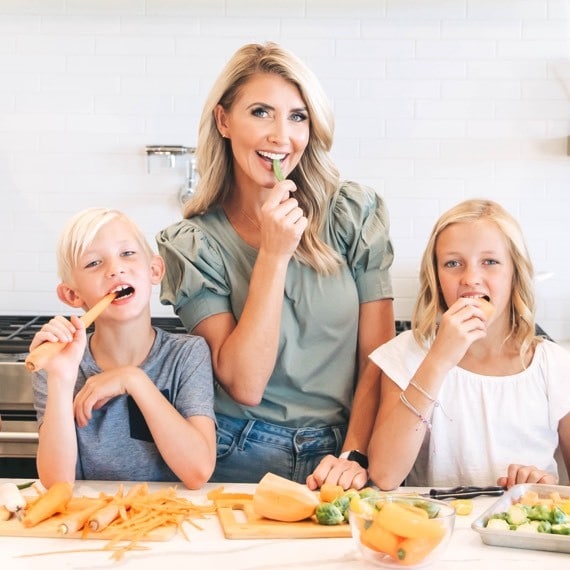 Natalie Monson
I'm a registered dietitian, mom of 4, avid lover of food and strong promoter of healthy habits. Here you will find lots of delicious recipes full of fruits and veggies, tips for getting your kids to eat better and become intuitive eaters and lots of resources for feeding your family.
Learn More about Natalie