25 Fun Alternatives to Trick-or-Treating
If trick-or-treating isn't in your Halloween plans this year, we have 25 fun alternatives that will still make your Halloween fun and memorable!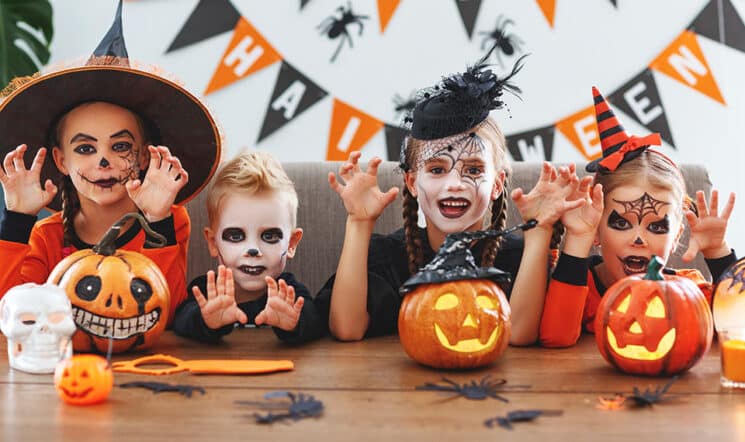 Trick-or-treating is a tradition that has been around for a long time. It can be a really fun activity that kids look forward to every October. However, there can be reasons that parents would rather their kids not trick-or-treat. Cold weather, recently moved and not familiar with the area, too much candy, and safety concerns.
Whatever the reason, if trick-or-treating isn't in the cards for you, it is a good idea to have something else planned to make Halloween fun and memorable. We have 50 ideas that are alternative activities to trick-or-treating!
Trick-or-Treating Alternatives
Have a Glow Stick Dance Party. Give everyone glow stick bracelets or necklaces, turn down the lights and turn up the music!
Halloween Craft Night. This post has some really fun ideas.
Create a Halloween Treasure Hunt. Create a hunt with these fun clues, and then leave a treasure at the end!
Halloween Movie Night. Make it special by decorating and moving some furniture to create a fun space. Serve popcorn out of a witches cauldron and make some carmel apples! Some of our favorite Halloween movies:

Younger Kids:

Spookley the Square Pumpkin
Curious George – A Halloween Adventure
Toy Story of Terror
Heffalump Halloween

Older Kids:

Corpse Bride
Spiderwick Chronicles
Clue
Monster House
Goosebumps
Paranorman

Plan a Costume Party Dinner. You can have the kids dress up with a theme, or just let them wear whatever costume they want. Serve fun foods like frankenstein pasta, mummy pizza, halloween pot pie, or mummy hot dogs.
Backyard Bonfire. Build a fire in the backyard and make Halloween smores, roast hot dogs and enjoy the crisp air with a warm fire.
Pumpkin Carving Contest. This is great way to bring the family together for an activity that appeals to all ages encourages individuality and creativity. Find designs online, or buy a carving kit with patterns.
Halloween Pinata. Fill a Halloween themed pinata with not just candy, but other fun things like bouncy balls, slinkys, mini bubbles, finger puppets, glow sticks, temporary tattoos, mini playdough, and small art supplies.
Family Game Night. Get your kids together and play some of these fun Halloween themed games:

Mummy Sack Race (wrap kids legs in toilet paper)
Pumpkin Checkers – use small pumpkins as the pieces
Eyeball Pong – take turns bouncing "eyeballs" on the table to get them into the cups, if the ball lands in the middle cup, you instantly win.
Pumpkin Patch Stomp: Fill orange balloons with candy, coins, or other treats. Then fill them with air and let your kids stomp on the balloons and collect the treasures.
Eyeball Hunt: Hide googly eyes around your house or backyard. Tell your kids to collect as many as they can. Turn it into a timed relay and see who can snatch the most for even more fun.

Play Halloween 'chopped'. Choose a few Halloween themed ingredients that your kids must use in a food creation and let them compete to see who makes the most delicious dish.
Visit the Zoo. Many zoos offer 'Boo Lights' and light up the zoo with Halloween colors. It is fun to walk around and look at the animals with the lights.
Decorate mini pumpkins. Use paint, stickers, glitter, paper and glue. Let your kids go to town creating beautiful art with their pumpkins.
Halloween Photo Booth. Everyone loves to takes photos – especially in a costume! here are some ideas of how to create your own!
Play Halloween Minute to Win It games. Minute to win it games are always a hit at every party we throw. Try some of these Halloween themed games.
Drop Halloween treat packages on neighbors doorsteps. Put together some goody packages and 'doorbell' ditch the treats to neighbors who might need a pick me up.
Halloween Deco Drive. Take a drive through nearby neighborhoods to look at Halloween decorations in people's yards
Make gingerbread Haunted Houses. This is a fun and creative craft – these are easy and inexpensive from Trader Joe's.
Play Crazy Costume Dressup – put a pile of random clothes in the middle of a circle and take turns seeing who can come up with the funniest 'costume'
Play glow stick tag in your backyard. There are lots of ways to play this! This post gives ideas and variations of fun ways to play.
Play the trick-or-treat game
Have a food taste testing. Purchase different flavors or types of one food item and then try them all and give them a rating. Some food ideas are cheese, root beer, apples, pretzels, or popcorn.
Make homemade root beer with dry ice.
Paint Zombie Rocks. This is a fun craft activity – after you paint your Zombie rocks – hide them throughout the neighborhood for other kids to find.
Play Pumpkin Golf. Create your own Halloween golf game in your backyard!
Halloween Charades. This Halloween game is perfect if you're staying home with a small group this year. Try guessing Halloween themed words or topics.
What other fun Halloween Activities have you done in the past??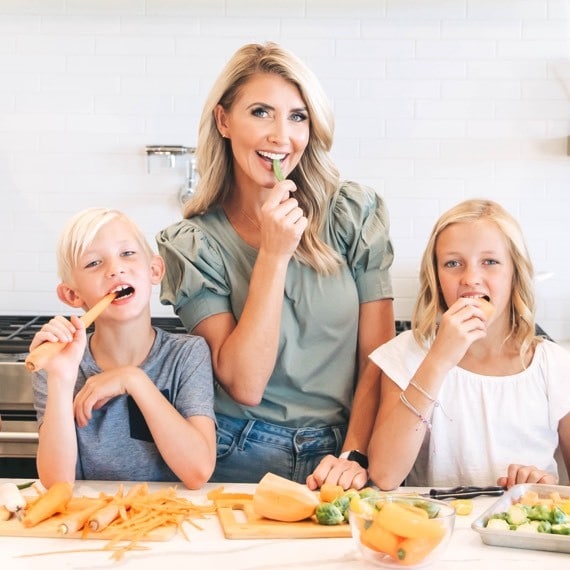 Natalie Monson
I'm a registered dietitian, mom of 4, avid lover of food and strong promoter of healthy habits. Here you will find lots of delicious recipes full of fruits and veggies, tips for getting your kids to eat better and become intuitive eaters and lots of resources for feeding your family.
Learn More about Natalie