Grab and Go Granola Bars Recipe
Saturday was one of those days! We really wanted to take the kids to an Astronomy Festival at BYU. They were having free planetarium shows, physics demos and lectures by Astronomy professors. Nate (my 13 year old loves Astronomy, and we were all looking forward to the view of the Solar Eclipse last night).
As always, when we are gone all day, we try to pack some snacks to limit the moodiness that accompanies waiting in long lines on a hot day with nothing to eat. That's where our little snack basket is handy. I've got nuts, seeds, and granola bars (although the snacks change in and out often). If it's easy for a child to reach into a box of commercial granola bars for a quick treat, it's just as easy to reach into our basket for one.
I'm sure you can find commercial granola bars that have limited and natural ingredients, but you will also pay more for the more natural bars. If you are on a budget, cheap granola bars often contain chemicals and additives that you don't want your kids eating.
We've been using this Grab and Go Granola Bars Recipe lately, and it has replaced our old favorite recipe, as I was searching for ones with less sugar, and more good stuff! This new one, originally posted here by Anni Daulter, is truly delicious!
2 cups rolled oats
1/4 cup raw sunflower seeds
1/2 cup dried cranberries
1/4 cup wheat germ
1/2 cup sliced almonds
1/4 tsp salt
1/2 cup natural peanut butter
3/4 cup honey
1 tablespoon flax oil
3 TBL brown sugar
mini chocolate chips (optional – white or milk)
Preheat oven to 350 degrees F. Grease a ceramic or glass 9X13 inch baking dish.
Mix oats, sunflower seeds, cranberries, wheat germ, and almonds altogether in a bowl. Spread mixture on a sheet pan and toast in preheated oven for 8 minutes. Return mixture to a large bowl.
In a medium saucepan, combine salt, peanut butter, honey, flax oil, and brown sugar.
Bring to a boil over medium heat and immediately remove from heat. Pour over oats mixture and combine until dry ingredients are evenly coated. Stir in chocolate if you are using it.
Pour into baking dish. Press mixture down into pan.
Bake for 20 minutes.
Let cool for up to 2 hours and then cut and serve.
Then, we sealed the cut bars with sandwich bags and a food sealer (like a food saver). Otherwise, it's too easy to keep slicing off pieces right out of the pan, and eat out of boredom or habit. Packaging them ourselves, limits portions, and allows us to pack them in a lunch or when we will be gone all day.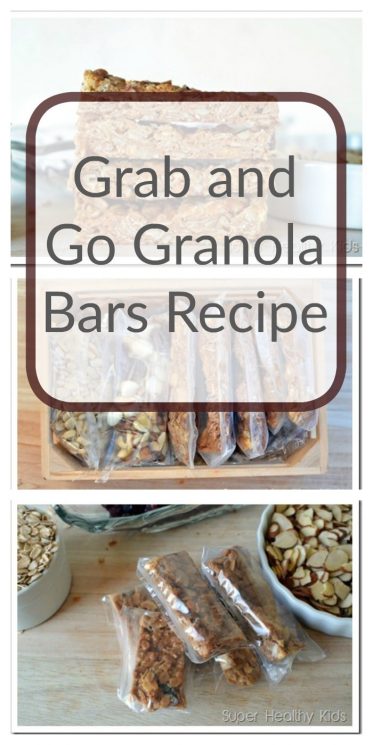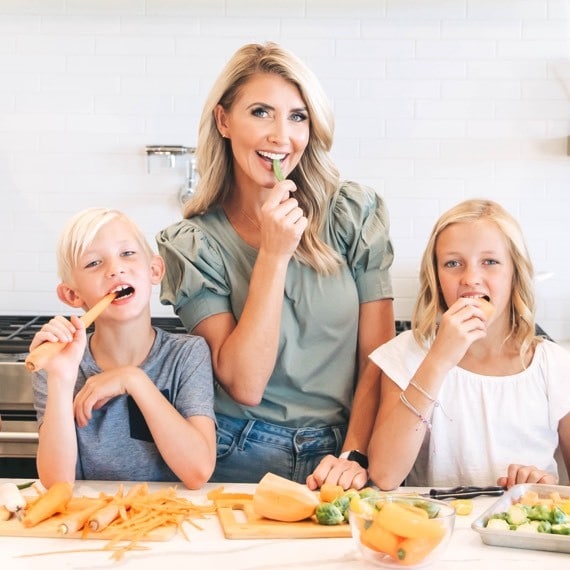 Natalie Monson
I'm a registered dietitian, mom of 4, avid lover of food and strong promoter of healthy habits. Here you will find lots of delicious recipes full of fruits and veggies, tips for getting your kids to eat better and become intuitive eaters and lots of resources for feeding your family.
Learn More about Natalie