Are you satisfied with your child's veggie intake? Are they meeting the recommended standard of 5 – 7 servings per day? Are they getting a good variety? Would you like to have your kid eat/devour more veggies? — without complaining or arguing?! <— That's the key, am I right?!
Often as parents we try to sneak veggies into our kids diets. Though I don't really like to call it sneaking; I like to call it creative cooking — creating a meal that is nourishing and that my family loves (and will finish). Some of my favorite ways to add in more veggies are with recipes like: green smoothie pancakes, butternut squash mac & cheese, salmon chowder, veggie tacos, etc… I think it's so important to introduce our kids to a variety of fruits and veggies early on in life so that they establish good healthy habits young that they can carry with them into adulthood. Teaching my daughter to live a happy, healthy life is why I started my blog in the first place!
However, despite my creativity, I have had a super hard time getting my daughter to even try (let alone like) bell peppers. They are one of my absolute favorite veggies — raw, eaten like an apple, sliced in salads, roasted, stuffed, you name it… I adore bell peppers!
Well inspiration struck when I was at a recent conference about the health benefits of peanuts. I could go on for days about how awesome this little nut is — full of plant-based protein, completely satisfying, good at stabilizing blood sugar throughout the day, uber sustainable and requiring very little water for growth, super affordable, genuinely liked by almost every kid on the planet, etc… but the most intriguing part for me was the fact that peanuts (or peanut butter more specifically) can get your kids to eat more veggies!
They shared a recently published study done by the USDA/American Dietetic Association that showed pairing veggies with peanut butter not only increased the quantity of veggies eaten by kids, it also increased the variety of vegetables consumed as well. The minute I heard this, I knew I had to try an experiment: bell peppers + peanut butter. The study had used carrots, broccoli, and celery… but I figured the concept could be extended to other veggies just as easily.
And so it began… the grand experiment.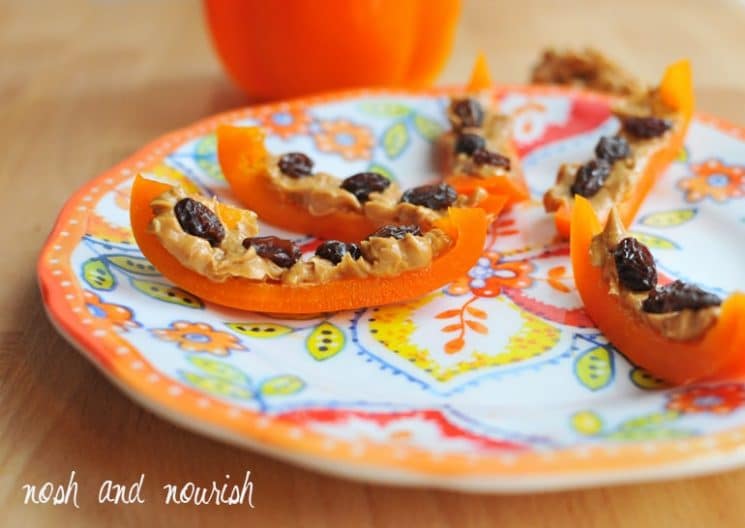 I created little "ants on a log" but with a bell pepper log in place of the traditional celery.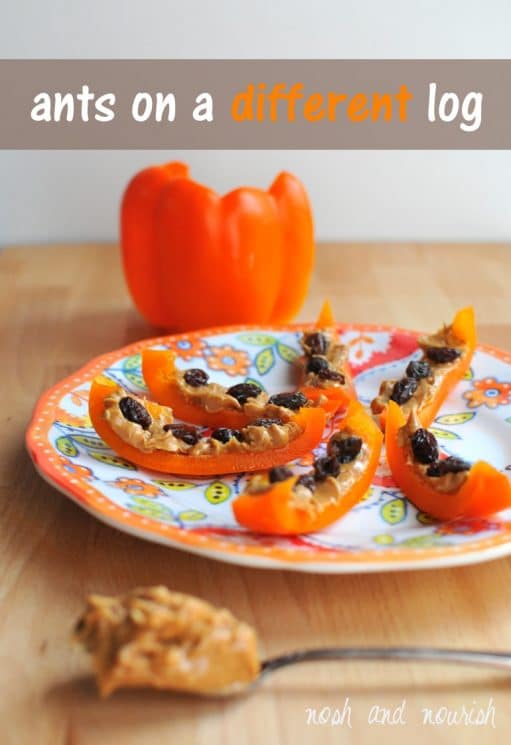 Why are bell peppers so great anyway?
more than twice as much vitamin C as an orange!
a strong source of vitamins B6, E, and A as well
low-fat, high-fiber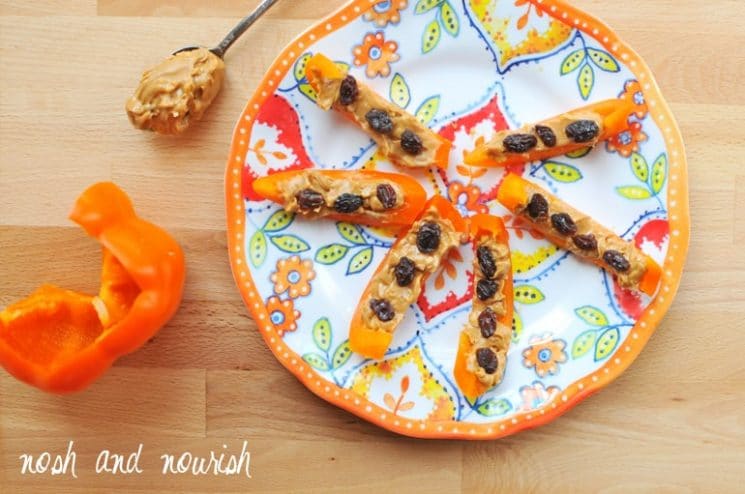 Are you on the edge of your seat in suspense, wondering how the experiment went? What was the verdict? Did Babycakes eat the bell peppers?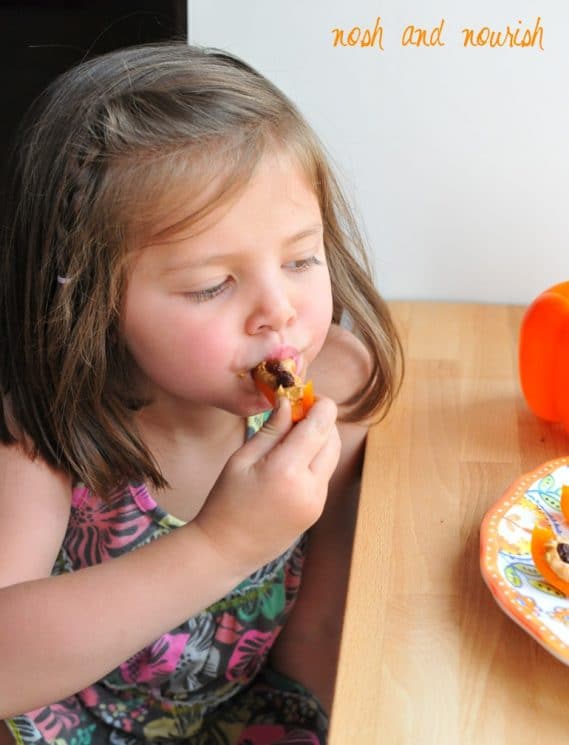 The answer is yes! She ate three slices of bell pepper, er… logs. Which is the most bell pepper she's consumed in one sitting… ever.
Will she be begging me for this same snack again tomorrow? Probably not. But I know she'll be more willing to try them again soon when I offer them to her… knowing they were palatable. And for those who think this is totally crazy and weird, just remember one of my favorite meals — Pad Thai — combines bell peppers and eggs and carrots with a wonderful peanut-y sauce. So this combo isn't that weird!
So what do you think?
Worth a try?
What veggie(s) would you dip in peanut butter?
---
Kelly is the author, recipe creator, and food photographer behind the blog Nosh and Nourish. She incorporates nourishing superfoods into every meal for her husband, adorable toddler, and herself (think quinoa, Greek yogurt, chickpeas, kale, blueberries, etc..) and manages to keep everything tasting absolutely delicious! She is also the author of the cookbook Superfoods at Every Meal, on shelves now. When not creating new recipes or taking pictures of them, she can be found exploring the Rocky mountains, gardening, hiking, or fly-fishing.
No-Celery Ants on a Log
Ingredients
1

bell pepper sliced

(orange, yellow, or red preferred as they're a little sweeter) — or try this with a different veggie: carrots, broccoli, sugar snap peas, etc.

4

Tbsp

peanut butter

(be sure to look for one with no added sugars)

2

Tbsp

raisins
Instructions
Spread a dollop of peanut butter on each bell pepper slice. Then top with a few raisins along the top
Nutrition
Calories:
115
kcal
|
Carbohydrates:
9
g
|
Protein:
4
g
|
Fat:
8
g
|
Saturated Fat:
2
g
|
Sodium:
70
mg
|
Fiber:
2
g
|
Sugar:
5
g
www.superhealthykids.com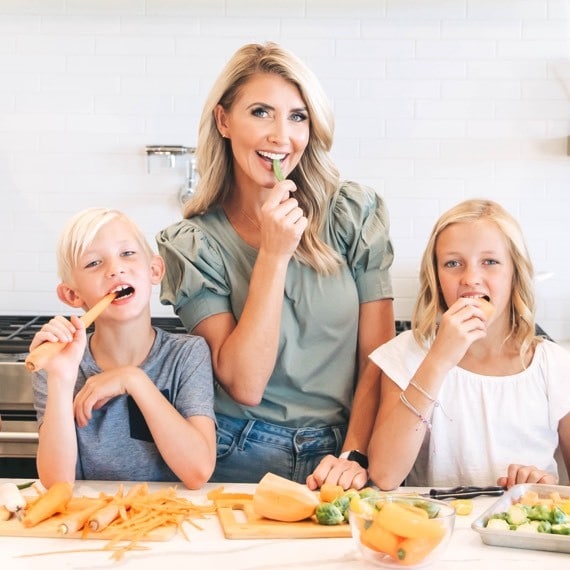 Natalie Monson
I'm a registered dietitian, mom of 4, avid lover of food and strong promoter of healthy habits. Here you will find lots of delicious recipes full of fruits and veggies, tips for getting your kids to eat better and become intuitive eaters and lots of resources for feeding your family.
Learn More about Natalie