The Healthiest Diet for Kids Looks Like This
The world loves to give parents advice on how we should feed our kids. But often, dietary recommendations we hear are confusing, restrictive,or just plain wrong. Here's a dietitian's fad-free and evidence-based stance on the healthiest diet for kids.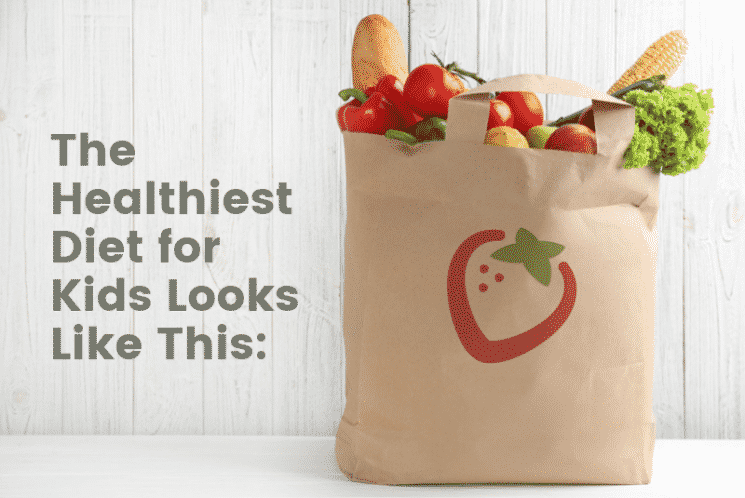 You can't throw a stone without hitting the latest nutrition advice. Have you heard? It's about eggs. And which grains to avoid. And why you shouldn't eat raw bok choi. Or chocolate. And how fish is a must for healthy families.
If you have young kids, deciding what (and how) to eat takes on a special significance. But weeding through a sea of information in search of the healthiest diet for kids is time-consuming and hard.
So… we did it for you. And we're sharing our dietitian's perspective.
The Healthiest Diet for Kids
These three guidelines form a path to the healthiest diet for kids. We didn't invent or trademark these. We're not selling them to you for a cost. We just distilled the best current research about diet and health into a simple, dietitian-approved action plan you can start following today.
If these guidelines sound bland or too by-the-books for you, you're free to go as big and complex as you like with your food and lifestyle choices. Just know that complex doesn't necessarily mean better for your kids' health in the long run.
Now… here's what you can do to make your kids' diet as nourishing as possible.
Eat the rainbow. Colorful fruits and vegetables in every hue provide a mind-blowing array of vitamins, minerals, and phytonutrients that support your kids' growth and development. Aim to serve at least one fruit or vegetable with every meal or snack.
Strive for balance. Bodies feel and function at their best when they get nourishment from all the major food groups. In the absence of allergies or other special medical circumstances, kids should regularly have the opportunity to eat fruits, vegetables, whole grains, and protein foods (from meat and/or plants.) Try to include at least three food groups with every meal.
Cook at home. Daily cooking may be a struggle for you. But the benefits of home cooked meals are too great to ignore. Those who eat more than five home-cooked meals a week consume more fruits and veggies, more Vitamin C, and are more likely to have a healthy BMI compared to those who eat fewer than three home-cooked meals weekly. The best part is, these benefits add up even when families aren't specifically trying to "cook healthy." Serve as many home-cooked meals as you can each week (leftovers count!)
A Healthy Attitude Matters, Too
When you're in the middle of dinner and your kids are making that face, poking a broccoli floret around their plate in little circles, it's easy to think that the absolute most desired outcome would be if they would just EAT THE VEGGIES.
If only they'd eat the veggies, you think, then–boom!– they'd have fabulous nutrition in their bodies. And you'd win some kind of invisible "healthy family" badge you could carry around quietly, occasionally offering your friends gentle wisdom about how to get their kids to eat their veggies.
This is, of course, a fantasy. But also, getting your kids to eat their veggies is actually not even the most important end goal when raising healthy kids.
The REAL most important goal is for our kids to become adventurous eaters. Curious, accepting, perceptive eaters. You're thinking: Wait, what? She didn't even MENTION veggies And that's true.
Food is more than a collection of nutrients. Food is social, emotional, and intricately linked to our kids' personalities and preferences. That means the more we can foster a healthy attitude about eating at home, the better our kids will learn to choose foods that nourish them across their lifespan (and yes, that includes veggies!)
So what does fostering a healthy food attitude look like? It looks like…
Modeling a varied diet in front of your kids (let them see you eat good food.)
Letting kids choose how much food to eat.
Letting kids decide whether or not to eat something.
Enjoying "treat foods" without guilt or shame.
It's easy to write about these actions, and harder to take them. It's OK if you struggle with enacting these attitudes at home. Keep practicing!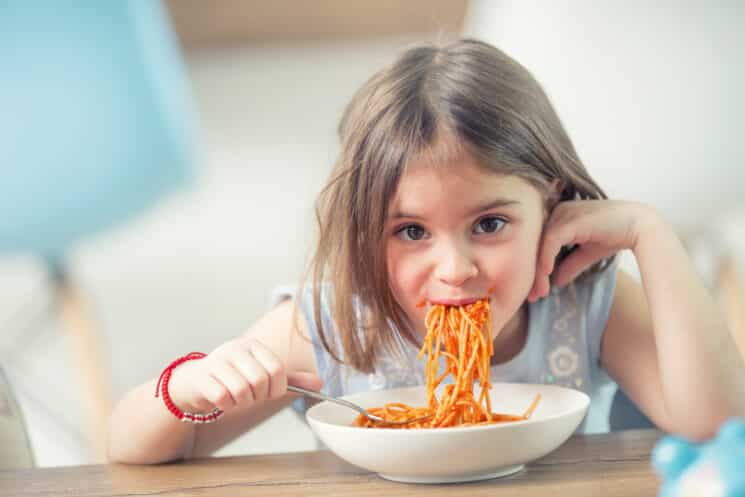 The Bottom Line
The healthiest diet for kids isn't restrictive or complicated. Let's focus less on foods we're told to eliminate, and more on adding colorful fruits and veggies in the context of balanced home-cooked meals.
Make a point of fostering healthy attitudes about food, like modeling a varied diet, and enjoying dessert without guilt.
The rest will fall into place.
Got Picky Eaters? Read This Next
If you're finishing this article thinking, "OK, this is great and all but my kids won't eat like that…" you're not alone! Almost every family encounters picky eating that can last for months or years. The good news is, there IS an end in sight. Visit a few of our resources for help with gently guiding your kids through their pickiest phase:

21 Days of Things to Do with a Picky Eater
My Top Tip for Getting a Picky Eater to Eat
9 Vegetables Kids Like that Might Surprise You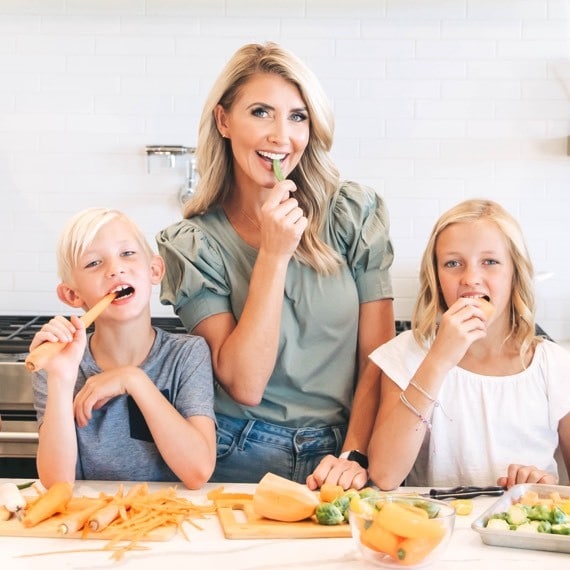 Natalie Monson
I'm a registered dietitian, mom of 4, avid lover of food and strong promoter of healthy habits. Here you will find lots of delicious recipes full of fruits and veggies, tips for getting your kids to eat better and become intuitive eaters and lots of resources for feeding your family.
Learn More about Natalie