Prepear: Meal Planning to Eat Better
Meal planning is one of the easiest things you can do to make your life healthier and better organized. But it's one of the first things we neglect when life gets busy! The new year is a great time to start fresh and recommit to following a meal plan.
The Best Way to Eat Better in 2020
One of the top resolutions people make year after year after year is to Eat Better. It's a great goal, but hard to do without a plan.
After more than a decade working with families to improve their eating habits, we have found that those who use a meal plan are the most successful. In fact, a plan is so crucial to success in eating better, that we have spent the last few years creating a connected cooking app that allows people to meal plan in an entirely new and super effective way.
Why Should I Follow A Meal Plan?
To eat healthier food that tastes better. When you already know what you are going to eat, picking up pizza, drive-through food and pre-packaged meals from the grocery store are not longer a part of your meal routine. Food cooked at home is more nutritious and is delicious!
To organize your time better. Spend less time planning what you are going to eat, figuring out all the groceries you need to buy, and running to the store 5 times because you forgot things you need!
To spend more time with your family. When you have your weekly menu planned out, the shopping and cooking process are so much smoother that it will free up time for you!
To save money. When you make a grocery list from your planned meals, you know exactly how much you will need and can stick to your list saving you from buying impulse buys or things that might sound good but that you won't use.
To

feel less stressed about making food choices.
What is the Best Way to Meal Plan?
Meal planning is asking the what's for dinner question once for the whole week, instead of every night, and then shopping for and having your ingredients ready before cooking.
I'd like to introduce to you Prepear: The First Connected Cooking App of its kind. The fun, easy way to organize recipes, plan meals, shop, cook, and share your cooking lives with your friends.
How Does Prepear Work?
Prepear is a connected cooking app that supports home cooks throughout the entire cooking process.

Collect and organize all your recipes in your own digital Cookbook.

Your meal plan appears in your planner automatically every week.

Customize your meal plan to match your tastes and lifestyle. You can easily swap in your own recipes from your Cookbook, or type in recipe-free ideas.

Instantly create grocery lists that match your meal plan. Your list is categorized and right on your phone, so you can check off items as you shop.

Get your groceries delivered. Right from the app!

Recipes are easy to cook from: your phone stays lit while you cook. Check off ingredients and directions as you go. See nutrition data for most recipes, right on the recipe screen.

Share your cooking life with your friends and family. Share your meal plan, recipes, and what's happening in your kitchen today.
Why Should I Join Prepear Now?
Your meal plans are delivered exclusively in the connected cooking app

.

Meal planning by yourself might seem daunting. But you don't have to do it alone – you will be joining thousands of other people planning and cooking with you!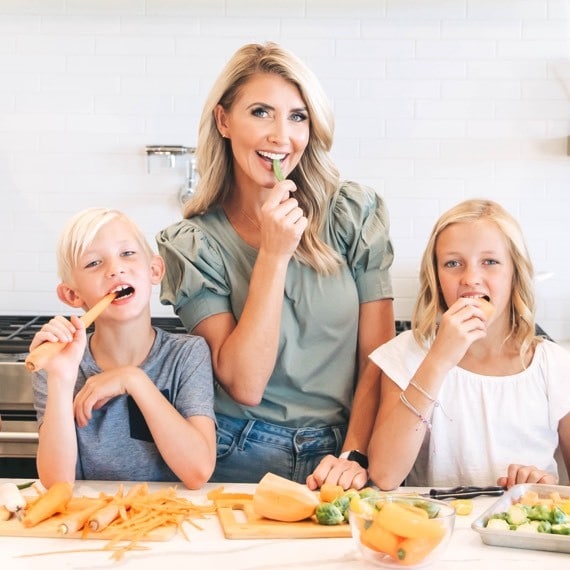 Natalie Monson
I'm a registered dietitian, mom of 4, avid lover of food and strong promoter of healthy habits. Here you will find lots of delicious recipes full of fruits and veggies, tips for getting your kids to eat better and become intuitive eaters and lots of resources for feeding your family.
Learn More about Natalie