The big weekend project was erecting this portable tether ball pole and game! I really wanted to take more pictures of the kids playing with it, but the cement is still drying (it's been drying forever!!) We have 3 kids and about 50 neighbor kids waiting impatiently, begging every day if they can try it out! Unfortunately, Wade things because of the cool weather, the cement is taking longer than normal to dry. Nevertheless, it's going to be awesome! It was pretty easy to make it yourself too!
We started with a few supplies:
1 tire (free from a friend)
1 pole ($20 at Home Depot)
1 ball and rope ($21 from Big 5)
2 one foot sections of rebar (home depot)
1 eye bolt and carabineer to affix the rope to the top.
2 80 lb bags of cement ($10 from Home Depot)
| | |
| --- | --- |
| | |
| Step 1: Gather supplies and drill | Step 2: Drill holes in bottom of pole, plus one to the top of the pole for your eye bold (to affix the carabineer and rope later. |
| | |
| Step 3: Slide both pieces of rebar into pole- criss-cross | Step 4: Arrange a few pieces of wood across the bottom of tire, and stand pole into the tire. |
| | |
| Step 5: Line top of wood slats with a garbage bag. | Step 6: Mix cement |
| | |
| Step 7: Pour cement into tire | Step 8: Press hands into cement so everyone knows who it belongs to! |
| | |
| Step 9: Affix wire from pole to a ladder to keep it straight, and use a level to make sure it's straight. | Step 10: Attach the rope to the top of the pole, and wait and wait and wait and wait and wait!! |
Then wait and wait and wait and wait and wait some more!!
Apparently, the kids play Tether-ball at recess, and they tell me they are pretty much professionals. So, we'll see. I tried a quick game with my husband Wade, and he can swing that ball so high above my head, that I don't even stand a chance!
This is a fun way for kids to get outside and get some exercise!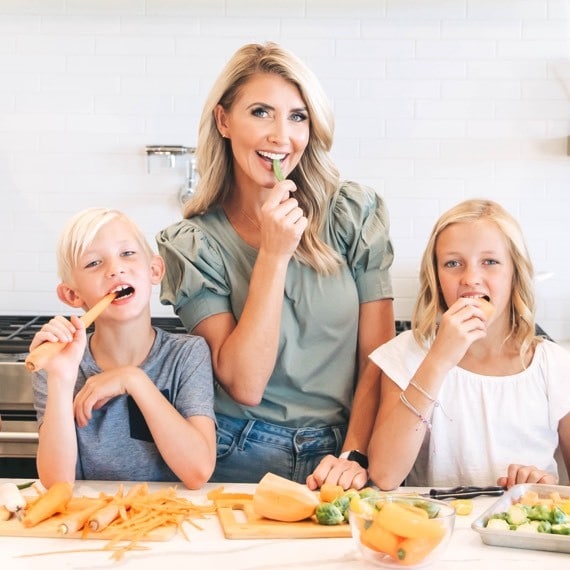 Natalie Monson
I'm a registered dietitian, mom of 4, avid lover of food and strong promoter of healthy habits. Here you will find lots of delicious recipes full of fruits and veggies, tips for getting your kids to eat better and become intuitive eaters and lots of resources for feeding your family.
Learn More about Natalie