Dairy Free Gingerbread Ice Cream Recipe
For a super creamy, super delicious, no-sugar added dessert, try this gingerbread ice cream recipe!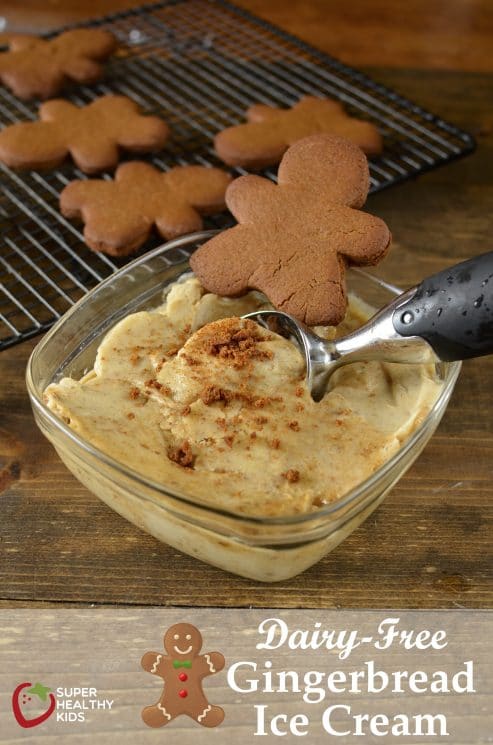 I believe my kids have been eating a fruit based "ice cream" for so long, they may have forgotten was real, whole milk, extra sugar, creamy dreamy ice cream tastes like. Ok, they have't forgotten, but we do make fruit based ice cream more than any other dessert! And because we have been eating so much ice cream, I've been eyeing the Yonanas machine for probably 4 years! No kidding. I don't know why I just never bought one. I saw it at the grocery store a million times. It's not that expensive ($40 on Amazon). I hesitated not necessarily because of the price, but because I have a small kitchen and wasn't sure if I needed another appliance! I have an amazing blender, and so I never bought one.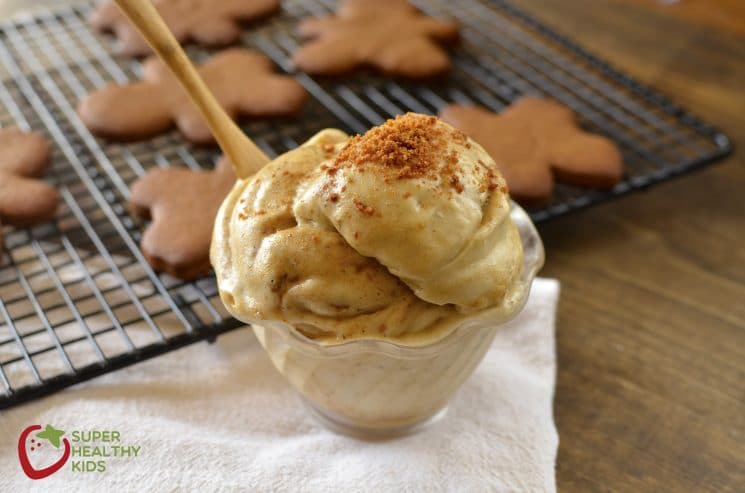 But now I have one! Do I love it? YES! Do my kids love to "make ice cream"? Yes! Will they eat it? Mostly. I'm not going to lie. When you use bananas as your creamy ice cream base, it IS going to taste like bananas. Which was fine by me! I love bananas. I love them fresh, frozen, in smoothies, and dipped in chocolate. My kids are hit and miss. Some days they like it, some days they don't. It's just the nature of children.
So, it is fun to squish your frozen fruit through the yonanas machine. In fact, the kids were fighting over who got to make it. All you do is set your frozen fruit out for about 10-15 minutes, so it gets a bit soft. Add the other ingredients for the ice cream you'll make. We tried mint chocolate, cookies and cream, raspberry, blueberry, and plain chocolate.. all before we tried this gingerbread one.
Then, when the fruit is slightly soft, feed it through the machine. If you don't have a machine, of course use your blender! A yonana machine isn't going to be a deal breaker here. You can definitely have delicious ice cream the traditional way.
Dairy Free Gingerbread Ice Cream Recipe
For a super creamy, super delicious, no-sugar added dessert, try this gingerbread ice cream recipe!   
Ingredients
3

bananas, frozen

2

tablespoons

molasses

1

teaspoon

cinnamon

1/2

teaspoon

cloves

1/2

teaspoon

ginger
Optional
Gingerbread cookie crumbs!
Instructions
Leave frozen bananas out in a bowl for about 10-15 minutes. Add all the remaining ingredients. Feed through a yonanas machine, or blend in a blender. Enjoy your ice cream!
www.superhealthykids.com
We also made some gingerbread cookies to eat with our ice cream! You can crumble it and add it to the machine. You could use the cookies as a dipper. You could sandwich the ice cream between two cookies, or you could just eat them together. So fun, festive, and best of all, healthy!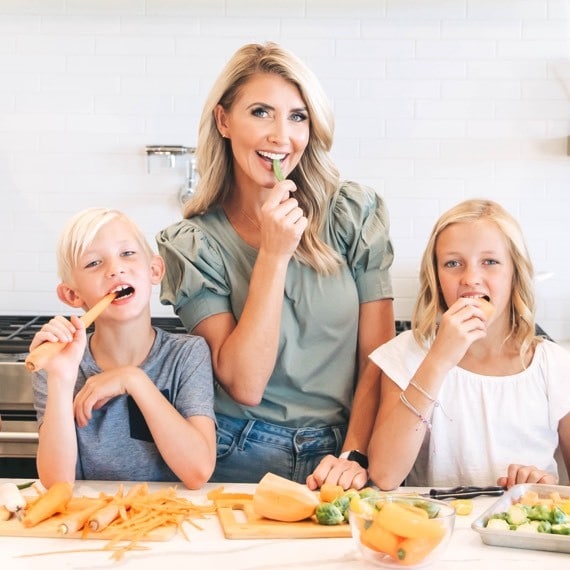 Natalie Monson
I'm a registered dietitian, mom of 4, avid lover of food and strong promoter of healthy habits. Here you will find lots of delicious recipes full of fruits and veggies, tips for getting your kids to eat better and become intuitive eaters and lots of resources for feeding your family.
Learn More about Natalie