Crockpot Apricot Chicken Recipe
Crockpot apricot chicken is a sweet and savory main dish that's easy and delicious! Just three hours in the slow cooker to make a delicious chicken even picky eaters will love. Apricot chicken is a new healthy family favorite around here!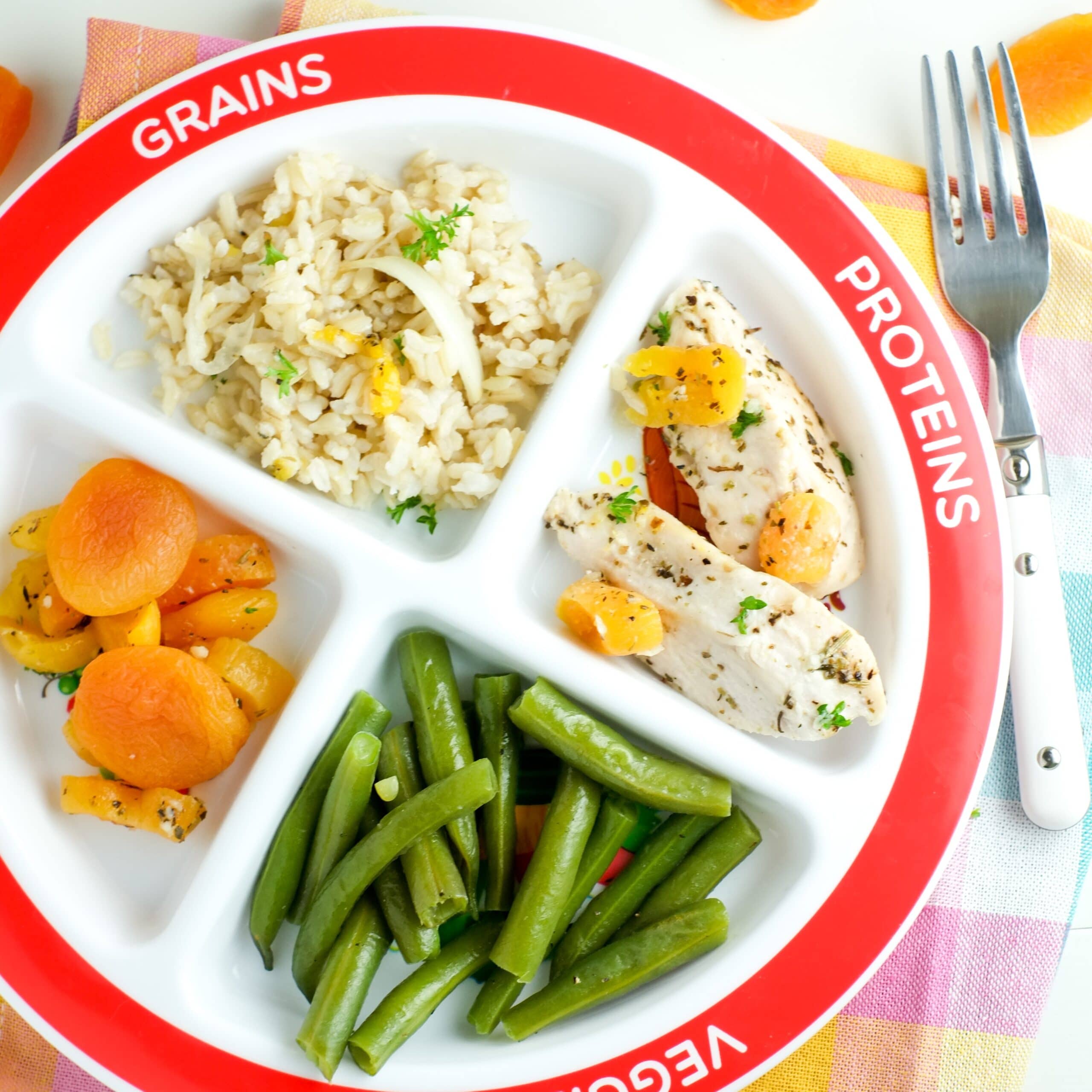 If you love sweet and savory combinations, you're going to love this chicken. Apricots and Italian seasoning don't immediately strike me as a great combination – but they are! You may be skeptical like I was, but I promise that it's actually amazing!
Trust me, even my husband loved this (and he's usually got some constructive criticism when it comes to experiments). Give it a try and you won't be disappointed!
The story behind this healthy crockpot apricot chicken
Since apricot season is almost in full swing I wanted to use them in a savory meal. Chicken and apricots sounded like a good idea, but when I tried to find recipes online they all included apricot preserves (sugar!) and some kind of processed dressing (more sugar!).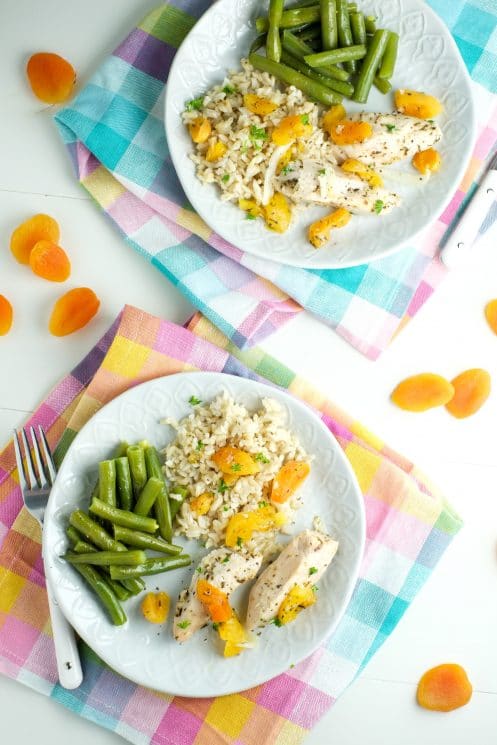 So, I set out to make a recipe that would have all the delicious flavor these recipes boast but without all the sugar. I ended up using dried apricots since they much easier to access than fresh ones – so this recipe can be made year-round! We love crockpot recipes even in the Summer!
Many of the recipes called for salad dressing, so I decided to replace dressing with just a little oil, lemon, and Italian seasonings. The apricot preserves have been replaced with lots of dried apricots and a little honey.
How to make Healthy Crockpot Apricot Chicken
I love how easy this recipe is! A short ingredient list and only 3 hours in the Crockpot make for a simple supper.
The one complicated thing I recommend doing is searing your chicken before putting it in the slow cooker. This helps keep the chicken flavorful and moist. If you don't have time I'm sure it will still turn out, but I haven't tried it sans searing.
Okay, here we go! First, mix up the apricot marinade:
3/4 cup chopped dried apricots
2 tablespoons olive oil
1 tablespoon lemon juice
3 tablespoons honey or maple syrup (both are great)
2 teaspoons Italian Seasoning
3 cloves garlic, minced
1/2 teaspoon salt
Set the marinade aside for a moment. Spray your slow cooker with cooking spray. Then slice half an onion and sprinkle half of the onion slices along the bottom, saving the rest to put on top of the chicken later.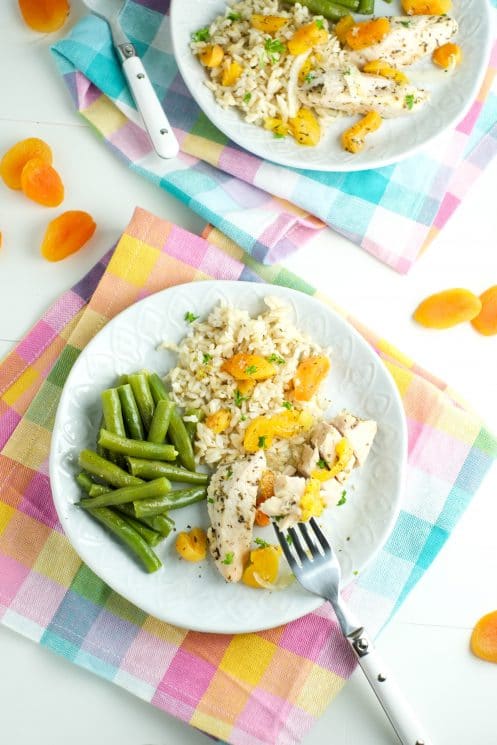 Now cut 2 pounds of chicken breast into thick slices. Slicing the chicken helps with portion control, quick cooking, and it allows the flavor to be more evenly distributed on the meat.
Heat a tablespoon of oil in a large skillet on medium-high heat. Add the chicken and generously salt and pepper it. Sear both sides for 1-2 minutes each, just enough to turn most of the outside of the chicken white. You'll still see pink, which is just fine.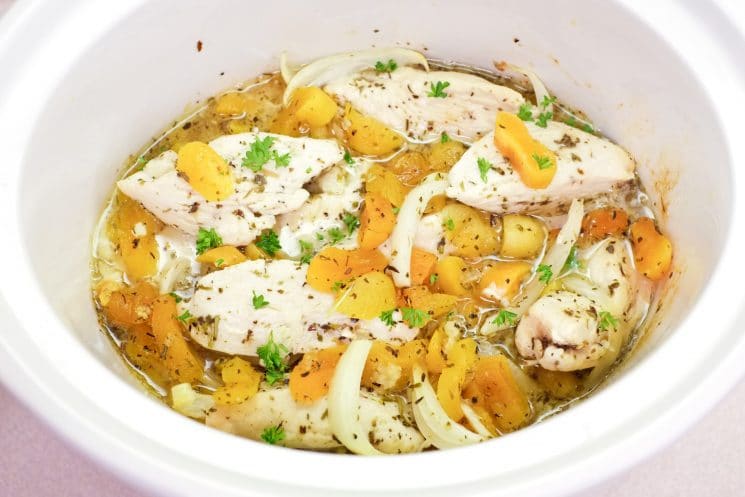 Assemble the crockpot
Toss the chicken into the crockpot and sprinkle the remaining onions on top. Now pour in the apricots and dressing that you prepared before. Gently stir just enough to allow the marinade to get to all the chicken.
Place the lid on top and turn the slow cooker on LOW for 3 hours. It should be more than fully cooked, but double check to make sure the chicken is no longer pink and cooked to 165* F if you want to be safe.
Serve on brown rice, ladling the extra juices/apricots/marinade from the crockpot onto the rice. It's watery but very flavorful. Add a veggie and you've got a balanced dinner.
INSTANT POT Apricot Chicken
You can also make this recipe in a pressure cooker – but with one small change. Make sure to add 1/2 a cup of chicken broth to the marinade so that the Instant Pot can get to pressure. The broth will make it runnier, but it will still taste great. Cook on high pressure for 5 minutes.
Plus, when you use an Instant Pot you can saute the chicken right in the pot! Less dishes are always a good thing.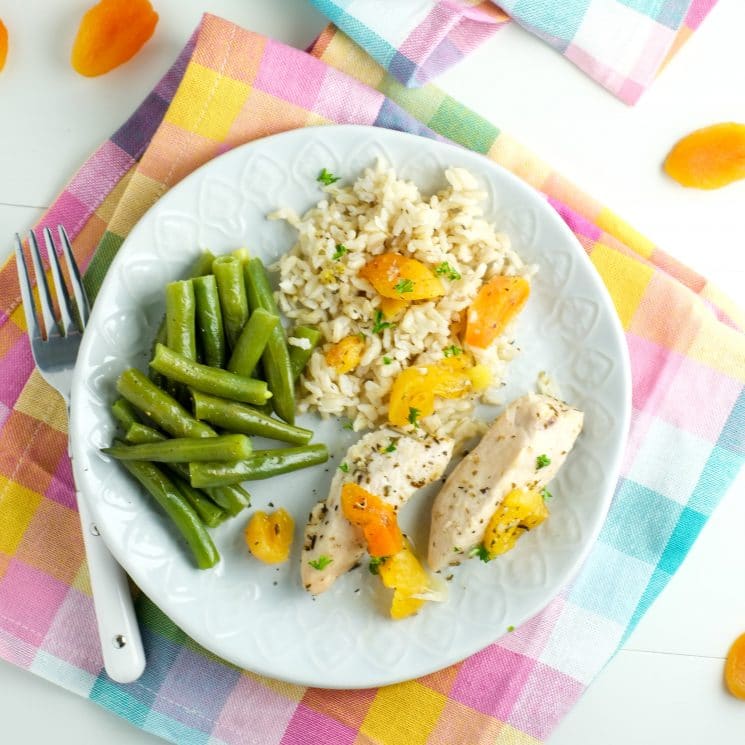 We hope your family loves this Healthy Instant Pot or Crockpot apricot chicken as much as we do!!
Crockpot Apricot Chicken
Crockpot apricot chicken is a sweet and savory main dish that's easy and delicious! Just three hours in the slow cooker to make a delicious chicken even picky eaters will love. Apricot chicken is a new healthy family favorite around here! 
Instructions
Spray crockpot with cooking spray. Slice onion and place half in the slow cooker, reserving half for later.

Slice chicken into thick strips. Place a large skillet over medium high heat and add 1 tablespoon of olive oil.

Sear the sides of the chicken strips for 1-2 minutes each side, salting and peppering generously. The chicken will have mostly white sides but pink will still be present.

Place the seared chicken in the slow cooker. Layer the rest of the sliced onion on top of the chicken.

Mix the apricot marinade: 3/4 cup of chopped dried apricots, 2 tablespoons of the olive oil, 1 tablespoon lemon juice, 3 tablespoons honey (OR maple syrup), 2 teaspoons Italian seasonings, 1/2 teaspoon of salt, and 3 minced garlic cloves.

Pour the marinade on top of the chicken and stir just enough to get the mixture spread throughout.

Cook on LOW for 3 hours. Serve warm over brown rice, ladling extra marinade and apricots on top.
Nutrition
Calories:
459
kcal
|
Carbohydrates:
26
g
|
Protein:
52
g
|
Fat:
16
g
|
Saturated Fat:
3
g
|
Cholesterol:
165
mg
|
Sodium:
401
mg
|
Fiber:
2
g
|
Sugar:
23
g
www.superhealthykids.com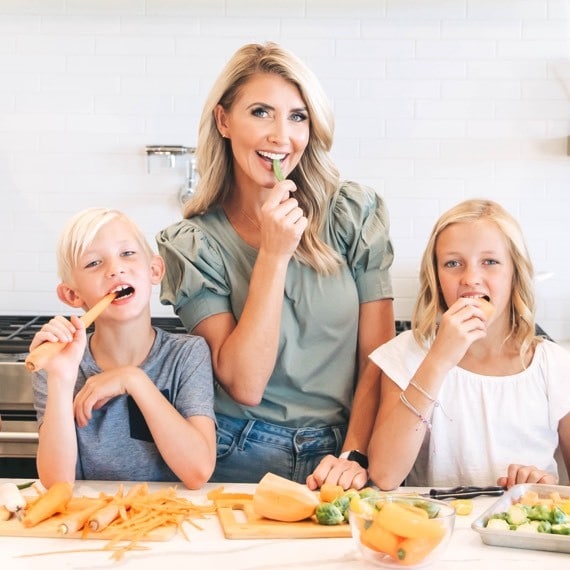 Natalie Monson
I'm a registered dietitian, mom of 4, avid lover of food and strong promoter of healthy habits. Here you will find lots of delicious recipes full of fruits and veggies, tips for getting your kids to eat better and become intuitive eaters and lots of resources for feeding your family.
Learn More about Natalie