A few years ago, I visited Taiwan and got to try lots of different Asian foods. Some of them were a little too much for my palate, but the one of the foods I remember loving was the potstickers (or dumplings) fresh out of a bamboo steamer. One night we ate at a restaurant and I remember the waitress bringing stacks and stacks of bamboo steamers filled with all sorts of delicious foods and varieties of dumplings.
Traditional Chinese dumplings (aka potstickers) are made with ground pork, cabbage, green onion and round dumpling wrappers (gyoza). I wanted to make ours authentic, but still keep it a little bit lighter and so I used ground turkey, and couldn't find round wrappers so I used square. I also love how many veggies you can pack into these.
First start with your veggies. I used finely shredded carrot, green onion, mushrooms, cabbage, and water chestnuts. If you are giving these to your kids, put all of the veggies in your food processor and chop them really fine. It helps them fit better into your wrapper and makes it easier to chew them up.
Next measure your seasonings
Put your meat and everything else together in a bowl.
Or, you can food process it all together. I decided last minute I wanted more cabbage…….a lot more cabbage. But take it from me, you should chop it first with all your vegetables, then blend things together.
Next take about 1 Tbsp of filling and place on the center of your wrapper.
Make a 'slurry' of 1 Tbsp cornstarch and 1/2 cup water. This will seal in the yummy goodness inside the wrapper. Dip your finger in the slurry and run in around all of the edges.
Fold the wrapper in half………
And seal the edges by pinching all the way around.
Lay them on a plate while you get your water boiling
Since I don't have a bamboo steamer, I had to improvise. Inside this pot is a steamer basket. I filled the bottom with about 1-2 inches of water and got it boiling.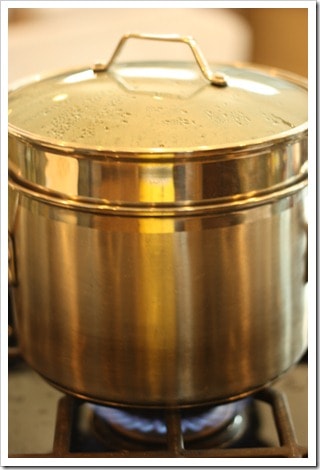 I sprayed the basket with cooking spray to help the potstickers not to stick. Then gently lay them in and try not to let them touch. You will steam these for about 5 minutes. Some recipes say to just plop them right into the pot of boiling water. That would probably work fine also, I was just scared the filling would come out.
While they are steaming away, you can mix your dipping sauce up. I used a little bit of low-sodium soy sauce, juice of 1 orange, juice of 1 lime, and 1 tsp of sugar. Then I boiled it together for a couple of minutes.
Let your potstickers cool off and then bust out your chopsticks and eat them up.
And for a little entertainment, get chopsticks out for your kids and watch them maneuver them with their chubby little fingers.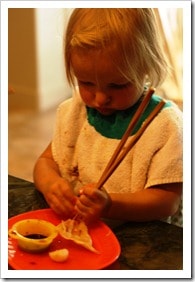 Chinese Potstickers
Ingredients
12

ounces

cabbage, chopped

2

carrots, finely shredded

2

large

mushrooms, diced

5 – 6

whole water chestnuts, diced

1

teaspoon

grated fresh ginger

1/4

cup

minced green onions

1

pound

ground turkey

1 1/2

tablespoons

soy sauce

1

tablespoon

chinese rice wine

2

teaspoons

sesame oil

1

package

round dumpling wrappers (gyoza/potsticker wrappers)
Instructions
Place cabbage, carrots, mushrooms, waterchestnuts, green onion and ginger in a food processor and process until everything is finely minced. Remove and place in a large bowl.

Add turkey, soy sauce, rice wine and sesame oil. Mix together (your hands work well)

Mix together the slurry. Take one wrapper, spoon 1 tablespoon of the filling mixture onto the middle of the wrapper. Dip one finger into the slurry and "paint" the edges of the potsticker wrapper. Bring up the bottom side of the wrapper, fold in half, encasing all of the filling. Pinch the edges. Place on a tray, cover loosely with plastic wrap and repeat with rest of dumplings. Make sure that the dumplings do not touch each other.

To cook, you can use 2 methods:

1) Fill a steamer pot with 1-2 inches of water and bring to a boil. Place the potstickers in a steamer basket and cook for 5 minutes until the filling is cooked through. Remove and let cool a bit before serving.

2) Half-fill a large pot with water and bring to boil. When boiling, gently slide in 1/3 of the potstickers. When water returns to a boil, turn heat to a simmer and gently cook for 6-8 minutes. Remove with slotted spoon and repeat with remaining dumplings.
Sauce
Mix ingredients together and bring to a boil. Remove from heat, and pour into a serving dish.
www.superhealthykids.com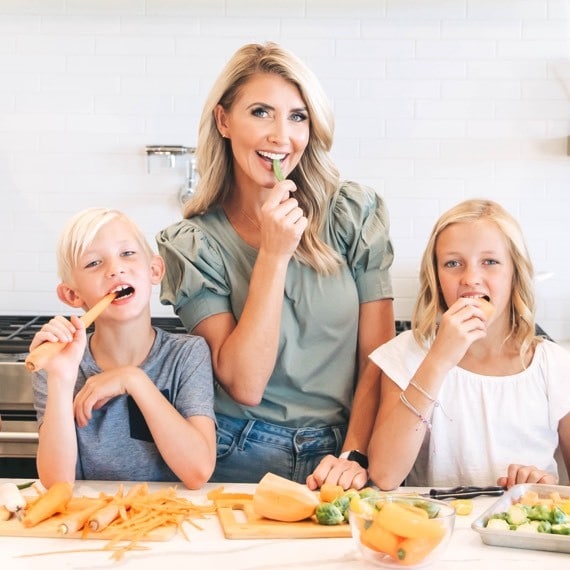 Natalie Monson
I'm a registered dietitian, mom of 4, avid lover of food and strong promoter of healthy habits. Here you will find lots of delicious recipes full of fruits and veggies, tips for getting your kids to eat better and become intuitive eaters and lots of resources for feeding your family.
Learn More about Natalie