Calming Lavender Play Dough
Make simple, soothing play dough scented with dried lavender flours to help your little ones relax and engage.
If you have children or work with children, I'm sure there has been a time when you wish they could settle down! Especially at this time of year when children living in colder parts of the world have been cooped up for days and the cabin fever is strong! As someone who has taught preschool for 16 years, I feel your frustration and offer up one of my secret activities for this time of the year: calming lavender play dough.
Play dough is one of those magical inventions that engages children for a good chunk of time. They see the endless possibilities, and play dough evokes incredible creativity in children. As a preschool teacher, play dough is one of my favorite activities to offer my students.
The glorious thing about homemade play dough is that it is so wonderfully easy to make and the homemade dough is much softer, malleable, and lasts longer (when properly stored) than most store bought kinds. My coworkers and I have been making play dough for our students for years and have perfected the absolute best play dough recipe.
Play dough can be taken a step further and become not only an engaging activity for growing little minds, but also a calming one. By incorporating the soothing aromas of lavender into your child's play dough, you are providing several of your child's senses the relaxing calming stimulation it needs to mellow out until the snow melts.
How to Make Calming Lavender Play Dough
INGREDIENTS
4 Cups All-Purpose Flour
1 cup salt
4 cups water
1/2 cup cream of tartar
10 tablespoons oil
2-3 drops of lavender essential oil
1/4 cup dried lavender flower buds
DIRECTIONS
In a medium sauce pan, mix together the flour, salt, water, cream of tartar, and oil.
Over low-medium heat and continually stirring, cook the mixture until a ball of play dough is formed and is no longer sticky.
Remove play dough from sauce pan and transfer to a smooth, clean surface (like a cutting board or smooth counter top). Allow the play dough to cool for 10-15 minutes.
Once play dough has cooled down a bit, flatten it out a bit with the palm of your hand. Drop the essential oil onto the surface of the play dough. Using your hands, fold the play dough over the spot where you dropped the oils and knead the oil into the dough for a minute or two. Add more oil if you like.
Once the oil is kneaded into the play dough, sprinkle about half of the dried lavender buds over the play dough and knead that into the play dough with your hands as well (this is a great step to get your kids involved with). Sprinkle the rest of the dried lavender buds into the play dough until the flower buds are evenly distributed throughout the play dough.
Allow the play dough to finish cooling. Once it is at room temperature, transfer to an air tight container for storage.
Play dough should last a month (or longer) when stored in air tight container between uses.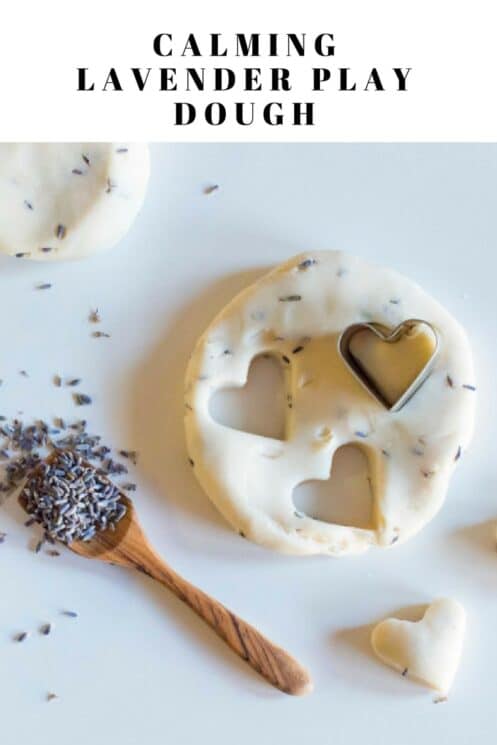 Taesha is a mother and teacher in San Diego, California with a passion for healthy living. Through her site,The Natural Nurturer, Taesha aims to inspire parents and caregivers with ideas and easy wholesome recipes and tips for living a balanced, healthy lifestyle.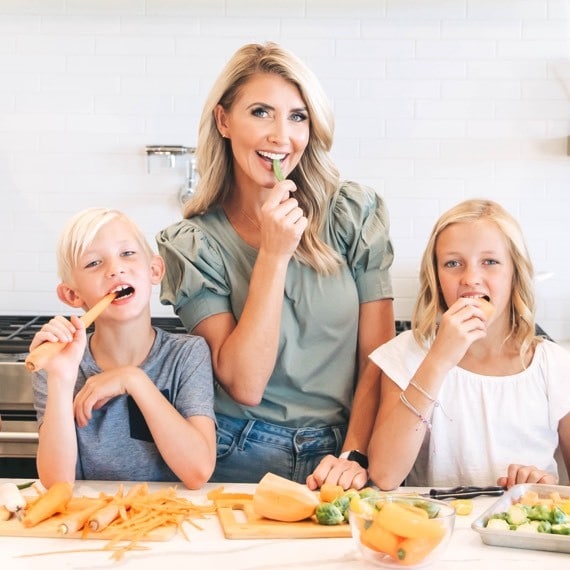 Natalie Monson
I'm a registered dietitian, mom of 4, avid lover of food and strong promoter of healthy habits. Here you will find lots of delicious recipes full of fruits and veggies, tips for getting your kids to eat better and become intuitive eaters and lots of resources for feeding your family.
Learn More about Natalie