Butterflies and Caterpillar Party Favors & Craft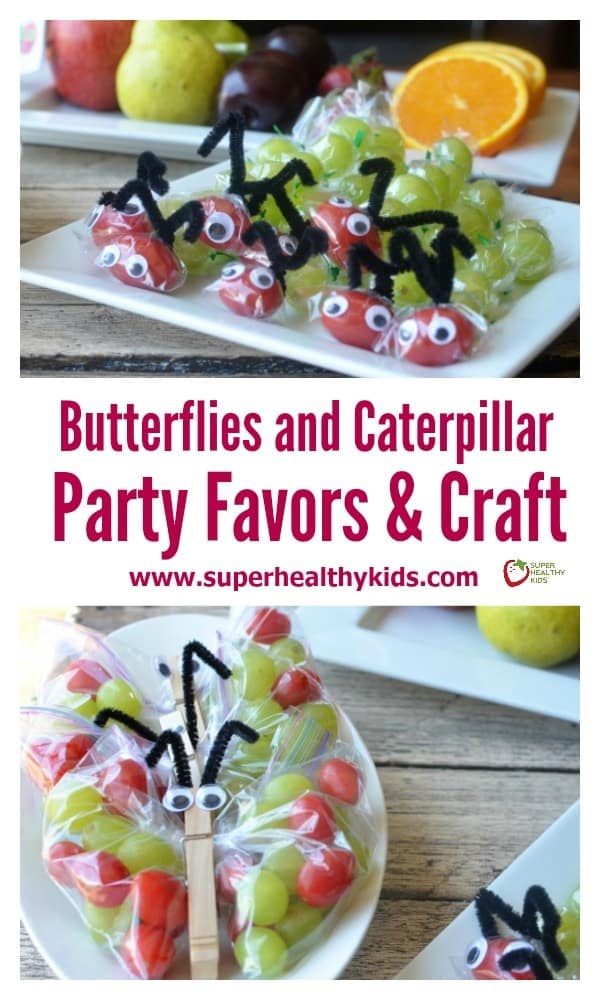 If you are looking for a party craft or a party favor, and don't want to send the little ones home with bags of candy, try our fruit caterpillars! Or, just turn this into a fun craft for the kids while you learn all about butterflies turning into caterpillars, and of course reading the book, The Very Hungry Caterpillar!
Grapes at a party, why would we? Let's take a moment and talk about the amazing and wonderful food, GRAPES!
Grapes
Are the perfect party food! They are sweet, they are finger friendly, kids love them, and when I put them out at a party- the kids eat them ALL!
New research is showing the phytochemicals in grapes are associated with longevity!  (we want our kids to outlive us!)
Despite being so sweet, grapes actually are low on the glycemic index. They increase insulin sensitivity and help us maintain good blood sugar levels.
Grapes are a good source of Vitamin K- essential for building those bones.  (source)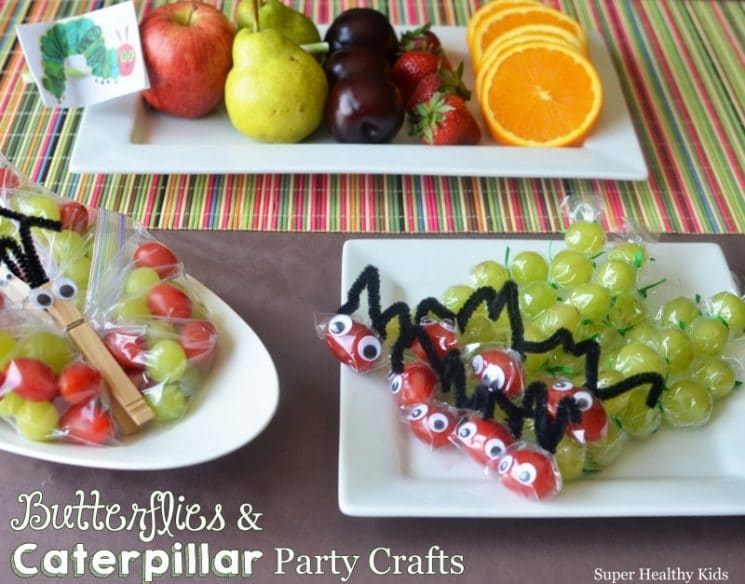 So, my question is, why wouldn't we include grapes into our birthday parties! We have found that when you set junk food out for kids (a bowl of grapes vs a bowl of candy), they will choose the candy.  But if you set out the bowl of grapes and a bowl of cherry tomatoes, they will eat the grapes and some kids will eat the cherry tomatoes!  So, here is what we did to make our grapes and cherry tomatoes even more fun for the kids. Our very own Butterflies and Caterpillar Party Favors & Craft!
First, start with your bowl of grapes and cherry tomatoes.
Second, gather googly eyes (we liked the self sticking eyes- no glue required! Much easier than having kids use a glue gun.
Third, find some long party bags. The ones we used we found at the local craft store on the party aisle. (I found some 2 X 10 inch cellophane bags that were perfect, but most treat bags designed for long pretzels will work great)
Fourth, grab some pipe cleaners and ribbon. We like the pipe cleaners for kids who haven't learned how to tie yet. If they do know how to tie, make sure to cut your ribbon long enough so tying isn't difficult around each grape. You can cut the excess ribbon after it's tied.
Fifth- this is where you involve the kids! Stick the googly eyes on first. Then, let them string their caterpillar together by filling it with one cherry tomato, and the rest grapes. Last, twist a pipe cleaner around the head to form antennae. Then, after each grape tie a ribbon or twist more pipe cleaners.
We wanted to copy the Very Hungry Caterpillar with our fruit tray. You can cut up the fruit and present like this image! I am so in love with this party picture, but didn't have enough platters to cut up all our fruit like that! This is my simple version:
Extra fun: Make butterflies too! This is the EASIEST! The kids can put these bags together themselves, or you can send them home with the kids. All we did of course is attach the googly eyes to some clothespins. Filled a sandwich sized bag with grapes and cherry tomatoes, and pinched in the center to create a butterfly! There are so many fun versions of this one around the web, but I thought by matching the fruit with our caterpillar they would make a great pair.
And as soon as he had the chance, this cute guy dove in! He ate all the grapes, and left the cherry tomatoes behind 🙂
So, there you have it! We love having a craft for the activity at our parties. They take more time than a game, and the kids really do enjoy it!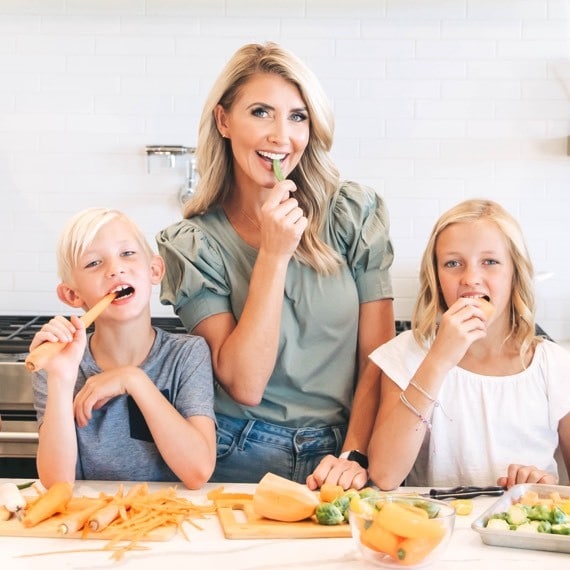 Natalie Monson
I'm a registered dietitian, mom of 4, avid lover of food and strong promoter of healthy habits. Here you will find lots of delicious recipes full of fruits and veggies, tips for getting your kids to eat better and become intuitive eaters and lots of resources for feeding your family.
Learn More about Natalie