Make-Ahead Cheesy Breakfast Burrito
On busy mornings, we dream of the triple-cheddar melty goodness in this make-ahead breakfast burrito!
Thanks to our sponsor Cache Valley Creamery for helping make these breakfast burritos a part of your morning routine!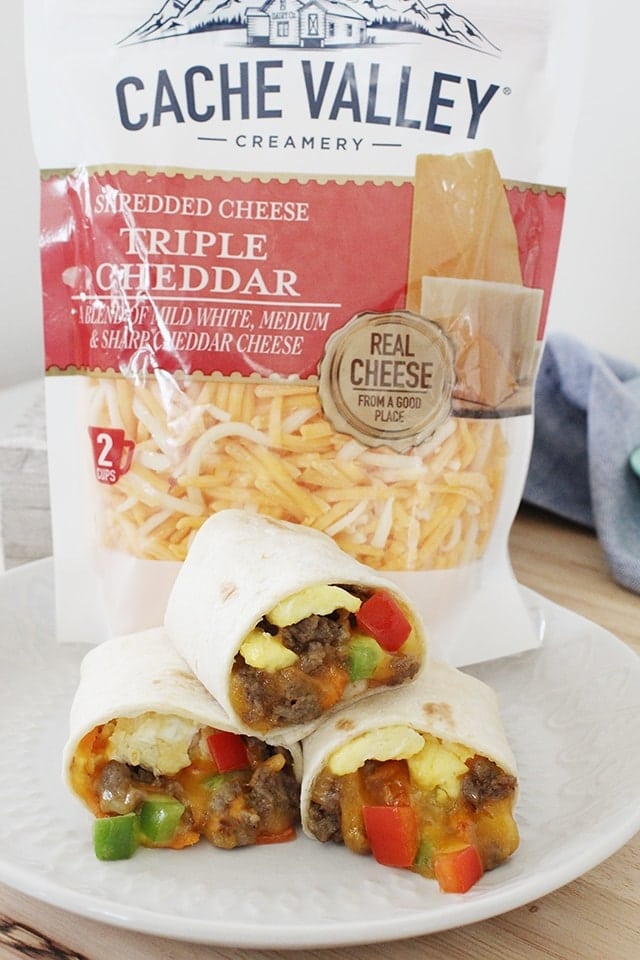 Lifesaving Make-Ahead Breakfast
As much as I'd love to serve my kids gourmet breakfasts on school mornings, most of the time that just can't happen. Mornings are so busy! But making sure my kids eat a balanced meal before they head off to school is incredibly important to me. The best way I know how to reach this goal is make-ahead breakfasts. (You might call it batch cooking, meal prep, or food prep… the basic idea is the same.) We're talking low-effort, big-impact recipes that deliver a week of meals or more, so you can eat great food later with minimal effort. How awesome is that?
Breakfast burritos are one of our favorite make-ahead breakfasts. They're nutritious, they freeze incredibly well, they taste amazing, and they're super filling.
So today I'm sharing these Make-Ahead Cheesy Breakfast Burritos with you. Get the kids in the kitchen with you to help put them together!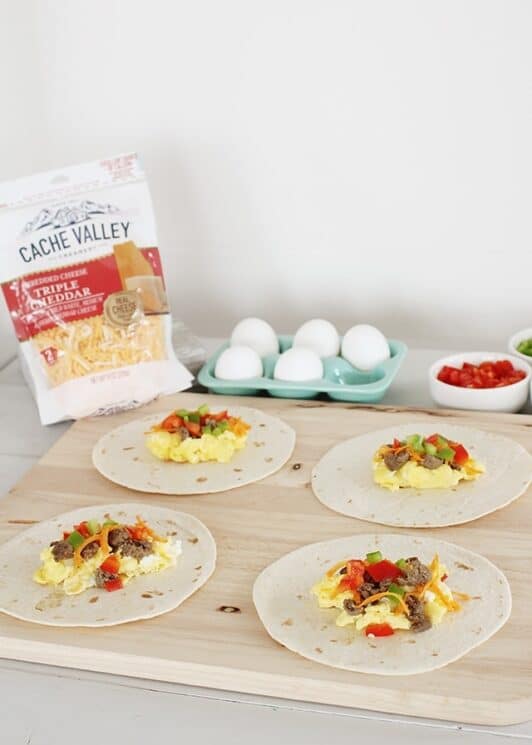 How to Make Breakfast Burritos Ahead of Time
To get these burritos rolled up and ready to freeze super-fast, you'll want to set up a sort of assembly line in the kitchen. Here are all the "stations" you'll need in your assembly line:
Tortillas: The best size tortilla for a breakfast burrito is in the 10-12 inch range. These are most often labeled "large" at the store. Smaller tortillas won't fit all of the filling inside, or you might have a burrito that falls apart as you eat it. Corn tortillas don't wrap and freeze as well as flour. Whole wheat tortillas work great as long as they're that magic size. Make sure your tortillas are at room temperature before you start assembling your burritos.
Eggs: Shoot for soft wide folds of scrambled eggs in your burritos, so they stay nicely inside while you're wrapping up your burritos. To do this, use a heat-safe spatula and the right size skillet (a 10-inch nonstick for 4 eggs is perfect). Add just a touch of butter and the well-beaten eggs, and let them sit for just a second. Then use your spatula to push the eggs from one side of the skillet to the other. Make sure you sweep the spatula all the way around the edge of the skillet to create the wide folds.
Sausage: We like turkey sausage in these burritos. Just cook the sausage until it is cooked throughout.
Peppers: Fresh, crisp bell peppers not only give your breakfast burritos beautiful visual appeal, but they are just the right amount of sweetness to offset the more savory ingredients. Plus, they're full of vitamins and antioxidants! Veggies for breakfast are always a win.
Sweet Potato: Wait, what? Yep! We added shredded sweet potato to these burritos for added nutrition. It blends well with the cheese, tastes amazing and your kids won't know the difference.
Cheese: The cheese is the star of this recipe. It holds everything together. Without the cheese all of the ingredients would just be floating around inside the tortilla. We love Cache Valley Creamery's Triple Cheddar Shredded Cheese here. The flavor of the three different cheddars (medium, white and sharp) complements the creamy eggs and savory sausage just right. Also, Cache Valley Creamery makes great quality cheese, period. It's rich and flavorful and originated right here in my home state of Utah! They use high-quality, real ingredients to make their cheese and I feel really good about feeding it to my kids.
My friends, do NOT hold back on the cheese! It adds a creamy richness and flavor to your burritos. If you like to switch up the flavor, you can try some of Cache Valley Creamery's other shredded cheeses: Colby-jack, Monterey jack, Four Cheese Mexican, Mozzarella, Provolone, Swiss or Six Cheese Italian. We love them all!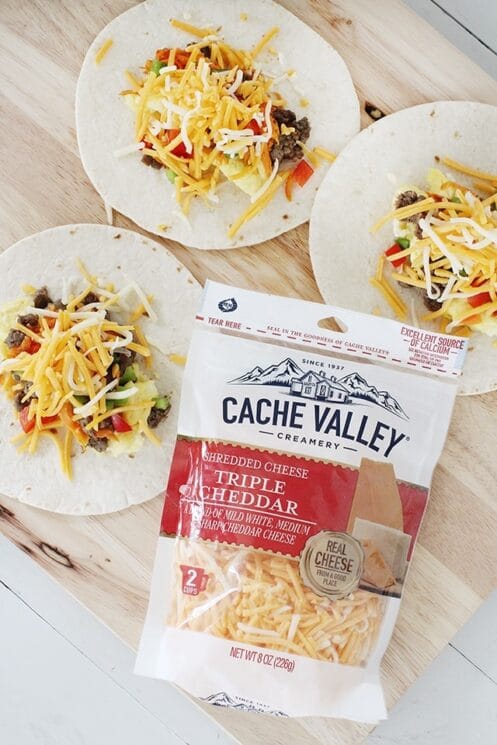 OK. Assembly line set up? As you finish up each burrito, you want to make sure you fold it tight so everything stays in. I made a little picture tutorial for you down below. It might look a little like food origami, but trust me, by the second or third burrito you'll be a pro!
Once all your burritos are rolled up, place them in a labeled freezer bag and freeze for up to 3 months. You can wrap each individual burrito in plastic wrap, freezer paper or aluminum foil if you like, for maximum freshness.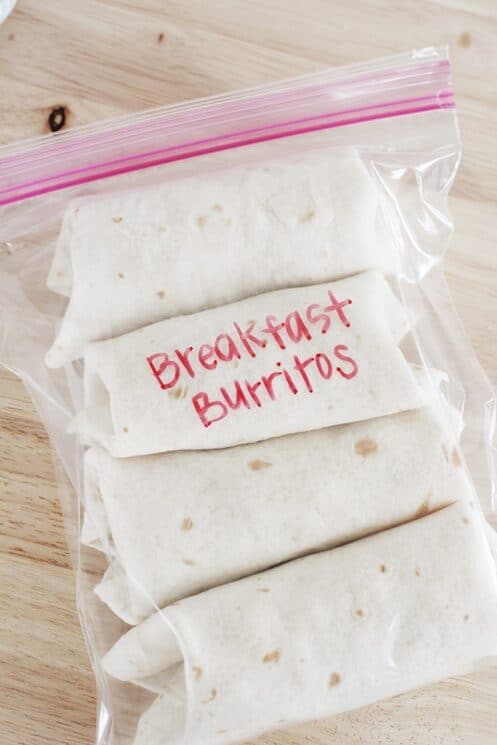 How to Reheat Frozen Breakfast Burritos
This part is the best, because it is SO easy! If you individually wrapped the burritos, then use one of these methods to heat.
Place a single burrito on a microwave safe plate. Microwave on high for 1 to 2 minutes, until warmed through. OR
Preheat oven to 350°F. Place burritos on a baking sheet for 12 to 15 minutes.
See? So simple.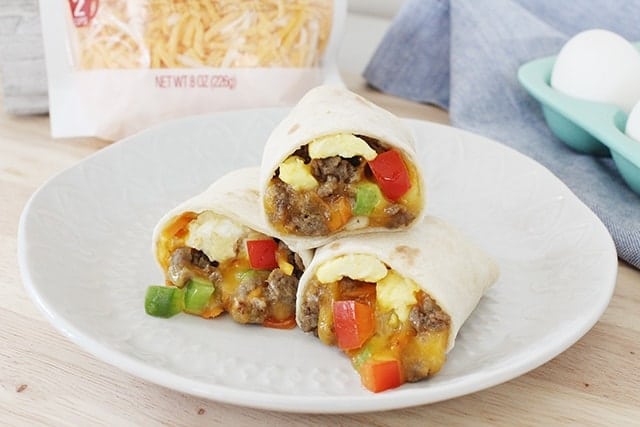 Why We Love Cache Valley Creamery
We love supporting local companies, and Cache Valley Creamery is local to us! The beautiful Cache Valley region is a picturesque valley nestled between the Wasatch, Bannock and Bear River Mountain ranges and is the inspiration behind the delicious and wholesome dairy products Cache Valley Creamery produces. Whenever we drive through Cache Valley, we admire the green rolling hills, stunning mountains, small-town charm and of course, the dairy farms!
Another reason we love this brand is because they've teamed up with Utah's major league soccer team, Real Salt Lake. Our kids are really into soccer, and the Rio Tinto stadium where Real Salt Lake plays is just 20 minutes from our house. RSL and Cache Valley Creamery are giving Utahns the opportunity to experience family-friendly activities, community-building events and other fun activities right at the stadium.
(Local friends: Be sure to stop by Carnival Real on September 11th. Cache Valley Creamery will have a booth where fans can sample their delicious string cheese and also spin the 'Cheese Wheel' to win fun prizes! They also offer melt-in-your-mouth grilled cheese sandwiches at the Royal Grilled Cheese Cart on the Rio Tinto Stadium concourse that you can purchase there all season long.)
Make-ahead Cheesy Breakfast Burritos
On busy mornings, we dream of the triple-cheddar melty goodness in this make-ahead breakfast burrito!
Ingredients
16

ounce

turkey sausage

1

medium

sweet potato

1/2

medium

bell pepper, red

1/2

medium

bell pepper, green

8

large

egg

1

cup

Cache Valley Triple Cheddar Shredded Cheese

10

medium

Tortilla, Flour
Instructions
Heat a large nonstick skillet over medium heat. Add the sausage, breaking to crumble, and cook until browned. Remove from the skillet.

Peel and grate the sweet potato; dice the bell peppers. Add to the same skillet and cook for 3-5 minutes until they begin to soften and cook through. Remove from the skillet.

Crack the eggs into a bowl; whisk to combine. Add to the skillet and scramble until no longer runny.

To assemble: Layer each tortilla with sausage, veggies, eggs and Cache Valley Triple Cheddar Shredded Cheese. Fold in the ends and roll into a burrito. Wrap in parchment paper and store in a sealed plastic bag for freezing. Freeze for up to 2 weeks.

When ready to eat remove the parchment paper. Microwave the burrito for 1 minute, or until heated through. If desired, serve with salsa.
Nutrition
Calories:
366
kcal
|
Carbohydrates:
40
g
|
Protein:
18
g
|
Fat:
15
g
|
Saturated Fat:
5
g
|
Cholesterol:
174
mg
|
Sodium:
812
mg
|
Fiber:
2
g
|
Sugar:
3
g
www.superhealthykids.com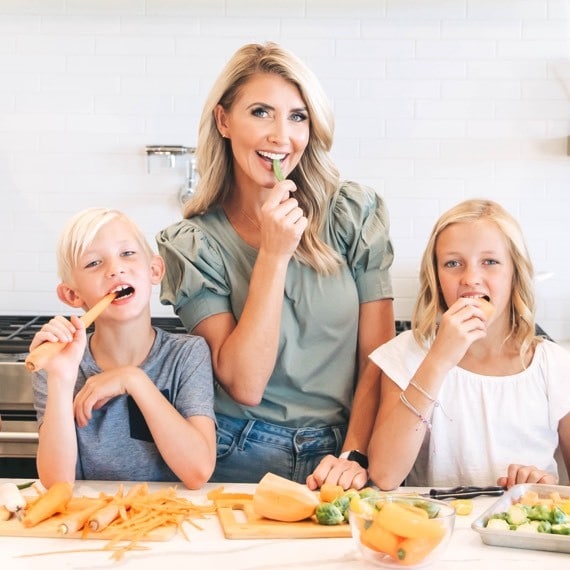 Natalie Monson
I'm a registered dietitian, mom of 4, avid lover of food and strong promoter of healthy habits. Here you will find lots of delicious recipes full of fruits and veggies, tips for getting your kids to eat better and become intuitive eaters and lots of resources for feeding your family.
Learn More about Natalie