Bell Pepper Jack-O-Lantern Veggies And Ranch Dip
The weeks leading up to Halloween can be hard on families who are trying to eat healthy, but I've got a fun way to survive that difficult stretch, with spooky little bell pepper jack-o-lanterns filled with a homemade healthy ranch dip, and treat bags packed with…veggies! These Bell Pepper Jack-O-Lantern Veggies And Ranch Dip are one you will want to include at all your halloween parties!
In October the onslaught of mini candies is impossible to avoid, they're all over the grocery stores, they're at school, they even give them away at the dentist's office! Sometimes you have to give in — just a little bit — during this time of year. But that doesn't mean you can't fight back with a little spooky fun of your own. I use an X-Acto knife to carve jack-o-lantern faces into orange bell peppers and use them to hold my famous homemade (and healthy!) ranch dip. Kids of all ages go wild for this dip, and it makes veggies taste like a real treat. To drive the point home, I pack the cut veggies into Halloween treat bags. It makes a cute party appetizer, or a 'just because' special snack.
It all starts with the ranch dip. Mine is super delicious and super healthy because I make it with Greek yogurt and buttermilk. In fact, in this case, the dip is just as healthy as the veggies that we dip into it! I use my mini food processor for the job, it works perfectly to finely mince the garlic and herbs, and then blend the buttermilk and Greek yogurt into a creamy dip. The result tastes just as good as the store bought stuff, without any of the chemicals or fat. This ranch will instantly become your new best friend in the kitchen, and of course it does double duty as a salad dressing. And don't let the buttermilk scare you if you've never used it, it's low fat and delicious. It adds a lovely tang to all kinds of recipes from biscuits and mashed potatoes to this classic ranch, so I always keep a carton handy.
You'll want to make extra dressing to have on hand because when it's not tempting kids to eat their veggies, it serves as a fabulous low calorie dip for adults, too. Keep it in a mason jar in the fridge, it will keep for a week or more.
Carving the bell peppers is simple, and ALOT easier than carving a pumpkin! First, choose appropriately 'pumpkin' shaped peppers at your grocery store. Look for ones that stand upright and have a smooth surface for carving. I like ones with a nice green stem on top, too. Slice off the top and clean out the inside veins and seeds. Use an X-Acto knife to carve a basic jack-o-lantern face. Don't worry about being too detailed.
In order to show off your jack-o-lantern face you may want to line it with some black paper. Then I line the cavity of the pepper with plastic and fill with the dip.
Load up Halloween treat bags with crisp cut veggies and secure with twist ties. When you make veggies fun and different, kids will eat them! Even when there is candy around. If they are in cute treat bags, AND they have a yummy dip, it is a recipe for sure success in the veggie eating department. That's it — let the fun begin!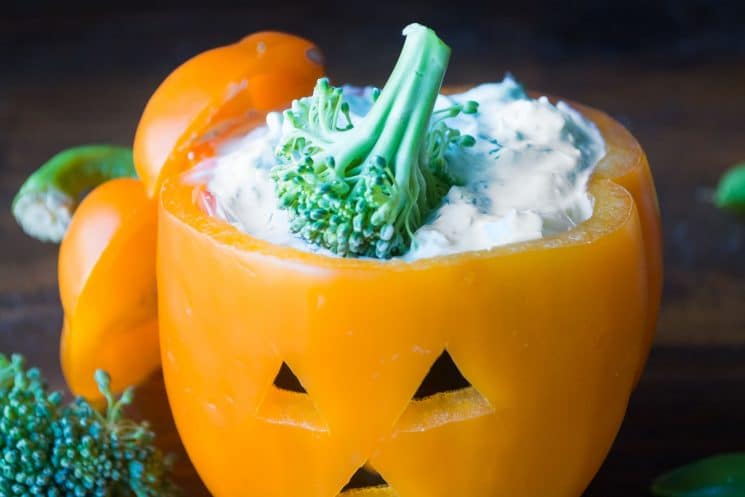 You'll find Sue over at The View from Great Island, where she's busy cooking up all kinds of fun in her kitchen. Follow along with her on Facebook, too!
Bell Pepper Jack-O-Lantern Veggies And Ranch Dip
Ingredients
1

garlic clove

1

heaping tablespoon

fresh parsley leaves

1

heaping tablespoon

fresh dill

1

heaping tablespoon

fresh chives

1/2

teaspoon

onion salt

black pepper to taste

1

cup

greek yogurt

1/2

cup

buttermilk

2

orange bell peppers

assorted veggies

cut in bite sized pieces
Instructions
Peel the garlic clove and drop it into a small food processor.  Process until finely minced.

Add the fresh herbs to the processor and process until they are finely minced as well.

Add the salt, pepper, yogurt and buttermilk and process until everything is combined.

Transfer to a jar with a lid and refrigerate until needed.

Taste to adjust the seasonings before serving.

Slice the tops off of the peppers and remove the inner veins and seeds.  Use a sharp knife to carve out a jack-o-lantern face.

Line the peppers with plastic wrap and fill with the ranch dressing.

Serve with assorted veggies, cut in sticks and packed in treat bags.
www.superhealthykids.com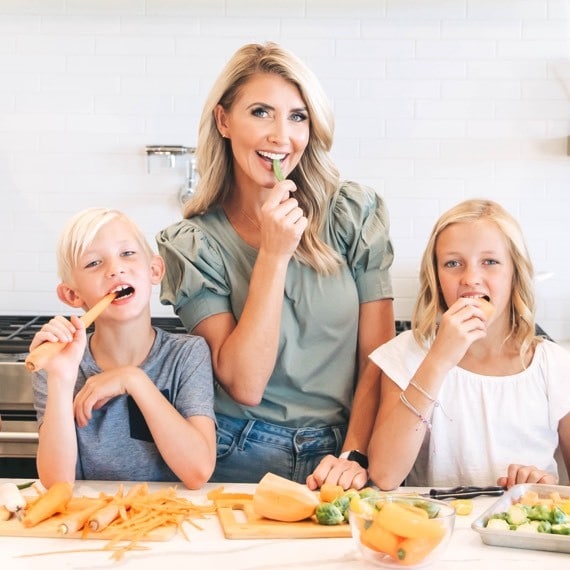 Natalie Monson
I'm a registered dietitian, mom of 4, avid lover of food and strong promoter of healthy habits. Here you will find lots of delicious recipes full of fruits and veggies, tips for getting your kids to eat better and become intuitive eaters and lots of resources for feeding your family.
Learn More about Natalie