This special pumpkin stew is a meal our kids look forward to every Fall and has become one of our favorite Fall food traditions. This meal is a delicious and fun way to serve traditional beef stew.
When you start talking to people about their family traditions, food seems to be a common theme.  It only makes sense though – what else brings family together faster than a delicious meal?  I remember my Grandma saying that if you want people to always want to come over to your house, then always have good food around.  So true, so true.  One day my husband was talking about food, or our blog, or traditions (not really quite sure what they were talking about) but his co-worker told him how every year his Grandma makes the most delicious stew that is baked in a pumpkin.  It sounded dreamy……..savory stew with creamy pumpkin in every bite.  Wow.  The amazing woman who makes this magical dish every year is Ludene Barton, and although I have never met her she has changed my life a little bit with her baked pumpkin stew idea.  What a cool thing to have a food that even your adult grandchildren look forward to every year.  This is definitely going to be a Fall food tradition around our house!
How to Cook Pumpkin Stew
I read up quite a bit before I made this because I wanted it to turn out just right. From what I read, the best way to do this is to cook your stew first. Otherwise it will take way too long to bake and your pumpkin will end up leaking everywhere.
Start by chopping up all your veggies.
Brown your meat in a dutch oven or large stockpot. Add the rest of your ingredients and let your stew simmer for about 2 hours, until all the veggies are soft and your meat is cooked through.
In the meantime, prepare your pumpkin. Begin by cutting the lid off. You will need a smaller but sharp knife. Instert it at the top at a slight angle so that the lid can sit on the hole you cut out.
Pull the lid off and cut all of the 'guts' off the lid.
Using a large metal spoon, clean that puppy out until there is not a string or seed left in site.
Lightly oil the outside of the pumpkin. Are you getting excited yet??
Place your pumpkin in a sturdy baking dish. Then ladle your hot stew into the pumpkin.
Place in the oven at 325 degrees F for an hour……..longer if your pumpkin is bigger. You want the inside to soften so that when you ladle stew out, you get a bit of soft pumpkiny goodness to go with it.
The pumpkin will start to turn a beautiful golden brown color and fill your kitchen with the most delicious smell.  Take your pumpkin out of the oven and be prepared for your kids to want to dive right in!
My girls wanted to eat it right out of the pumpkin…..and since it was just for our family and it was in the name of tradition, I let them.
This is the perfect meal to serve on a festive occasion to fill your home not only with delicious food, but lasting traditions.
Stuffed Pumpkin
Instructions
Preheat oven to 400℉. Line a baking sheet with parchment paper.

Wash and dry the outside of your pumpkin. Cut a wide circle around the top of the pumpkin (wider than you normally cut it when you carve a pumpkin) and clean out the seeds and pulp from the inside of the pumpkin.

In a large skillet, saute onion, celery, mushrooms, garlic and water chestnuts over medium high heat for 5-6 minutes until they become tender and the onions are translucent. Remove from pan into a bowl and set aside.

In the same pan, heat over medium high and add ground beef, sage, thyme, salt, and pepper and cook until the ground beef is cooked through.

In a small mixing bowl, add the cream of mushroom, brown sugar, and soy sauce. Whisk to combine. Add to the ground beef along with the veggies, and cooked wild rice. Stir well to combine everything.

Add mixture to your cleaned out pumpkin and put the top on the pumpkin. Place on the baking sheet and bake for 1 hour. The time it takes to cook will vary depending on how big your pumpkin is. After an hour, you can check to see if it's done. The outside of the pumpkin will be a dark orange, and the inside will be fork tender when it is done. If it isn't done, let it cook for another 10-15 minutes. Continue baking until it is done. Larger pumpkins can take up to 2 hours!

When the pumpkin is done, remove it from the oven and transfer to a serving platter. Open the lid and give it a stir. When you are serving, scoop pumpkin with each spoonful. Enjoy!
Notes
*You can use small individual pumpkins instead of one large pumpkin if you want.  The cook time will be a lot faster using small pumpkins and so adjust accordingly.  
Nutrition
Calories:
797
kcal
|
Carbohydrates:
117
g
|
Protein:
36
g
|
Fat:
24
g
|
Saturated Fat:
10
g
|
Polyunsaturated Fat:
1
g
|
Monounsaturated Fat:
9
g
|
Trans Fat:
1
g
|
Cholesterol:
71
mg
|
Sodium:
963
mg
|
Potassium:
1719
mg
|
Fiber:
10
g
|
Sugar:
21
g
|
Vitamin A:
19627
IU
|
Vitamin C:
25
mg
|
Calcium:
120
mg
|
Iron:
7
mg
www.superhealthykids.com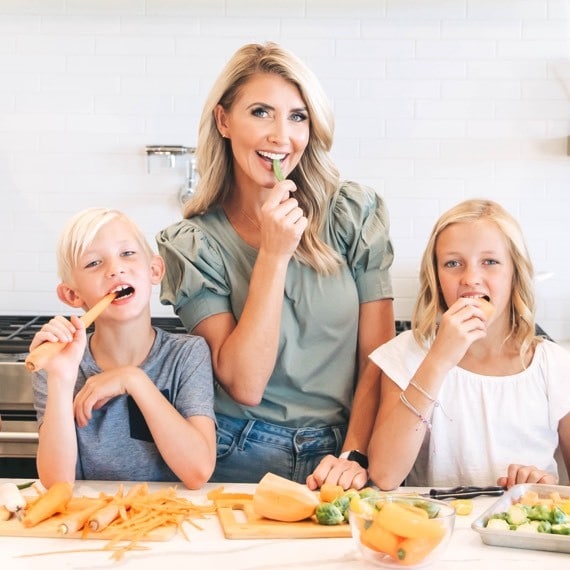 Natalie Monson
I'm a registered dietitian, mom of 4, avid lover of food and strong promoter of healthy habits. Here you will find lots of delicious recipes full of fruits and veggies, tips for getting your kids to eat better and become intuitive eaters and lots of resources for feeding your family.
Learn More about Natalie