Baked Eggrolls Recipe
(Recipe courtesy of Keep the Beat™, National Heart, Lung, and Blood Institute)
1 Tbsp. vegetable oil
2 tsp. sesame oil (optional)
2 tsp. ginger, minced (or ½ tsp dried)
2 tsp. garlic, minced (about 2 cloves)
4 C cabbage (Napa or Chinese), rinsed and shredded
2 C carrots, peeled and sliced thinly on an angle (julienned)
2 C grilled boneless, skinless chicken breast, cut into strips (about 4 small breasts) (Leftover Friendly)
1 tsp. lite soy sauce
8 Phyllo dough sheets
Nonstick cooking spray
Directions:
1. Preheat oven to 400 ºF.
2. Heat vegetable and sesame oils in a large wok or sauté pan over medium heat.
3. Add ginger and garlic. Stir fry quickly, about 30-45 seconds.
4. Add cabbage and carrots. Continue stir frying until the cabbage is soft, about 2-3 minutes.
5. Add chicken and soy sauce. Toss well and heat through.
6. Remove mixture from the pan, and place in a large colander to drain.
7. To assemble eggrolls, cover layers of phyllo with a damp cloth to stay moist. Place one sheet of phyllo dough on a cutting board. Spray it lightly with cooking spray. Top with another layer of phyllo dough, and spray again. Repeat for a total of four layers. Prepare a second stack with the remaining four layers.
8. Cut layered dough into four squares. Divide filling evenly (about 1 cup portions) into the center of each stack of squares.
Fold one corner of the square into the middle (on top of the filling). Fold in the two sides, and roll the eggroll over so the folded parts are on the bottom.
9. Place the rolls on a nonstick baking sheet, and bake for 15-20 minutes, or until brown and crisp and chicken is reheated. Serve immediately.
The wonderful thing about this cookbook from Keep the Beat™, National Heart, Lung, and Blood Institute, is the whole cookbook is online! Check out Delicious Healthy Family Meals here. The focus of the cookbook is on family-friendly meals and snacks and getting children involved in meal preparation. The cookbook also includes information on cooking, nutrition, and feeding children (including picky eaters)
Photo courtesy of Keep the Beat™, National Heart, Lung, and Blood Institute (My picture of the Eggrolls didn't turn out as beautiful as theirs

)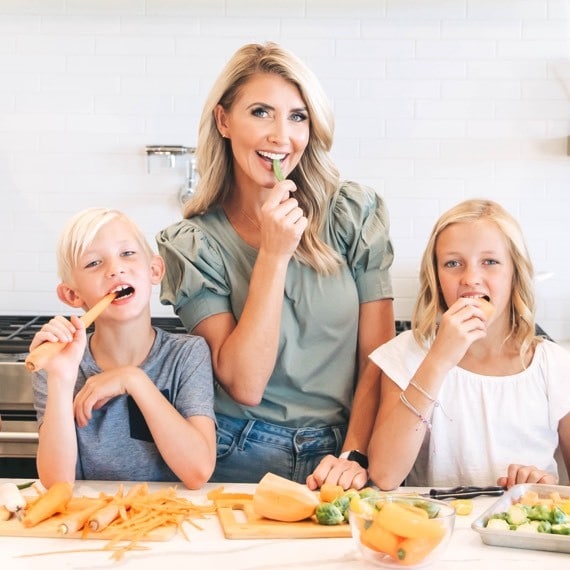 Natalie Monson
I'm a registered dietitian, mom of 4, avid lover of food and strong promoter of healthy habits. Here you will find lots of delicious recipes full of fruits and veggies, tips for getting your kids to eat better and become intuitive eaters and lots of resources for feeding your family.
Learn More about Natalie