International Recipes Your Kids Might Love
It is finished! We've tasted and tested foods from 9 countries during these last two weeks as we enjoyed the Olympics and talked about different cultures with our kids. Just in case you missed any of it, we've rounded them up all in one post!
First you can print a passport for your children to color the flags when you learn about each country.
Then, head over to Greece for lunch, where your kids will love this healthy version of a Gyro.
After lunch, come back to the USA for snack time and eat some Sweet Potato Tater Tots!
For dinner, we love Japan! Their small portions, and beautiful presentation make These veggie sushi rolls the perfect way to introduce your kids to sushi.
While you may not think of Pizza when you think of Mexico, you will think of salsa, avocados, corn, and beans! This Mexican inspired Pizza is terrific for a variation of traditional pizza.
Bread and cheese are characteristic of France, and we loved their version of open faced appetizers. These crusty little bread bites can be a snack, or a full lunch if you would like.
Head over next to the home of the 2012 Olympics and try some Summer Pudding for dessert. With berries and bread, this sweet treat is perfect for summer.
In China, you can try some potstickers, filled with meat and vegetables. Use this dish anytime, not just when you are learning about China!
We then visited Italy, where we enjoyed this fresh Zucchini Frittata. Replace the zucchini for any veggies that are in season, and enjoy frittata's all year round.
Germany: Home to this cooked cabbage dish called Rotkohl, may be a little different than your kids are used to, but who knows, it might be their next favorite side dish!
And there you have it! Our international round up. Another idea you can use the recipes comes from something we did several years ago for Christmas. We gave the kids grandparents each a passport that we made, and invited them to travel the world with us, by having dinner at our house for each country we "visited". We decorated the house and prepared the food as if we were in that country. It was a blast, and still remains my in-laws, and my parents best Christmas present from us, ever!
Hope you enjoyed this series! If you have any international dishes you love, feel free to post your links in the comments so we can have more variety!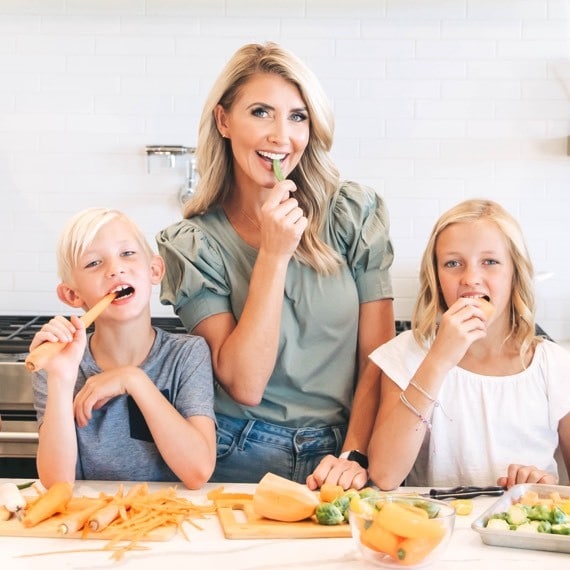 Natalie Monson
I'm a registered dietitian, mom of 4, avid lover of food and strong promoter of healthy habits. Here you will find lots of delicious recipes full of fruits and veggies, tips for getting your kids to eat better and become intuitive eaters and lots of resources for feeding your family.
Learn More about Natalie