9 Healthy 4th of July Dessert Recipes
Healthy 4th of July Dessert Recipes! These delicious recipes feature summer's best produce in vibrant patriotic colors for your July 4th celebration.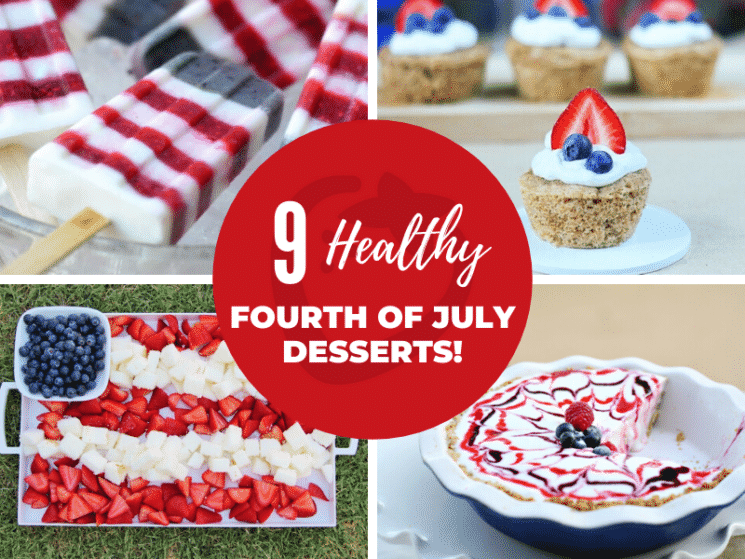 The 4th of July is typically a night where neighbors, family, and friends get together around food and fireworks! I love our yearly neighborhood BBQ.  It's a great time to connect with each other and not worry about work or stress. However, every year I wonder what I could bring to share that everyone is going to love, and won't even care that it's healthy because it tastes so amazing! haha. That's why I NEED this round up of Healthy 4th of July Dessert recipes! I hope they help you find some fresh ideas, too.
1) Popsicle Recipes
If you can keep these frozen, popsicles can be so festive! You can make layered pops, all fruit pops, or mix it altogether. You don't need any sugars or artificial dyes to let the fruit bring you these amazing colors. Such a great way to stay cool on a hot day! 1) Nosh and Nourish: Patriotic Pops, 2) View from a Great Island: Layered pops. 3) One Lovely Life, Watermelon Pops, and 4) Bless this Mess: Red, White, and Blue Pops.
2) Fruit Sticks
Fruit kabobs (fruit sticks) can be dessert, especially when you bring a chocolate or lemon dip! Try these healthy dessert dip recipes: 1) My Fussy Eater, with a Chocolate orange sauce, or 2) 100 Days with a Honey Cream Dip!
3) Dipped or Stuffed Strawberries
Who can resist dipped or stuffed strawberries? I certainly can't! I love bringing foods like this to a neighborhood potluck, because it's finger food! Kids and adults, walk by (almost unconsciously), pick up a yummy strawberry, and throw the entire thing in their mouth! YUM!! 1) Cheesecake stuffed strawberries from Dessert Now, Dinner Later, or 2) Flag dipped strawberries from Grin & Bake it.
4) Ice Cream & Frozen Yogurt
If you can keep it frozen, Ice Cream is always a favorite dessert, and one of the easiest ones to make super healthy! You can go for just red- or layered like this one from Know Your Produce (which also happens to be dairy free!) Go for frozen yogurt instead, like the strawberry frozen yogurt from Feel Great in 8!
5) Pie
With a graham cracker or raw nut crust, a creamy middle, and fruit on top, you can make a red, white, and blue Pie! From Care 2, check out the Yogurt Tart with Ginger Graham Cracker Crust, or 2) Yummy Mummy Kitchen, a Granola crusted pie!
6) Cakes & Cupcakes
You can still make cupcakes, and they don't have to be filled with junk! We have two that we love. The first, from Chocolate Covered Katie, Berry Stuffed Cupcakes, and the second from Namely Marly, A patriotic Vegan cupcake. Once you top these already healthy cupcakes with blueberries, strawberries, or raspberries, than they are perfect for the occasion! Your little ones can help in the kitchen, too! There are also kid-friendly kitchen tools your kids can use to help you with the preparation.
7) Cobblers & Crisps
Blueberry cobbler, raspberry cobbler, Peach Crisp- these are summertime desserts that bring me back to my childhood! I love that these desserts are packed with fruit! *top with ice cream or natural whipped topping for an even more decadent treat! 1) Blueberry Cobbler with Chia seeds from Yummy Toddler Food, and 2) Peach Crisp from One Lovely Life.
8) Finger food tray treats
Another finger food idea!! I love these because no utensils or plates are really necessary! I think that's what is fun about potlucks, is just walking around, chatting, chasing kids, and stealing a bit of this and that every time you pass the table! haha… So, this first one from Family Fresh Meals, my kids go crazy for! They are BIG FANS of dipped pretzels! The second, from Around my Family Table, incorporates angel food cake! YUMMY!!
9) Dessert Drinks
Lastly, how about some fancy beverages! Definitely a treat if you present it that way! I love this watermelon drink from The Natural Nurturer, or Star Spangled Lemonade is looking festive with the berry sticks!
And that's our list!! I know you'll be able to find something amazing to take to your parties over the fourth! These recipes have saved us every year! Happy Fourth!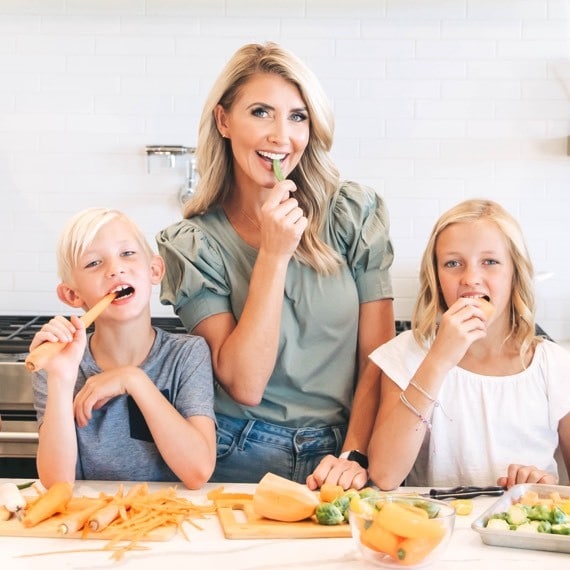 Natalie Monson
I'm a registered dietitian, mom of 4, avid lover of food and strong promoter of healthy habits. Here you will find lots of delicious recipes full of fruits and veggies, tips for getting your kids to eat better and become intuitive eaters and lots of resources for feeding your family.
Learn More about Natalie