5 Clever Lunchbox Ideas that Take Less than 5 Minutes
We all want to send our kids with a lunch that provides nutrition, but I think a lot of us also want to send a lunch that says I love you and hope you have the best day ever! Plus we want our kids to actually eat their lunch. Our 5 clever lunchbox ideas help you accomplish all of these goals and they will take less than 5 minutes!
1) Follow a Lunchbox Formula
When you have a formula or guide you can follow, it takes the thinking and stress out of making a lunch! Our formula is simple, and provides your child with a healthy balanced lunch. Here are some ideas for each formula category:
Main:
Whole wheat tortilla with melted cheese rolled up
Quinoa or whole wheat pasta or brown rice with cooked veggies and shredded cheese (keep warm in a thermos)
Homemade Chicken Noodle Soup
Whole wheat crackers with turkey and cheese
Veggie:
Jicama and Carrot Sticks
Cucumber Slices
Sugar Snap Peas
Celery Sticks
Cherry Tomatoes
Fruit:
Mango Slices
Grapes
Orange Sections
Dried Fruit
Fresh Berries (put in a hard container so they don't get squished)
Apple Slices (dip in lemon juice or soda water mixture so they down go brown)
Snack:
Sweet potato chips
Dips: Hummus, Yogurt Dip
Popcorn
Homemade Fruit leather
Trail mix
Homemade snack bars
2) Include Reusable Products
We really try and use as many reusable products as we can since we send a school to lunch everyday. It helps keep our lunch costs down, makes food easier to send, and also is a greener way to eat! We have 2 products that are favorites that we use everyday:
**Scroll for an amazing discount on these**
We love, love, love these napkins! They have so many fun designs and are really high quality. And when I say high quality, I mean serious quality. They could easily go through all of my kids year after year and hold up beautifully. Money well spent I tell ya. We use them all the time and have washed them over and over again and they still look almost brand new. We like to include them in our lunchboxes because:
They are reusable and eco-friendly made especially for kids with fun designs and patterns
Our kids use them as a tablecloth to eat their lunch on making clean up easy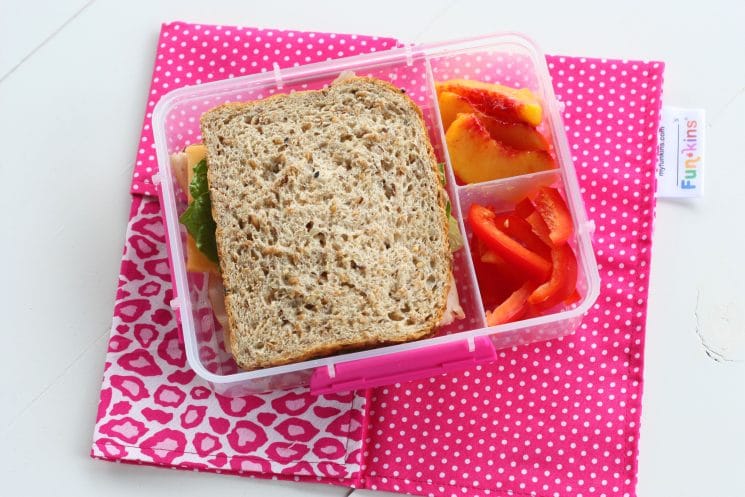 Great alternative to throwing away napkins. American school kids throw out 4.6 billion pounds of lunch waste each year. We love being able to help reduce the waste!
They are double sided, super high quality and absorb really well.
Plus they are just super fun! My girls like to use them as tablecloths for their tea parties.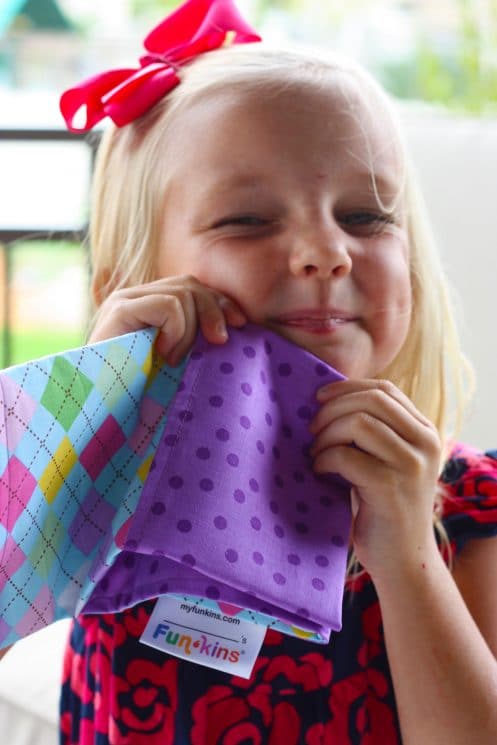 Containers with Compartments
We love these types of containers to make our lunches in. They keep everything separate and are also a great guide of what to pack in a healthy lunch. Plus they are reusable! No throwing away a lunch sack everyday.
3) Use Awesome Tools to Make Fun Food
Some of our favorite tools to use when we make lunch are:
silicone baking cups. We love all of the different shapes and colors that you can put anything from trail mix, to veggies in.
sandwich cutters. Sometimes just making a sandwich a fun shape makes all the difference and takes just seconds.
silicone yogurt molds. You can freeze leftover smoothie, make your own yogurt pops and a lot more in these fun molds.
metal cutters. These are great to cut veggies into different shapes that kids love.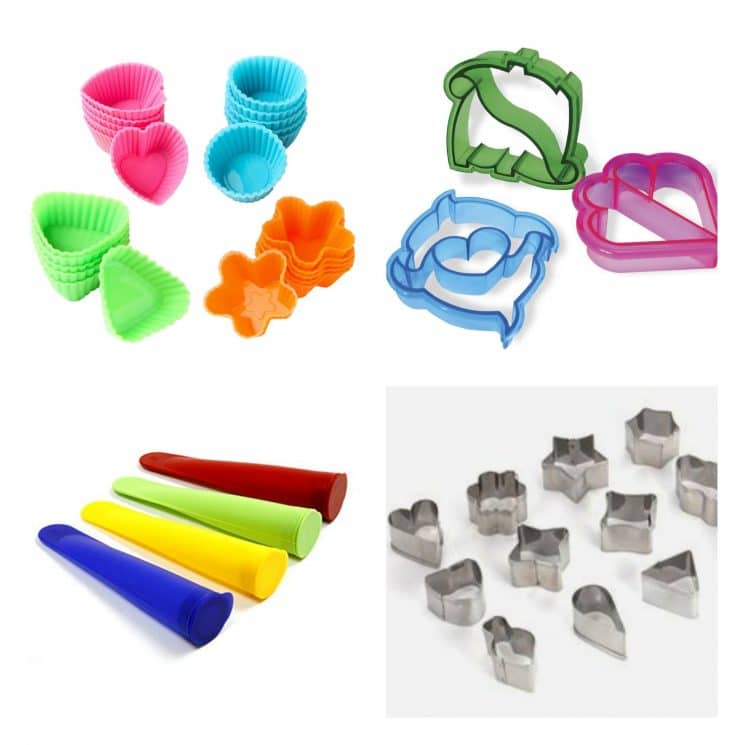 4) Create a Lunchbox Station
This is such a great way to make packing lunches take less than 5 minutes! This gives you time to be more creative because you have done all of the work ahead of time! We love this station from Uncommon Designs! And sometimes kids are the most creative so let them help! When kids make their own lunch or at least part of it, they are much more likely to eat it. Win-win!
5) Print Fun Lunch Notes Ahead of Time
Kids love getting a special note from their parent in their lunchbox! Sometimes when you are in a hurry in the morning, you may not have time to write out a note, or your brain might be too flustered to think of something to say! If you have a stack of notes you have printed out before hand, then you can just grab one and sign, love mom or love dad. These are some of our favorite free printable lunchbox notes:
Lunchbox Laughs from Kiki and Company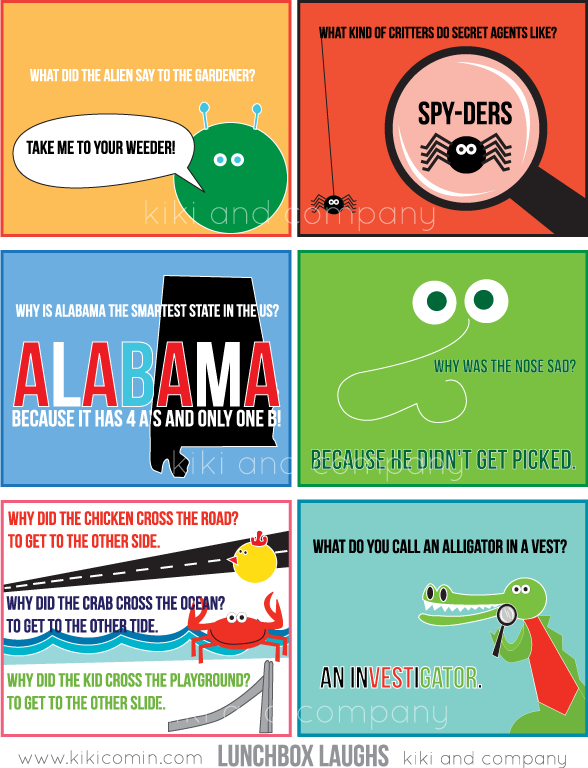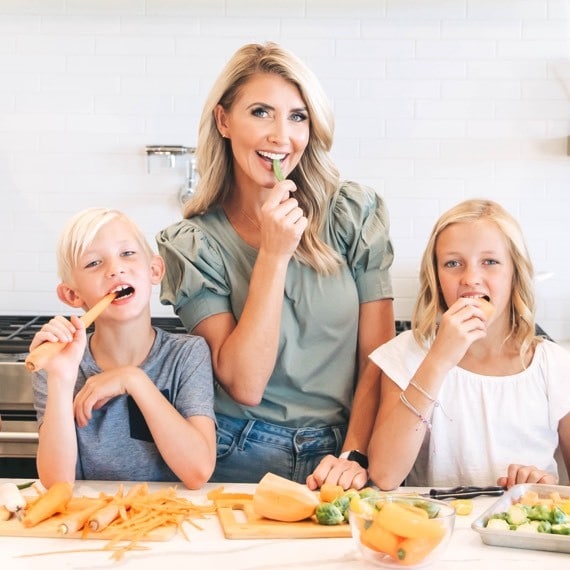 Natalie Monson
I'm a registered dietitian, mom of 4, avid lover of food and strong promoter of healthy habits. Here you will find lots of delicious recipes full of fruits and veggies, tips for getting your kids to eat better and become intuitive eaters and lots of resources for feeding your family.
Learn More about Natalie